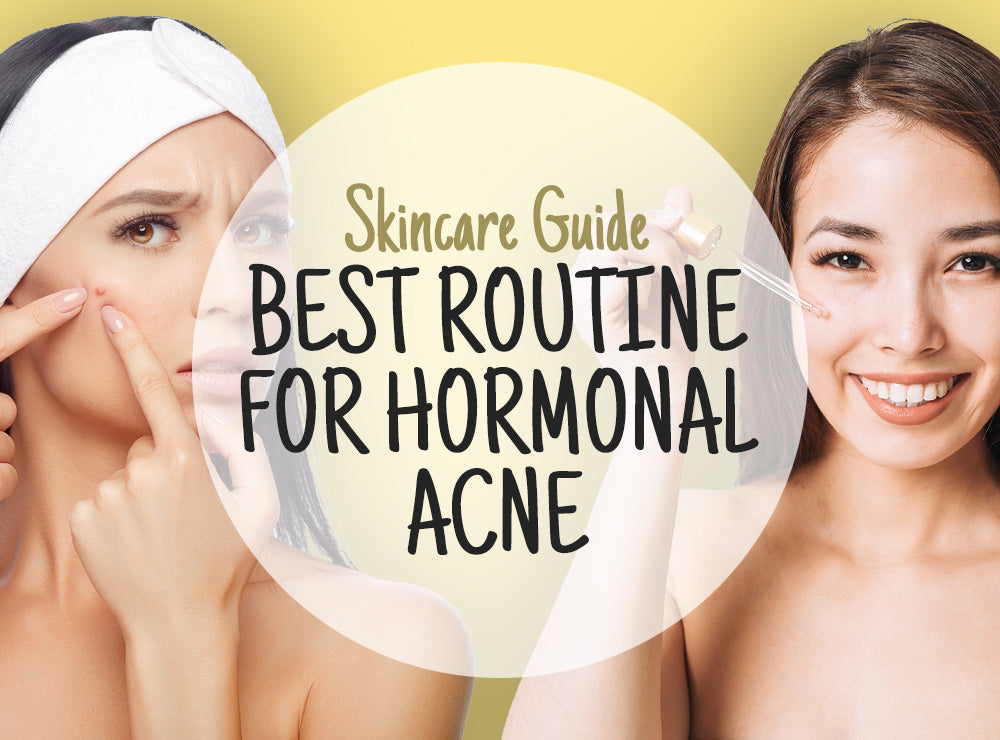 What is the best skincare routine for hormonal acne? - Skincare Guide
What is the best skincare routine for hormonal acne?
Read on to learn more about how your menstrual cycle can affect your acne
Various studies show women with oily skin tend to increase sebum production the week before and during menstruation & 2 out of 5 women also find that their skin is also more sensitive during this time. To avoid unnecessary discomfort, you may choose to avoid any salon or clinic treatment such as facial peels, extractions, waxing, laser, needling or any of these types of treatments during your periods!
Peri and Postmenopausal women also found that their skin become more sensitive and prone to redness and adult acne breakouts as their estogogen levels declined with age.
Acne and the menstrual cycle
High levels of androgen hormones produced by the body during your menstrual cycle can lead to excess sebum production. Excess sebum combined with dead skin cells can clog the pores and lead to pimples and breakouts.
Excess sebum in the pores along with the blockage proliferate the growth of acne bacteria and lead to the condition of inflammatory acne. Acne is one of the most reported skin problems connected to your menstrual period cycle. Period related or hormonal acne is very common in the 10 days before your period and also during the days of menstruation. This is likely due to the sudden hormone imbalance and quick drop in estrogen which normally helps combat the anti-sebum effect to keep your pores clear.
Women with high level androgens with PolyCystic Ovarian Syndrome (PCOS) are more also likely to suffer from inflammatory acne, weight gain, female pattern hair loss or excess or male pattern hair growth in areas not usually found in women, i.e. excessive hair growth on women on the chin or lip area etc.
Trans men or persons on steroid medication also often notice an increase in acne during the first year of taking testosterone hormone therapy as their body adjusts to the sudden changes in hormone levels.
Now you know how your hormones and menstrual cycle can affect your skin
If you suffer from oily or acne prone skin you can adopt this anti acne skincare routine to help combat the unwanted effects of your hormonal changes or combat the dreaded affects of your monthly menstrual cycle!
The main goals with this anti acne skincare routine is
Prevent build up of dead skin cells
Use key skincare ingredients that can penetrate and unclog your pores as well as to reduce excess sebum and help reduce inflammation
The Anti-Acne Complete Skincare Solution Bundle is our best skin care solution for acne prone skin! This kit will provide anti-bacterial clearing ingredients, as well as anti-inflammatories to help reduce redness, acne scaring and inflammation whilst keeping the skin fresh, calm & hydrated.
Top skincare tips that can help clear acne
✔️ Wash your face & hair regularly - Greasy hair can also contribute to clogged pores.
✔️ Always use non comedogenic skincare and makeup products - Any product that contains high levels of oil or heavy waxy skincare or makeup can lead to black heads or clogged pores. If you're on a budget, try our Acne Clean Skin Starter Pack.
✔️ Choose Oil free non comedogenic makeup like a mineral make up - Our Long Wear Mineral Foundation is a slay all-day foundation with added SPF 15 sun protection and helps reduce pores and fine lines. Or try our Mineral Makeup Starter Box if you want all the basics in one bundle.
Do your current skincare lotions or sunscreens leave your skin feeling greasy and shiny in the day? If they do, take this as a sign that it is time to switch to more light weight products that are designed to give your skin the hydration it needs but without heavy oils or creams or ointments that may clog your pores and may lead to unwanted pimples or acne breakouts.
You can find the best Skin O2 Doctor formulated products suited for oily skin types here by shopping for your oily skin concern or get the best products in one Oily Complete Skincare Solution Bundle.
Use treatments to help decrease oil & dead cell build up
Retinols such as our 2% Retinol Serum can help reduce blackheads and breakouts by speeding up the skin's metabolism and increasing the rate the skin cells turn over and by controlling oil production.
For a lightweight non greasy moisturiser, try Multi Vitamin Moisturiser Retinol Cream with Plant Based Encapsulated Retinol + Green Tea, Rosehip Oil & CO Q10. For more problematic skin, our Salicylic Acid Serum is a must have skincare serum for oily or acne prone skin types. It penetrates into your skin and works to dissolve the dead cells that clog your pores. This formula contains beta-hydroxy acid (BHA) and has both exfoliating, anti-bacterial and anti-inflammatory properties without over drying the skin. This unique encapsulated and buffered Doctors formula combines the benefits of both alpha & beta hydroxy acids in an encapsulated hyaluronic formula, so it is both gentle and effective!
A spot treatment containing ingredients like Sulfur and benzoyl peroxide can help to target and reduce clogged pores and active pimples by rapidly diminishing & drying away blemishes. A targeted clinical spot solution to effectively clean & clear skin impurities is recomended. Having this in your beauty bag can be extra handy during your period breakouts to spot treat and reduce the breakout cycle. Try Anti-Acne Spot Cream, an Anti-Acne spot treatment for fast results to reduce pimples and breakouts. It comes with a free anti-redness concealer! This targeted spot treatment is designed to minimize and treat individual breakouts without irritation.
The use of clay skincare masks to detoxify and reduce excess oils can also be used. Try our 2 in 1 Vegan Clay Mask this Australian Pink Clay Mask & Fresh Eucalyptus Clay Mask is great to reduce pimples and redness while lightening and brightening the skin for a radiant healthy glow. Suitable for all skin types, especially oily or acne prone skins. It also contains active ingredients to help reduce pigmentation & acne scarring and has an instant cooling & anti inflammatory action on the skin.
Niacinamide (Vitamin B) helps control oil production and aid sensitive skin repair. Try Vitamin B Probiotic Serum, our Vegan Doctor Formulated Probiotic serum with Vitamin B (Nicotinamide), beta glucan & hyaluronic acid to help calm & rebalance the skin's ecosystem and is good for sensitive or inflamed skin. Our Vitamin B Probiotic Serum booster helps to soothe & balance the skin to be more resilient to environmental or external aggressors.
If you skin is feeling sensitive due to hormonal changes you can shop for Skin O2's Doctor Formulated products most suited for sensitive skin or use the Anti-Redness Complete Skin Solution Bundle.
So there you have it, with a little patience and sticking to a good everyday skincare routine, morning and night, you should be able to take better control of your skin! If you need help with your skin and finding the right products for your skin concern, take our free skin quiz or you can book into to see your expert skin therapist for a Skin O2 in clinic facial treatment.
If you do suffer from any medical conditions, like inflammatory Acne, Rosacea or PCOS always see your Doctor for medical treatment options, diagnosis and medical advice to work in conjunction with your professional Skin O2 daily skincare routine.