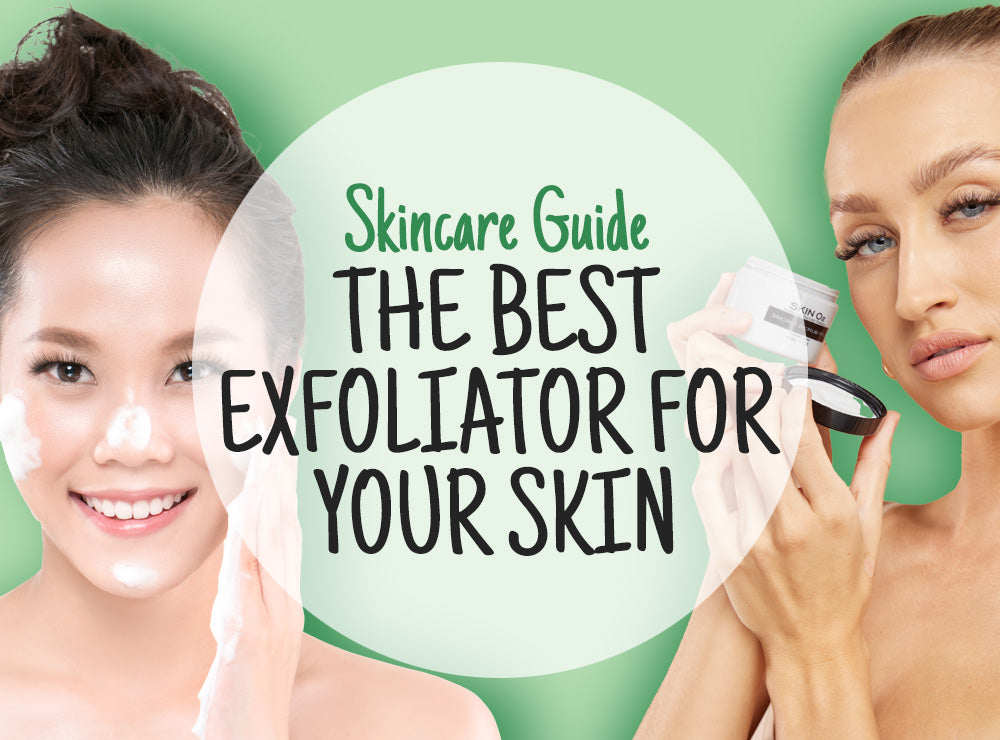 Which exfoliator is best for your skin? - Skincare Guide
Which exfoliator is best for your skin? Chemical or Physical?
Is your skin feeling Dull or Meh with the current climate changes? As the weather and seasons change, your skin may need a reset!
Don't worry you are not alone. Our Doctors have a simple solution for you. The Number one reason your skin may be feeling and looking a little lackluster is that you may need to include a gentle exfoliation method into your current skin care routine to get your glow back.
Did you know that as we age and with acne prone skin your skin metabolism slows down and so dead cell buildup can start to make your skin appear dull? This dead cell build up and sluggish tired skin metabolism can also make your skin have more fine lines and wrinkles - so that is where regular gentle exfoliation comes to the rescue.
If you are using Vitamin A or Retinol for acne or anti aging, you will highly benefit from adding an exfoliator to your skin regime to get the most of these ingredients.
Here are 3 Types of skin care exfoliation options to help renew and reset your skin at home
Chemical Exfoliation
An excellent example of gentle but effective chemical exfoliation is Salicylic Acid Serum. This chemical type of exfoliator is like a quick pain free mini peel at home to keep your skin fresh, dewy and glowing. Think laser peel resurfacing at home but without the downtime or burns.
This resurfacing serum is Doctor Formulated to have Salicylic Acid, BHA (Beta Hydroxy Acid which is oil soluble to work on a deep level to penetrate sebum and unclog pores, reduce fine lines and wrinkles) & Glycolic Acid (AHA - a.k.a. Alpha Hydroxy Acid) which is water soluble acid that and works on reducing calcium ions in the skin at a surface level to slough off dead skin cells.
It also contains other Keratolytics to gently soften and smooth the skin like Allantoin and Betaine, both great plant extracted acids that have anti redness, anti inflammatory and skin soothing properties.
What is unique about this Doctor's formula salicylic serum is that it is buffered and encapsulated with hyaluronic acid so it does not cause irritation to the skin. This means you get all the skin glowing benefits without the unwanted redness or irritation you often find with most other Salicylic acid and glycolic acid skincare products! It is not just a spot treatment you can use this serum for an all over facial glow!
Physical Exfoliation
A fabulous example of safe & effective gentle Physical Exfoliation is our Micro Scrub Exfoliator RP. It contains delicate bamboo based natural microbeads to manually or physically refine and smooth your skin with ultra fine high quality crystals like the ones you have in a professional micro dermabrasion treatment for gentle and effective physical exfoliation. Physical exfoliation helps to erase away and buff off fine lines, dead skin cells and gives you a glowing and youthful looking complexion.
This type of gentle skin care exfoliation also helps to ensure your other skincare serums and moisturizers penetrate your skin better, by getting rid of dead cell build up! Most importantly this particular Skin O2 micro dermabrasion formulation is environmentally friendly so they do not contain plastic beads. You want to avoid any products with micro plastic beads or any larger ingredients like apricot kernels or harsh body type scrubs that contain sand, nut or shells that can damage your skin or cause micro tears on the skin.
Mask Exfoliation
For a safe and gentle but effective mask exfoliation option, try our 2 in 1 Vegan Clay Mask. With this Doctor Formulated Vegan Clay Mask you get two types of clay masks for the price of 1! Australian Pink Clay Mask + Fresh Eucalyptus Clay Mask which are both safe & suitable for all skin types. This mask detoxifies, smooths & brightens the Skin.
So there you have it! The three types of safe and gentle exfoliation options our Doctors recommend to help to take your skin from Mmeh to YES this season!
Just include one of these safe and effective gentle exfoliation methods 1-3 days per week into part of your current skin routine, it really will be your game changer to get your youthful glow back! You will no doubt also achieve much better results from the current products you are using!
Personally, I love the Salicylic Acid Serum because it is so quick and easy. It is my holy grail and I have got so many compliments since I added it to my skin routine. We recommend it to all our friends and most of our anti-aging and acne patients that come into the clinic!
Do you or a friend need help with you skin?
Take our free skin quiz or shop by concern on our website. We have full skin solution bundles put together by our doctors to ensure you have all the right ingredients and steps in your skin care routine to properly take care of all your skin needs!