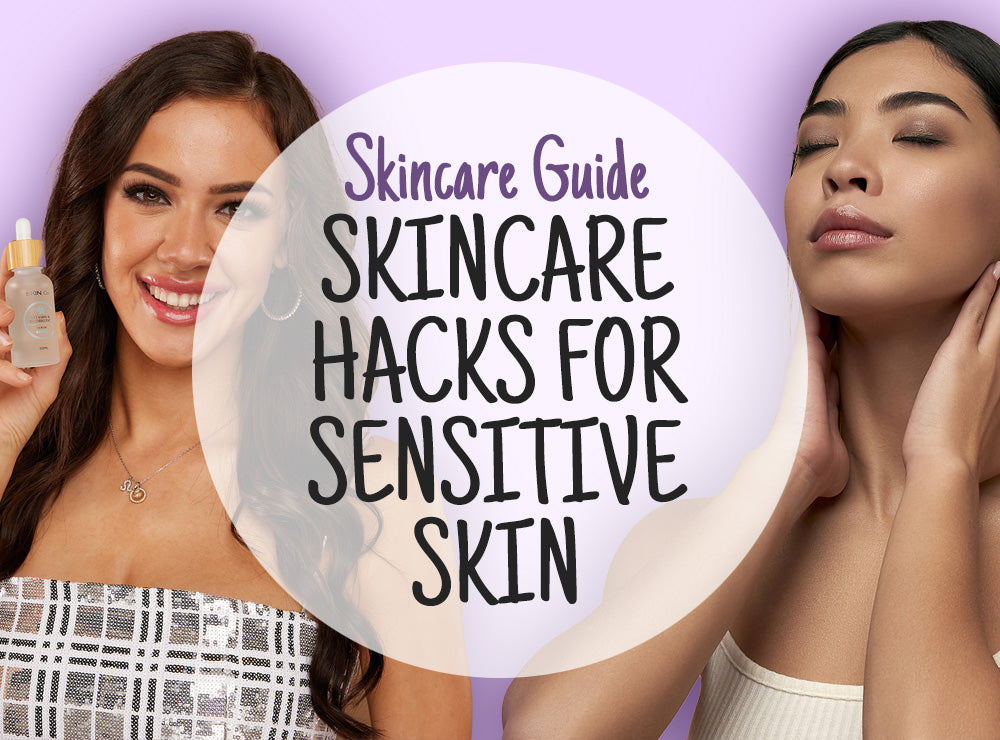 Best Skincare Hacks for Sensitive Skin - Skincare Guide
Having sensitive skin means that your skin can become easily inflamed. Sensitive skin can become red and irritated very quickly from things like harsh skincare ingredients, seasonal and climate changes, medications or hormonal changes or just not caring for your skin gently enough.
Signs your skin is senstive
Sensitive skin has a thin epidermis which means the skin's protective barrier isn't as strong as it could be - irritants and bacteria can penetrate it more easily. The best skincare for sensitive skin has ingredients that work to help strengthen, protect, calm and nourish the skin barrier.
Signs your skin is sensitive include:
Dry patches and flakiness
Skin feels warm after applying products or burns quickly in the sun
Sudden flare-ups of redness and or small bumps
Skin feels tight or itchy
Easily irritated by fragrances and certain skincare or makeup ingredients
Conditions like rosacea, dermatitis, psoriasis, and eczema are also common. Sensitive skin can also be dry/oily/acne-prone at the same time - this can especially happen if you overuse your acne products as they can strip and irritate the skin's natural protective barrier. In this case you need to treat your skin as sensitive first to help calm and rebalance your skin.
Best skincare for sensitive skin
Skincare for sensitive skin is focused on keeping your complexion calm, clear and balanced. Sensitive skin needs a gentle and consistent routine as frequently changing and trying different products can cause more irritation.
Once you find a sensitive skincare product that works we recommend sticking with it!
If you are in need of skincare especially formulated for delicate or sensitive skin you can shop by skin concern for sensitivity or redness on our site. This contains Skin O2 products that have been especially formulated by Doctors for sensitive skin so they contain no irritating fragrances, dyes or toxic ingredients that can irritate, strip or unbalance the skin's natural PH or delicate microbiome. If you are looking for a complete solution for sensitive skin, try Skin O2 Doctor formulated Anti-Redness Complete Skin Solution Bundle.
Anti-Redness Complete Skin Solution Bundle
With sensitive skin it is always best to start with a simple routine like with our Dry / Sensitive Skincare 3-Step Trio Set and slowly add more active products into the regime over time as the skin adjusts and builds up a tolerance to each product. By taking it slow, and starting with the basics you can minimize the risk of over stimulating the skin.
Dry / Sensitive Skincare 3-Step Trio Set
Best ingredients for sensitive skin
Sensitive skin needs gentle, soothing ingredients. You don't want anything astringent or abrasive that will add to irritation. Look for ingredients like these in your skin care products:
Plant Based Probiotics
Beta Glucans
Hyaluronic Acid
Vitamin B
Aloe Vera
Lavender
Ceramides
Fullerane
Allantoin & Betaine
What general ingredients & treatments to avoid with sensitive skin?
Avoid harsh or stripping ingredients like soaps or shampoos with sodium lauryl sulfate and products with Glycolic Acid, unbuffered Vitamin C or Retinol that is not specially made for sensitive or delicate skin. Avoid skin needling, peels, laser IPL or any heat producing treatments as well. Instead opt for the nourishing, calming or soothing ingredients and facial treatments.
Avoid irritating dyes or fragrances or heavy pore clogging Makeup for sensitive skin
Try a natural clean mineral makeup like Skin O2's Mineral Makeup Starter Box if you suffer from skin redness sensitivity or rosacea as this doctor formulated mineral makeup contains ingredients to treat, protect, calm and nourish the skin.
You could have an allergy to a particular medication or product ingredient or something in your home or work environment
If you suffer from skin redness, sensitivity or have a rash or irritation, you may be allergic to a particular ingredient that does not agree with your skin. If you think you may be allergic to an ingredient in your skincare, makeup or shampoo, stop using it immediately and do a 24 hour patch test on a clean spot on your arm using only that one product. If your arm comes up red and irritated you know to always avoid it in the future. It is also important to note that some medications can cause skin reactions, so also always consult with your doctor if you do get a skin reaction and are taking any medications.
Alcohol, spicy foods or being in heated or sweaty environments like saunas can also lead to rosacea or fungal skin flare ups.
Once you know you are allergic to a particular product or ingredient, always pre-check product ingredients to avoid unwanted irritation and causing a flare up on your skin.
Best serums for sensitive skin
When our skin's ecosystem becomes out of balance or damaged, it can lead to our skin feeling dry, sensitive or inflamed. Adding a probiotic serum booster to your skincare routine can work to help bring the ecosystem of our skin back to a normal state, resulting in balanced and healthy-looking skin that will be better placed to protect itself from environmental or external aggressors that can lead to inflammation.
Try Skin O2's Vitamin B Probiotic Serum. The key ingredients are plant based Probiotics, Beta Glucans, Vitamin B & Hyaluronic Acid which are a perfect match for sensitive skin! Hyaluronic Acid containing products are also an excellent choice for sensitive skin, such as Skin O2's Hyaluronic Acid Serum Kit which comes with a free Peptide Collagen Mask!
Best cleansers for sensitive skin
A cream or oil based cleanser are the best options for sensitive skin as they are more likely to contain soothing and nourishing ingredients and wont over strip the skin or unbalance the skin. Opt for a ph balanced cream cleanser like our Hydrating Cream Cleanser. This is Skin O2's best cleanser for sensitive skin as it's a gentle vegan & doctor formulated, anti-irritating formula that won't dry out sensitive skin. This cream cleanser will leave you nourished, clean & glowing.
Key Benefits of Skin O2's Cream Cleanser
Soap free & PH balanced
Softens and hydrates skin without causing dryness or irritation
Infused with Aloe Vera & Lavender
Calms & soothes skin
Suitable as a face & eye makeup remover
Best masks for sensitive skin
The best Skin O2 mask for sensitive skin is the 24k Gold Collagen Sleep Mask. It is a doctor formulated vegan sleep mask that has all the ingredients that are suitable for sensitive skin but will also help to step up your anti-aging skincare routine without irritation or unwanted skin flare ups! Just apply to clean skin before bed at night and wake up with gorgeous glowing skin! It's enhanced with Plant-Based Hyaluronic Acid, Beta-Glucans, Ceramide 3 & Vitamins A, C & E for improved skin health and hydration.
Key Benefits of Skin O2's 24k Gold Collagen Sleep Mask
Calms and soothes skin
Reduces redness and aids skin repair
Plumps, firms and hydrates
Deep elasticity catalyst
Helps smooth the appearance of fine lines, wrinkles and open pores
Stimulates collagen production
Increases skin cell turnover
Fights free radical aging
Vegan & Cruelty Free
Collagen Sleep Mask - 24k Gold
If you need help with sensitive skin or have any skin concerns you can shop by concern on our website or take our Free Skin Quiz to find the product best suited to you!