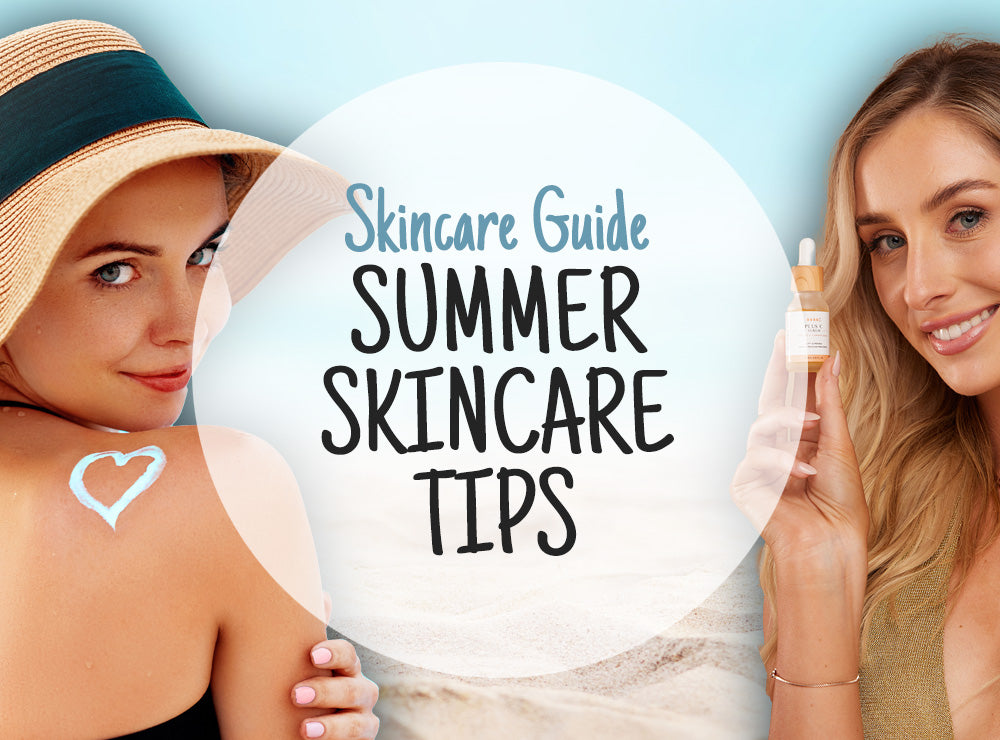 Summer Skincare Guide - Tips & Tricks for Glowing Summer Skin
Our skincare experts spend summers underneath the same sun as everyone else, but their skin manages to stay glowing and clear all season long. Of course, it's part of the job description, but even they have to put in extra effort to avoid breakouts and limit sun damage during summer time.
Warmer weather adds a whole range of skincare obstacles and brings up questions like, "Do I really need a moisturiser even if it's 35 degrees out and my face is feeling greasy?" (Spoiler warning: Yes, always moisturise!) Fortunately, our experts can share with you exactly how to achieve beautiful skin during the summer months.
We asked our doctors and skincare experts for their best summer skincare tips and tricks. We've come up with a definitive road map to achieve healthy skin all summer long and, yes, yet another reminder to always apply broad-spectrum SPF sun protection, so let's start with that.
1. SPF & MORE SPF
Sun protection is by far the most important, essential, never go out in the sun without it tip: Wear sunscreen. All of our skincare experts will tell you to use a broad-spectrum mineral sunscreen of SPF 30 or higher on all skin areas that are exposed to the sun to ensure you are filtering out both UVA and UVB rays. Physical sunscreens, like our Natural Mineral Sunscreen, work differently to chemical sunscreens.
Skin O2's sunscreen works by creating a barrier to reflect sun rays, as opposed to chemical sunscreens, which can also contain synthetic chemical ingredients such as sulphates, parabens, artificial fragrances and colours plus over 400 man-made synthetic chemicals which are potentially harmful and can be absorbed by your skin.
TIP: Don't forget to apply it to your feet, hands, ears, and lips too.
2. LIGHTEN UP YOUR SKIN-CARE ROUTINE
You wouldn't wear a winter coat during summer, so why should your skin? Just like your wardrobe, your skin care routine might need to be a little more lightweight when the temperature rises. The humidity and heat of summer is a sign to swap out a thick or rich moisturiser in favor of more lightweight options.
We recommend our patients use a lightweight moisturiser like Skin O2's Multi Vit B, A, C, E, moisturiser when the temperature rises for its lightweight, yet hydrating effects on the skin.
Multi Vit B, A, C, E, moisturiser
3. INTRODUCE A GOOD VITAMIN C SERUM IN TO YOUR ROUTINE
A serum with Vitamin C is helpful throughout the year, but even more important during summer. We tend to develop more dark spots under strong summer sunlight. UV light elicits free radical activity which causes oxidative stress in skin cells. Photoaging is the term given to UV induced aging of the skin, which results in increased pigmentation, thickening of the skin, loss of elasticity, lines and wrinkles.
Vitamin C serums help prevent hyperpigmentation, is great at reducing fine lines, and can help with the production of collagen. Layering a few drops on your skin between cleansing and moisturising can be highly beneficial when the weather is warmer.
We recommend Skin O2's Plus C Serum for its very stable form of Vitamin C to help combat the signs of photoaging. Bonus: It comes with a free Peptide Brightening Mask!
Plus C Serum + Free Peptide Mask
4. DON'T FORGET EXFOLIATION
Our doctors and skincare professionals are always reminding us not to over exfoliate, but in the summer months, feel free to slough away. In the summer, especially, you may have noticed that your skin may be oilier due to increased humidity and heat.
This makes exfoliation that much more important because sweat glands become more active and they rev up our oil glands. This results in your pores getting blocked with environmental exposures like dirt & makeup, plus oil, sweat and air moisture. This all becomes more noticeable during summer and these combined factors can lead to increased acne & larger appearing pores.
With exfoliation, you can remove all of this build-up, which unclogs your pores, smooths your skin tone, battles acne and increases skin cell turnover.
We recommend Micro Scrub Exfoliator RP to open up blocked pores and remove oils that result in acne. A good exfoliator is nice and soothing on stressed-out summer skin. Plus using a regular gentle exfoliator can keep your skin looking more youthful by reducing the fine lines and wrinkles!
5. CUT DOWN YOUR BATH TIME
Between days at the beach, workouts and resulting summer sweat, a lot of us shower more than once a day during the summer months. Our doctors recommend keeping your showers shorter to about four to five minutes. Showering for longer, or showering in water that is too hot, can result in over-drying your skin which can lead to inflammation and even summertime eczema.
Taking cool showers not only helps to soothe itchy, sunburnt skin, cool water also helps to tighten your skin's pores and refreshes your skin without stripping away natural oils.
6. MAKE SURE YOUR MAKEUP IS NON COMEDOGENIC
Have a look at your makeup product ingredients and throw out the ones that are NOT non comedogenic. That's a fancy word for a makeup product formulated without ingredients that clog your pores.
Especially over the summer, we recommend wearing makeup that is not going to clog your skin, this may include options like an oil-free primer — we recommend using our Radiance Mineral Primer throughout the year, especially if you have acne prone skin. This can be a game changer!
7. STAY IN THE SHADE
All our doctors and skincare experts recommend wearing sun-protective clothing, wide-brim hats, and sunglasses in the sun. We don't expect you to wear a long-sleeve shirt for a hot day at the beach, but be mindful to expose as little of your body as possible to direct sunlight. That might mean sitting underneath an umbrella, wearing an extra-large hat, or avoiding the midday sun.
No one is immune to wrinkles and lines as they get older, but limiting your sun exposure will make a huge difference in reducing photoaging and will keep your skin looking younger for longer.
8. STAY HYDRATED
Our bodies are made up of 60% water, so it's important to stay properly hydrated, especially during summer. Drinking enough water and eating foods with a high water content helps avoid dehydration, which can make your skin feel tight and look dull. Eating a balanced diet, avoiding alcohol and quitting smoking will also aid with moisture retention and help keep skin looking plump and hydrated too!
So there you have it, These are our top 8 tips for our summer skincare guide. If you need help with summer skincare tips or have any skin concerns you can shop by concern on our website or take our Free Skin Quiz to find the product best suited to you!