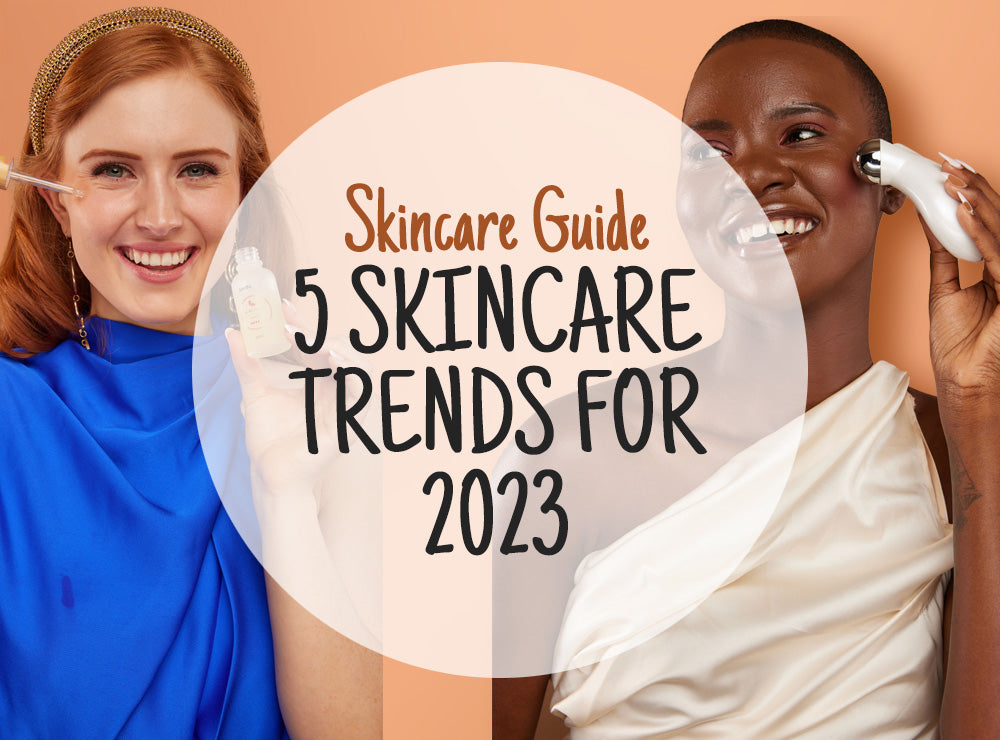 Top 5 Skin Care Trends for 2023 - Skincare Guide
Stay ahead of the game this year with your skin routine
A beauty addict's skincare routine is constantly changing thanks to updated research and the latest science and technology. Our Team of Doctors have cracked the code for you and share the best advice on the most effective everyday beauty regimens. The best skincare trends are rapidly growing and changing, but a few from last year stand out in our expert opinions, and have only continued picking up steam.
We all love a new techy gadget but the advances in at home beauty tech like skincare devices that give us a mega reason to smile more than ever. Plus our most exciting news is the advances in skincare leading the charge in extra anti-aging for menopausal skin. To give you more of an inside scoop on what to keep up with this year when it comes to your complexion, our Doctors have listed five of the best skin care trends to keep on your radar for the year ahead.
1. A New Age of At-Home Tech
In 2023, we are seeing even more advancements in beauty tech. So much so that you can now get the quality results of treatment that you used to pay thousands for in a clinic - in the comfort of your home for a fraction of the price!
Based on our most popular sellers this year of breakthrough new skincare devices, it's crystal clear that just like our cell phones, our favorite at-home skincare devices (or the ones you never knew you needed) will continue to lead the way in maintaining a youthful complexion and helping to turn back the clock!
"I love using LED & RF Radio Frequency technology such as our LED + RF Wrinkle Eraser Pen & Face Wand because our philosophy is to protect and nourish the lipid barrier while building and firming the skin," celebrity aesthetician Alison Atia explains. There are many invasive treatments available, whether it's needles or lasers, that work to trick the skin into thinking it's been wounded to rebuild collagen. But if you use LED with RF you are actually healing the outermost layer of skin or lipid barrier at the same time as creating collagen induction. With increased shopper interest around skin clearing and wrinkle-reducing LED devices, combined with effective RF treatments, other popular sculpting microcurrent devices like the celebrity and top model favorite Skin Gym Facial Toning Device, we won't be surprised if the number of skin tools in your vanity are comparable to your actual products by years end.
2. Menopausal Skin Is In
Our Doctors find that lots of our clients in their 40s & 50s are uninformed about the mental and physical effects that can occur while going through menopause. This year and beyond, skincare brands are finally starting to look for the right key ingredients that we use in our professional clinical brands that more properly address menopause.
Dr. Atia and & Alison Atia are shining a spotlight on the subject. "Skin O2 came about because it was very much reflecting my own story of feeling a bit frustrated and alone during this period of life which was after having kids and again around my late 40s," Alison tells of her own journey of how post pregnancy hormones to perimenopause can cause great havoc on the skin. "I had already walked through a period of discomfort suffering from hormonal acne in my twenties and thirties so I was determined not to walk through that secrecy and shame feeling alone again with sudden aging effects that pre, post and peri menopause could have on the skin!"
"I know a lot of women will be happy that it is now being more spoken about and that clinical Doctor Formulated brands have high enough effective ingredients and technology to make a difference in this important time of a woman's life," Alison says.
Along with other clinical brands, Skin O2 is entirely dedicated to producing essentials to take you through all the hormonal stages of life. Our Top Doctor Formulated staples to serve the needs of this demographic are:
3. Niacinamide Reigns Supreme
While we love all clinically effective anti aging skincare ingredients equally, our Doctors are telling us niacinamide in particular, also referred to as vitamin B3, is going to be huge as a skincare trend in 2023.
This much needed skin ingredient is a multitasker, since it helps control sebum production while also being anti-inflammatory. Keep an eye on this skincare superstar this year, as we are sure it will reach cult-status. Try Skin O2' best-selling Doctor formulated super serum Vitamin B Probiotic Serum to combat redness, even your skin tone and give you a natural & radiant healthy skin glow!
4. The Rise of Dermatologist and Aesthetician Brands
Top Beauty editors keep a running list of some of their favorite dermatologist and aesthetician-created skincare brands, which are predicted to continue increasing in popular demand! Since we already trust the thoughts and opinions of top beauty experts, it makes perfect sense for professionals who are interested to literally bottle and sell their clinically proven expertise to their clients.
And for good reason: Skin O2's newly released 2% encapsulated Retinol Serum, with award winning nobel prize winning ingredient Fullerene, which is 157 times stronger than Vitamin C. This world leading retinol serum, suitable for all skin types including sensitive skin, sold out in under 48 hours and has just recently been restocked, so we anticipate beauty lovers will keep that same energy for the best Doctor Formulated anti aging serums and skincare creams in the new year to come.
5. Bodycare 2.0
Popular ingredients for the face, like Collagen, Vitamins and Ceramides will continue making their way to our bodies, as below-the-neck care continues to advance. We've also seen an uptick in body products that treat specific needs and areas, like skin-balancing hand & body creams. Prepare yourself for the next wave of cosmeceutical skin care for the body which is lightyears ahead of your standard cheap supermarket shower gels, lotions and stripping bar soaps!
Skin O2's Hand & Body Moisturiser Cream moisturises and helps restore the skin's protective barrier with advanced ceramides & enriched with Rosehip Oil, Vitamin E and Niacinamide (B3). This intense Hand & Body Moisturiser leaves the hands and body covered in a protective, invisible veil ensuring you are continually moisturised. It's safe & suitable for all Skin Types, helps reduce stretch marks & is vegan and cruelty free!
These are our 5 skincare trends you need to know for 2023. If you need help with skincare tips or have any skin concerns you can shop by concern on our website or take our Free Skin Quiz to find the product best suited to you!