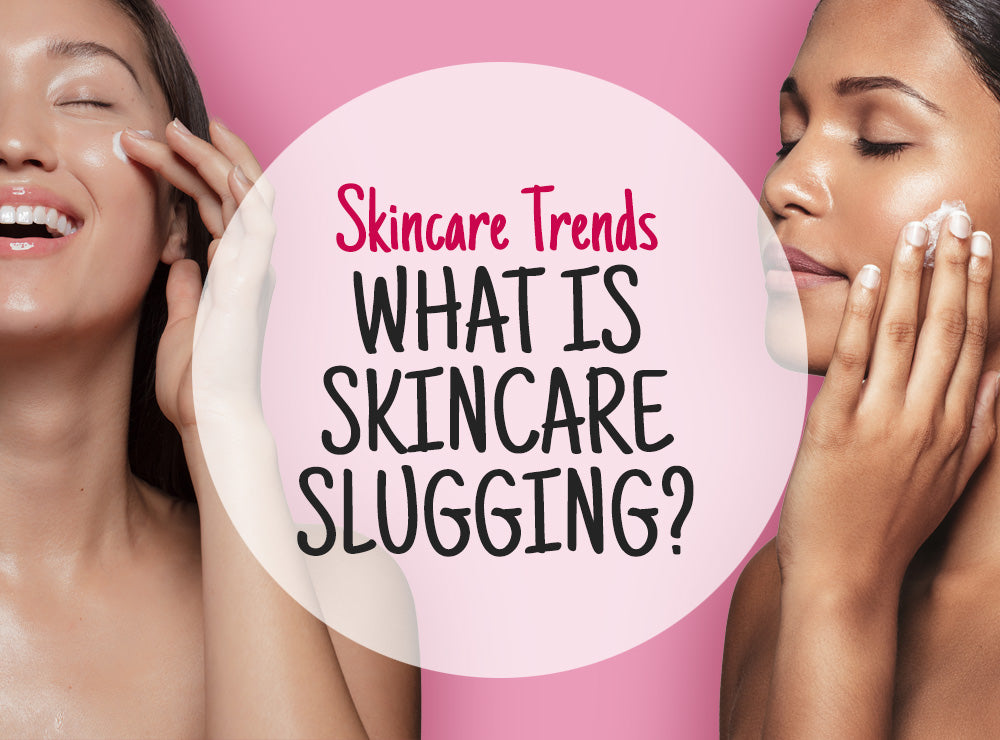 What is Skincare Slugging? - Skincare Trends
Slugging skin care is the act of sealing your skin with an occlusive agent, with many influencers and TikTok stars recommending this skincare hack with petroleum jelly.
Essentially it is a skincare routine that adds a skincare substance acting as an occlusive to the skin to produce a barrier between your skin and the outside world, thus trapping in moisture preventing moisture loss to help heal and provide intense skin hydration.
This type of TikTok skincare slugging may be an OK winter skin treatment if you are on an extreme budget and suffer from very dry skin, but what happens if you do this with combination, oily or acne prone skin?
Sure, you might get instant gorgeous glowing & dewy looking skin, but BE WARNED you may soon find yourself breaking out with pimples or even worse deep painful inflamed acne!
Read on for our simple Doctors' hack on how to slug your skin in a more healthy way!
5 Steps for Skincare Slugging without the breakouts
So how do you get glazed doughnut skin without the unwanted pore clogging side effects of this traditional TikTok slugging trend with petroleum jelly? Here is what our Doctors' recommended if you want to get nourished glazed skin at night without clogging your pores.
1. Cleanse & Conquer Double Cleansing
Cleanse and conquer double cleansing along with a makeup removing pad such as our ECO Reusable Facial Cleansing Pads to ensure you properly and easily remove all your makeup first to avoid clogging your pores! Using a gentle vegan cream cleanser like our hydrating cream cleanser to cleanse your skin before skin slugging is essential. This doctor formulated, anti-irritating formula won't dry out sensitive skin and will leave your skin nourished, clean & glowing. Best of all, it's suitable for all skin types, including: dry, sensitive, eczema, rosacea & acne prone skins!
For an oil based cleaning option, try our Multi-Purpose Rose Oil Serum. Both types of cream or oil based cleansing options will draw off makeup, SPF and air pollution up and out, and then you can go in with a water-based gel cleanser next.
2. Do a second cleanse with a water or gel based cleanser
Our doctors recommend a second cleanse with a water-based or gel-based cleanser such as our Gel Cleanser to wash off the oil, sweat and residual debris if you have a more oily or acne prone skin type.
For a deeper cleanse use a techy skin cleansing device like with our Facial Cleansing Brush. This advanced silicone facial cleansing flower brush combines new-age technology for a superior cleansing experience.The silicone facial cleansing brush with ultra-soft antibacterial bristles will deeply cleanse your skin without causing any irritation while infusing your cleansers and serums for enhanced skin results. It is safe & suitable for all skin types & this on trend beauty device has a 90-second intelligent start and stop function so in only 90 seconds you can have your full skin routine done!
3. Use serums to bring back your hydration and glow
Use an exfoliating & resurfacing serum with Salicylic Acid such as our Salicylic Acid Serum. This skin clearing wonder serum refreshes & renews skin texture removing dead skin cells and unclogging the pores. The Skin O2 Salicylic Acid Serum is particularly good because it is buffered and non irritating so it will leave the skin silky smooth & glazed for the ultimate donut glazed skin. It is like having a mini laser peel in 2 minutes without any down time or redness!
Follow up with a super hydrating serum with ingredients like hyaluronic acid such as our Hyaluronic Serum Kit. This clinical strength Hyaluronic serum has been synergistically combined by our Doctors with clinical vitamin boosters to aid the skin to both synthesize and retain its own Hyaluronic Acid for longer. Infused with added collagen, this cosmeceutical anti-ageing wrinkle fighting serum helps to plump up the skin & lock in longer lasting hydration.
The free Tri-Peptide Collagen Sheet Mask that comes in this Hyaluronic treatment kit is super hydrating and is like having a professional salon strength derma filler mask. It will leave your skin looking super glazed and glowing like a TikTok skin influencer in no time, but with long term gains!
4. Apply an intensive night time moisturiser
Use a night cream that has the essential daily concentration of collagen, peptides, vitamins and intensive moisture filler, such as our Collagen Anti-Ageing Moisturiser Cream. This Doctor formulated vegan moisturising cream helps combat collagen breakdown and moisture loss.
5. The last step in your nighttime routine
If you follow this TikTok trend, the last step in your nighttime skincare routine would be slugging. But since we are a skin health professionals and not your everyday TikTok skin influencer, we highly recommend to switch to a high quality cosmeceutical sleep mask instead.
Try our 24k Gold Collagen Sleep Mask instead of petroleum jelly! It is super fast & easy, just apply it as the last step in your skincare routine before bed and wake up with glazed glowing donut skin! This hydrating sleep mask is enhanced with Plant-Based Hyaluronic Acid, Beta-Glucans, Ceramide 3 & Vitamins A, C & E. This slugging skincare sleep mask is expertly formulated to help improve both your skins' health and hydration & is safe & suitable for all skin types.
So there you have it, simply switching the skincare slugging part to a product like 24k Gold Collagen Sleep Mask instead of petroleum jelly will leave your skin with all the beautiful glowing skin benefits but without the breakouts! Get glazed doughnut skin without the pore clogging side effects of the TikTok slugging skincare trend with petroleum jelly and your skin will thank you for it.
You can also Shop By Concern on our website or take our Free Skin Quiz to find the product best suited to you!