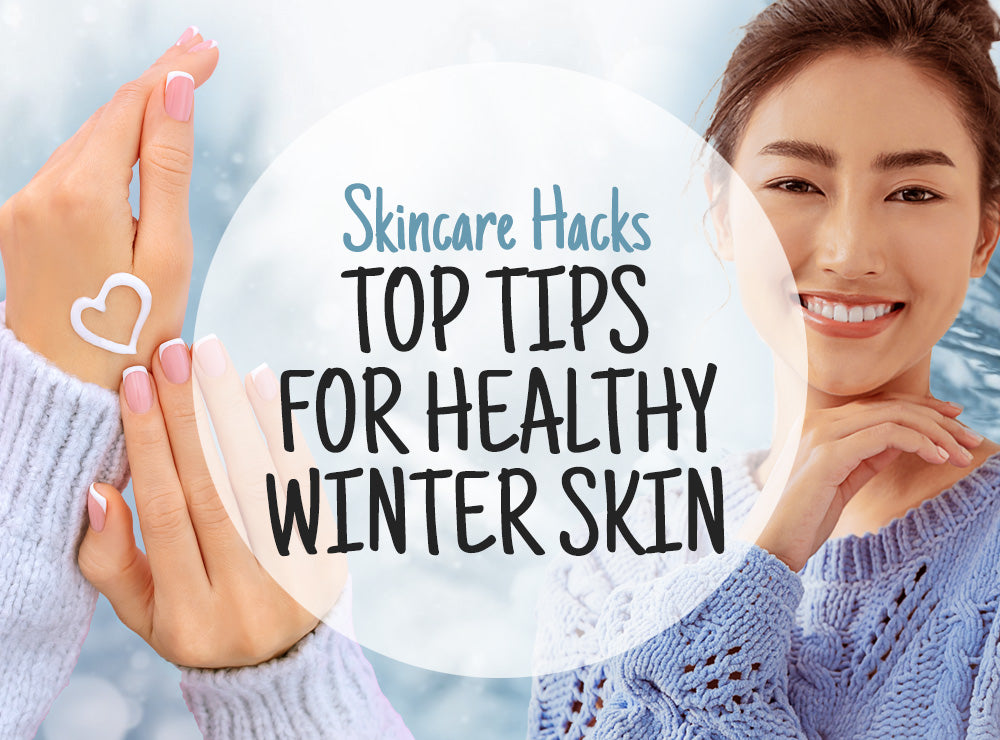 Top 10 Tips For Healthy Winter Skin - Skincare Hacks
As winter comes on, you may notice changes in your skin. It can get more dry, flaky and dull or your skin can just start to feel Meh! Don't worry, using the correct moisturiser and best complimentary skincare along with your moisturiser can really help against these concerns!
Here are some common skin problems that winter brings. Read on, beauty babes!
From Dry to Yay!
As the cooler weather kicks in the air gets drier because the humidity also decreases. The result? Moisture is zapped out from the skin and becomes dry and dehydrated! Add up the transition from the cold outdoors to indoor heating systems, our skin can become chapped, irritated and flaky. Moisturisers act as a protective barrier against the harsh elements.
Winter Skincare Tips For Dry skin
Try Collagen Anti-Ageing Moisturiser Cream which contains your daily concentration of collagen, peptide, vitamins and intensive moisture filler. This is a great intensive moisturiser for dry skin in the winter months.
For Combination, Oily or Acne Prone skin
Try Multi Vitamin Moisturiser Retinol Cream, it contains gentle & effective hydro encapsulated vitamins (B,A,C,E) to assist in moisturising your skin in the winter months.
The harsh effect of winter can affect your whole body so don't just stop with caring for your face!
Try Multi-Purpose Rose Oil Serum for your hair skin & Nails. It contains Rose Flower Oil, Avocado Oil, Almond Oil and has Omega 3, 6 & 9, Vitamin A, Vitamin E & Zinc which is essential for your skin, nail and hair health. You can use it before your face and body moisturizer or add a few drops to boost up your moisturiser or conditioner over the cooler months.
For an intensive body moisturiser for winter, try our Hand & Body Moisturiser Cream. This body moisturiser helps to restore the skin's protective barrier with advanced ceramides & is enriched with Rosehip Oil, Vitamin E and Niacinamide (B3). The Skin O2 Intense Hand & Body Moisturiser leaves hands and body covered in a protective, invisible veil ensuring hands & body are continually moisturised. Best of all, it's safe & suitable for all skin types, especially dry, sensitive, scarred & eczema prone skin.
For Bar Soaps during winter, switch to something more nourishing like Wild Rose Nourishing Vegan Soap. It contains a unique Anti-Aging formula that helps reduce fine lines & wrinkles on your body. It is free from any harsh skin-stripping ingredients used in standard soaps so it is more gentle and moisturising on the skin.
Dull No More- Bring back your dewy glow with these tips
Our skin can also turn a little dull because cold weather slows down cell turnover and the result is keratinised cells, which may be good for the hair but definitely not for the skin. Make sure to exfoliate regularly! Try our Micro Scrub Exfoliator RP, it has fine eco friendly micro crystals and also Vitamin A to help speed up the cellular turnover!
To help get back your dewy glow, add a skincare serum before applying your moisturiser, we recommend the Hyaluronic Acid Serum Kit, plus it comes with a free hydrating collagen mask!
To get the best benefit from your serum or moisturiser, our Doctors recommend you apply them to damp skin, or pre-hydrate and prep the skin with a Hydrating Spritz. This will improve the product absorption and you can also use your Spritz to refresh and rehydrate your skin throughout the day to help combat the dehydrating effect from any winter heating or extreme weather changes.
Breakaway from Breakouts
This problem is most experienced by people with combination skin, with the dry air forcing our skin to increase oil production, and trapped oil also traps dirt and other irritants – hello skin breakout, our arch nemesis, we meet again! AGHH! One tip is to double cleanse to remove the oil, dirt and grime, then do your skin ritual as mentioned previously. Or apply a clay mask to help revive, balance and detoxify your skin this winter, lucky for you we have the perfect 2 in 1 Vegan Clay Mask to combat winter breakouts.
If you are not a masker, our most favourite quick and easy skin savior to banish break outs and get your glow back is our new Salicylic Acid Serum. It is highly effective in clearing acne and blackheads as well as the appearance of wrinkles, roughness and tone.
Shoo Away Skin Ageing
There are some people who get complacent in applying SPF during winter. However, no matter how little sunshine is peering through the clouds, UVA and UVB rays will always be present and potentially cause more harm to the skin, especially for those who ditch SPFs. It is still critical to have an anti-ageing element in your moisturisers, don't go without a Natural Mineral Sunscreen with Zinc & SPF30 UVA + UVB Protection.
Best Moisturiser for the Best You
The trick here is, in winter just opt for a moisturiser that is richer, more nourishing and can form a protective barrier against the elements. Look for humectants, our friends that promote water retention in your chosen moisturiser. However, you should consider your skin type, we may need moisture, but then again a little bit of too much can bring bad results. So we think the ultimate quick and easy trick is to just add a hydrating sleep mask to your routine to bring back the glow, so try our 24k Gold Collagen Sleep Mask. This doctor formulated vegan sleep mask is the essential last step of your anti-aging night routine. Fast & easy, wake up with glowing skin! Enhanced with Plant-Based Hyaluronic Acid, Beta-Glucans, Ceramide 3 & Vitamins A, C & E for improved skin health and hydration & suitable for all skin types.
Consider these handy hacks and bring out the best and most radiant version of yourself. It's your call, skin lover!
You can also Shop By Concern on our website or take our Free Skin Quiz to find the product best suited to you!