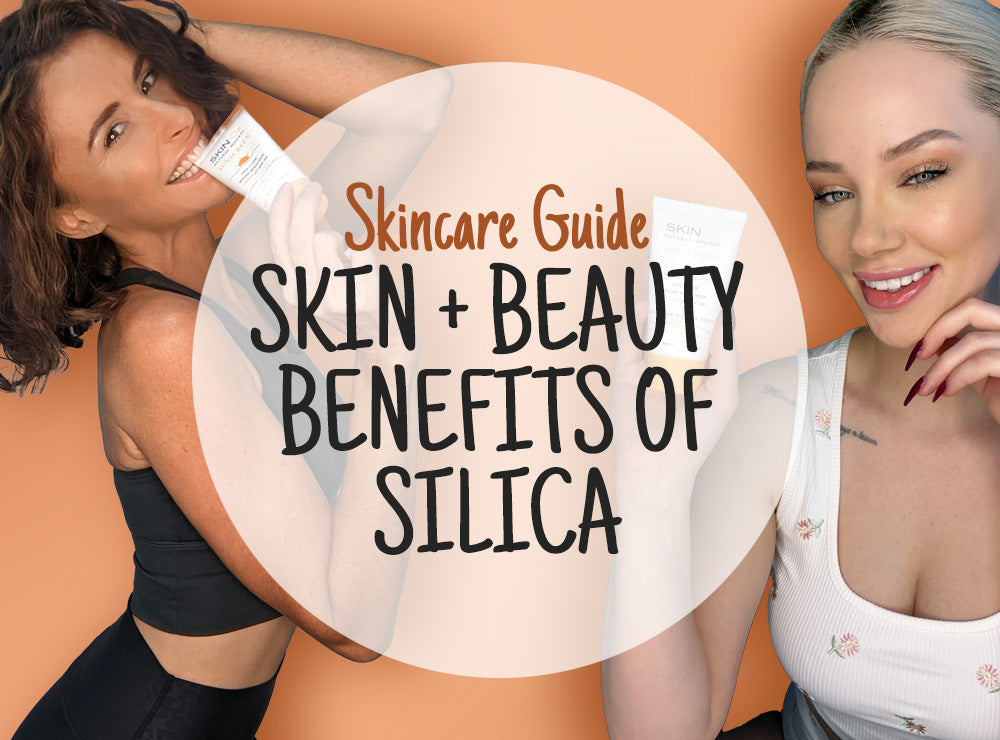 Beauty Benefits of Silica in Skincare & Sunscreens
We thought it was about time to shine a spotlight on the true benefits of silica in skincare so you know why you should be looking for silica in your skincare and sunscreens.
What is Silica?
Silica is a natural compound that naturally occurs in the human body. In fact, it is the third most abundant element in the body, so it is a very important compound that is found in our bones, tissue, and the skin. Silica is a key part of the collagen production process that helps keep your skin plump and firm. Silica also has anti-inflammatory properties so it helps the skin heal and repair. Like collagen, we are born with high silica levels, but these levels reduce as we age. That's why incorporating silica in your daily skincare has some major benefits.
Silica's Beauty Benefits for your skin
The beauty benefits of silica in skincare can be summed up in a few words: hydrating & firming, plus skin & scar repair. Skin O2's Dr. Atia Explains "The stimulation of fibroblasts which release collagen helps to minimize fine lines and wrinkles, reduce scars, while aiding to brighten & even your skin tone."
Another problem with aging, Dr Atia explains, is that our skin starts to retain less water which leads to dehydration and more lines & wrinkles. The benefit of using Silica in SKin O2's formulas is that it helps to promotes glycosaminoglycans (GAG's) which hold 1000 times their weight in water. Silica binds to the GAG molecules, which lead to more plump, hydrated and youthful looking skin.
Silica is anti-inflammatory so helps with acne and scar repair too!
We trialed our sunscreen with silica & zinc on our patients after surgery and it really helped the skin more rapidly heal & repair. Including silica in skincare can help to relieve the symptoms of acne, psoriasis, and eczema. It is also great for sensitive skin and it won't cause irritation.
How to Get Your Dose of Silica
You want to know what's better than silica in skincare? Silica in your daily sunscreen which is truly a sunscreen that doubles as a skincare treatment.
Benefit from a Sunscreen that boosts collagen production and keeps your skin plump firm,and hydrated with Skin O2's Natural Mineral Sunscreen. Doctor formulated with zinc minerals & infused with silica, grape seed, rosehip & avocado, this natural sunscreen provides high-level sun protection while helping to hydrate, calm, renew, balance, soothe & firm the skin. Best of all, it's suitable for all skin types, including sensitive skin, rosacea, acne-prone skin and post surgical skin.
Other key benefits of Skin O2's Natural Mineral Sunscreen:
Zinc based Matte Sunscreen with 30 SPF Protection
UVA & UVB Broad-spectrum Protection
Anti-ageing & Non-greasy
Helps reduce pigmentation and scarring
Fast-Absorbing & doesn't clog your pores
Adapts to all skin shades without leaving a white cast
Eco-friendly & Reef Safe formula
Vegan & Cruelty Free
Did you know there are foods you consume that can also boost your body's silica levels?
The best foods rich in Silica are: vegetables like beetroot, fruits, whole grains, brown rice & leafy green vegetables. A good way to get this source of Silica is to blend fruits and vegetables into a yummy smoothie!
So there you have it - the best free beauty advice you can get is to use a sunscreen with silica every day or to drink your daily dose of silica in a quick and yummy smoothie! These are both sure ways to help achieve firm, hydrated skin that radiates in no time!
If you are interested in more products and the best ingredients like Peptides, Hyaluronic Acid & plant stem cells to help hydrate your skin and keep it youthful, try our Hydrating Complete Skincare Solution Bundle, Anti-Ageing Complete Skincare Solution Bundle or our Hydrate & Firm Serum Perfect Pairs!
You can also Shop By Concern on our website or take our Free Skin Quiz to find the product best suited to you!