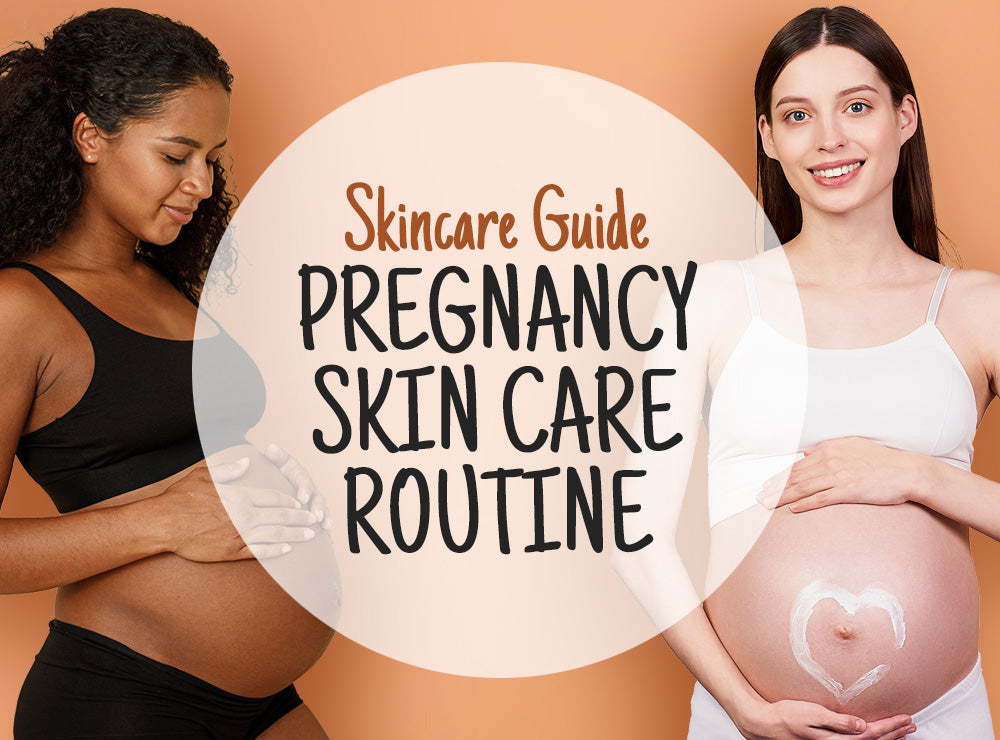 Pregnancy Skincare Routine - Skin Care Guide
Ultimate Guide to the best products to use for clear skin during pregnancy & breastfeeding!
Our Doctors discuss how you may need to adjust your skin care routine during pregnancy.
From an increase in oil production, to pimples or acne, or pregnancy induced hormonal pigmentation or melasma or for some mums to be, they are really lucky and find their skin balances out and their acne disappears and they get a wonderful complexion and pregnancy glow! Either way, pregnancy hormones can really change your skin.
Then, there's the issue of safe vs not-safe ingredients every mum-to-be needs to become aware of. This means your existing range of skincare products may need an overhaul and may not be right for your pregnancy skin care routine. Becoming a mum is the perfect time to think about your self care routine.
What Happens to Your Skin During Pregnancy
The not so great news is not everyone gets a pregnant-glow when they are expecting. You may find yourself having to manage a few pregnancy induced skin disruptions. These pregnancy related skin disruptions can be:
Hormonal acne - Oilier skin and blind pimples around the chin and jaw are common during pregnancy
Melasma - Hyperpigmentation or dark spots that can appear on your forehead, nose, and cheeks
Dehydration and dryness - Dryness can make fine lines and wrinkles more pronounced
Increased sensitivity - Overheating, skin redness, flushing, rashes or irritation
No cosmetic surgery or anti aging injectables, like botox or fillers - Stopping these treatments can bring on heavy unwanted lines and wrinkles when you feel you most need extra anti-aging care when you are having sleepless nights!
So let's help empower mums to be and discover safe skin care for pregnancy to help tackle these concerns while you're expecting and during breastfeeding!
Acne and Breakouts During Pregnancy
Did you know a rise in hormones, called androgens, causes your sebaceous glands to produce more sebum? All this excess oil can clog pores causing acne and inflammation. So it is important to know how to help control and manage this with your new pregnancy safe skin care routine. It is a fact that lots of women experience acne in the first and second trimesters, whether they are usually prone to suffer from acne or pimples or not.
Acne treatment ingredients to avoid during pregnancy
These ingredients aren't safe for use while you're expecting or breastfeeding:
Chemical Peels with high level Acids
High doses of Vitamin A or Any prescription (Vitamin A) Retinol or Tretinoin
Oral Aspirin Medication
Other oral acne medications are also unsafe
Always consult with your healthcare professional before taking oral vitamins or medications.
Pregnancy-safe ingredients to help control and manage your acne
You will be happy to hear, there are lots of safe active ingredients and products to help manage acne and breakouts during pregnancy. So fear not, you're not left alone to suffer with pregnancy pimples and breakouts!
Safe and effective active skincare ingredients for acne and pimples and hormonal breakouts during pregnancy are:
AHA's such as Glycolic Acid and Lactic Acid
Benzoyl Peroxide, Sulfur and any topical salicylic acid cream. 2 % or less is fine!
Kaolin Clay
What skincare products are safe during pregnancy & breastfeeding to help manage breakouts?
The Acne Clean Skin Pack is the best skincare bundle for pregnancy, hormonal acne & breakouts! It contains all your daily essential skincare to manage hormonal acne & pimples in one easy to use skincare bundle. The pack includes: Gel Cleanser, Eco Cleansing Pad, Micro Scrub Exfoliator 4%, Acne Clearing Gel, Spot Cream & Multi Vit B,A,C,E Moisturiser.
Acne Clean Skin Pack
Acne Clean Skin Pack Superstars:
Additionally, we also recommend our 2 in 1 Clay Mask our best treatment mask for acne or breakouts during pregnancy or breastfeeding. This clay mask is a great weekly treatment option for pregnancy acne or breakouts. It contains key acne fighting ingredients and you get both a Kaolin Clay- Pink Australian Clay & Fresh Cooling Eucalyptus & Peppermint Mask in the one envio friendly glass jar!
Why Pregnancy Can Cause Redness and Skin Flushing
If you have existing rosacea you might experience flushing flare ups more frequently during your pregnancy. Redness, skin sensitivity and flushing, are caused by hormonal changes and an increase in blood circulation during pregnancy.
Pregnancy-safe ingredients to manage redness
Include these cooling, calming ingredients in your pregnancy skin care routine to help manage redness and flushing.
Aloe Vera
Arnica
Probiotics
Vitamin B
Peptides
Hyaluronic Acid
Beta Glucans
24K Gold
Mineral Based Makeup
Silica & Zinc
What skincare products are safe during pregnancy & breastfeeding to help manage redness?
The Anti-Redness Complete Skin Solution Bundle is our recommended ultimate daily redness & sensitivity skincare regimen. A non-irritating Doctors skin care routine to help get redness under control, this daily skincare kit is ideal to address skin prone to redness, inflammation, and sensitivity. This anti-redness skincare bundle helps balance skin and delivers an improvement in redness & skin sensitivity. Safe for use during pregnancy or breastfeeding. Suitable for all skin types, especially sensitive skin. This bundle includes: Cream Cleanser, ECO Reusable Facial Cleansing Pads, Plus C Serum Kit, Vitamin B Probiotic Serum, Multi Vit B, A, C, E Moisturiser & Natural Mineral Sunscreen.
Anti-Redness Complete Skin Solution Bundle
Anti-Redness Complete Skin Solution Bundle Superstars:
For a soothing night mask, we recommend Collagen Sleep Mask - 24k Gold. This sleeping beauty leave on night mask is a must have for busy mums to be and is enhanced with Plant-Based Hyaluronic Acid, Beta-Glucans, Ceramide 3 & Vitamins A, C & E for improved skin health and hydration. Suitable for all skin types including sensitive skin and is Safe for pregnancy and during breastfeeding. The Collagen Sleep Mask Plumps, firms, calms and hydrates skin, helps smooth the appearance of fine lines, wrinkles and open pores and also reduces redness and leaves your skin fresh and glowing! What's not to love?! This night mask helps to heal damaged, red skin with potent anti-inflammatory, antioxidant and hydrating properties.
How Pregnancy Can Cause Skin Dryness Or Dehydration
For some mums to be dry skin patches of tight-feeling, flaky skin are often associated with pregnancy. Due to hormones and diet absorption changes in the body as you baby grows your skin skin barrier may become more permeable which causes transepidermal water loss resulting in moisture evaporating off your skin. During pregnancy try to keep your moisture levels topped up with hydration focused skincare make sure you're drinking plenty of H2O and eating foods with high water content. Watermelon or fresh fruit icy poles in summer are always a nice healthy hydrating treat! While breastfeeding, your skin may also continue to change and hydration levels, in particular, need extra attention.
Include these pregnancy-safe ingredients to aid skin hydration:
Hyaluronic Acid
Niacinamide (Vitamin B3)
Glycerin
Aloe Vera
What skincare products are safe during pregnancy & breastfeeding to help manage dry or dehydrated skin?
We recommend the Hyaluronic Hydrating Serum Kit which is like a big drink of water for your skin cells. The Two-Piece Kit features both Hyaluronic Serum (HA-AC-C) 15ml & a Hydrating Tri-Peptide Collagen Mask. This multi molecular, highly concentrated premium plump and hydrate formula has both a longer lasting & deeper anti-ageing wrinkle fighting effect. Infused with added collagen this cosmeceutical anti-ageing wrinkle fighting serum helps to plump up the skin & lock in longer lasting hydration. Safe and suitable for all skin types during pregancy and breastfeeding.
Key Benefits of the Hyaluronic Serum kit include:
High Concentrated Formula
Deeper anti-aging effect
Firms and smooths
Re-hydrates and plumps
Reduces open pores
Reduces fine lines and wrinkles
However if you are looking for a full skin care hydration solution that is safe to use during pregnancy, we highly recommend the Hydrating Complete Skincare Solution Bundle. This ultimate hydrating skincare bundle hydrates, refreshes and rejuvenates dehydrated, tired, dull or lackluster skin! Suitable during pregnancy. Safe and for all skin types. Renew your skin cells & get plump, hydrated skin! This bundle includes: Cream Cleanser, ECO Reusable Facial Cleansing Pads, Hydrating Spritz Toner, Hyaluronic Serum Kit, 24K Gold Peptide Serum, Collagen Moisture Filler & 2 in 1 Hydration Mask.
Hydrating Complete Skincare Solution Bundle
Other Important Pregnancy Skin Care Recommendations
Now that you are an expert at preparing for your new at-home pregnancy skin care routine, you need to try and find ways to look after your skin by getting enough quality sleep. Sometimes easier said than done (we understand!) Try investing in a large wrap around body bed pillow and keeping your bedroom temperature comfortable and keep the light dim with no blue lights from mobile phones or Ipads in bed! Before bed, try taking relaxing baths with a pampering face mask or listening to relaxing tunes or just put your feet up and take a little extra zzz's throughout the day as you need. All these little tricks will help you to create a good sleep routine and will help keep skin hydrated and healthy.
If you are losing sleep and feel your skin or eyes are looking a little tired, try our Peptide Eye Cream Kit to instantly revive your tired eyes.
Or for an instant mummy makeover indulge in a night time sleep mask such as 24k Gold Collagen Sleep Mask to wake up fresh and glowy!
Avoid professional salon treatments like laser treatment, micro needling, or chemical peels which are unsafe during pregnancy and opt for these more gentle but effective options instead.
If you don't have any major skin concerns during your pregnancy but you are just in need for some home self pampering, try our Ultimate Pregnancy pamper gift pack: Pregnancy Skincare Solution Bundle
Pregnancy Skincare Solution Bundle
We have created the perfect self pampering pregnancy skincare gift bundle for all Mummas! Contains all the skin loving products our Doctors recommend for a better balanced, more calm and manageable skin during pregnancy. Clean non toxic ingredients. Safe for you & for your baby. Safe & Suitable for all skin types, including sensitive skin.
Pregnancy Skincare Solution Bundle Superstars:
Enjoy this special time & remember to take time to treat & take care of yourself!