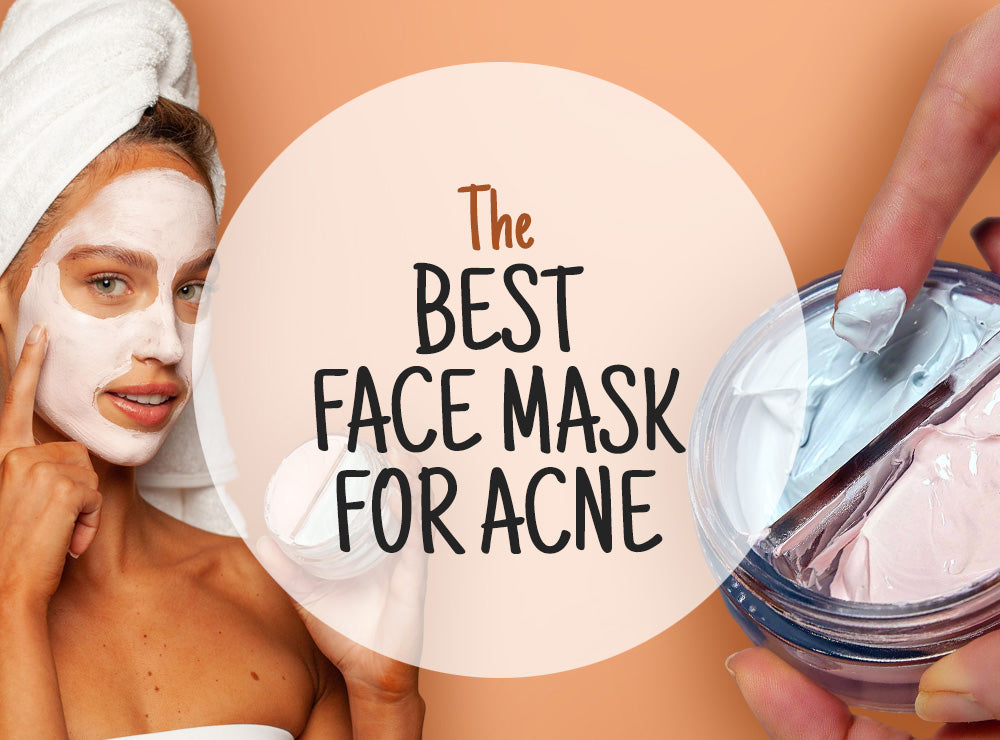 The Best Face Mask for Acne
The best face mask for acne is formulated with high quality clay and the best anti acne key ingredients to help draw out acne forming bacteria, impurities and to soak up excess oil.
If you're using a clay face mask, choose one formulated with the addition of hydrating ingredients to keep skin hydrated. Clay is a natural, yet powerful medium to draw out skin impurities. They can be drying or irritating to the skin if not teamed with hydrating and non pore clogging elements in a proper dermatologically derived face mask formulation.
When pores are clogged, they can appear enlarged and 'dirty' looking. Skin with clogged pores feels rough and bumpy to touch. With the regular use of quality dermatologically formulated clay masks, pores become clearer and the skin and pores become smoother and more refined.
Why choose a clay mask to clear your skin?
A clay mask for acne helps detoxify the skin by drawing out impurities and absorbing excess oil. They also do a great job of tightening skin so pores appear smaller.
The key to getting the most out of your clay mask is choosing the right type of clay for your skin type and concerns. Both Australian Pink Kaolin Clay and Fresh Eucalyptus Clay are great choices for acne-prone skin.
What's so good about Australian Pink Kaolin Clay?
A gentle cleanser, Australian Pink Kaolin Clay helps absorb excess oil, mildly exfoliates the skin, and extracts impurities. It doesn't cause redness or irritation which makes it ideal for sensitive skin and inflamed breakout-prone skin.
Skin O2's 2 in 1 Clay Mask is one of the best face masks for acne and contains Australian Pink Kaolin Clay making it ideal for acne-prone skin. The benefits include: brighter, softer skin, skin detoxifying, more even skin tone and reduction in hyperpigmentation and post acne scarring and also smoother, more upple skin with more calm and balanced oil production.
The 2 in 1 Clay Clay Mask also contains Eucalyptus and Peppermint Oil. These ingredients have been used for centuries as a natural skin care ingredient. The fresh blue Eucalyptus cooling clay mask's ingredients provide excellent calming and anti bacterial and anti acne effect which can play a role in neutralising breakout causing bacteria and pore clogging oils in the skin. These two ingredients help to cool, soothe and reduce bacteria and inflammation in the skin.
The detoxifying, oil-absorbing and skin calming formulation in the kaolin clay mask formulated by our Australian Doctors, helps to clear pores, control acne, and soften skin. The Hyaluronic acid along with natural minerals and high quality plant extracts like jojoba in this clay mask for acne help the skin retain moisture while promoting healing.
The best of both worlds, treat your skin to the detoxifying, breakout busting benefits of both Australian Pink Clay and Eucalyptus with Skin O2's 2 2 in 1 Clay Mask.
The key ingredients in this anti acne mask are:
Australian Pink Clay (Kaolin) - to decongest, smooth & detoxify skin
Eucalyptus - has a cooling & anti-inflammatory action on pimples, breakouts or acne prone skin
Peppermint Oil (Mentha arvensis) - a natural antiseptic with strong clarifying properties to help purify the skin and reduce excess oils
Hyaluronic Acid - aids in hydration, soothing & calming of the skin
Natural Vitamins, Minerals & Plant extracts - Aloe & Jojoba for hydration & soothing of the skin
Ginkgo Biloba Plant Extract - has a melanin inhibiting effect to lighten and brighten the skin. Great to help reduce pigmentation, acne scarring
Trehalose - a naturally occurring glucose extracted from mushrooms to help balance and maintain the skin's natural moisture barrier leaving the skin smoother & softer
How to use this anti-acne clay mask
Step 1: After cleansing, use clean fingers or a mask brush to generously apply the mask. Make sure you avoid the eye area.
Step 2: Leave on for 20 minutes. After the mask has dried, wash off with Skin O2's ECO Reusable Facial Cleansing Pads
Step 3: Finish with Skin O2's best serum for acne prone skin, Clean Skin Blemish Balm followed by a lightweight moisturiser suited for acne prone or oily skin, like Multi Vitamin Moisturiser Retinol Cream, which will help balance and repair your skin and is also great for helping reduce acne scars.
The clay mask isn't the only face mask for pimples or acne in the Skin O2 range! If you're dealing with inflamed, active breakouts, the Acne Clean Skin Pack, skin clearing resurfacing Salicylic Acid Serum or 2% Retinol Serum could make a great addition to your weekly routine. This mask is designed to reduce inflammation, redness and breakouts with powerful natural antiseptic and anti-inflammatory detox action.
Check out our shop to fine Skincare Products for Acne Prone Skin O2 or take our Free Skin Quiz to find the best products our Doctors recommend for your skin concerns.