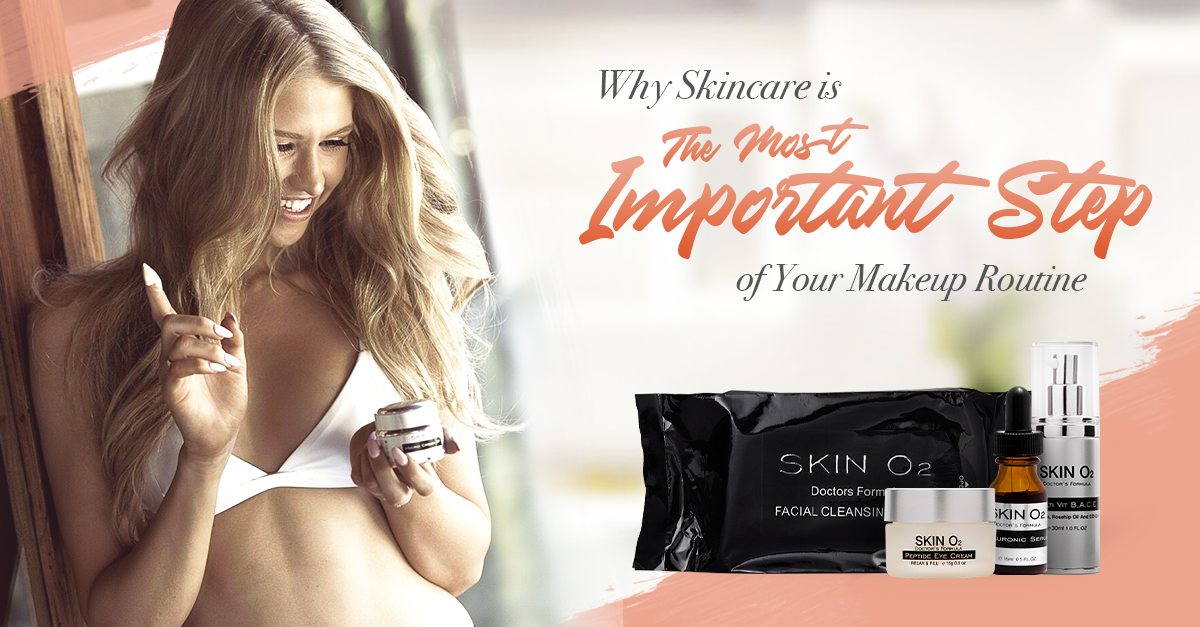 Why Skincare is the Most Important Step of Your Makeup Routine
Makeup can be addicting – there's no doubt about that. Perfecting your fave makeup look is one thing, but the real joy comes from the process of creating your own masterpiece! But too often, girls neglect the most important step of an impeccable makeup routine – skincare. 
Makeup shouldn't stay on your face 24/7 
You'll have to remove your makeup at some point in your day. And while using makeup wipes for your lazy days are inevitable, you'll have to make time for a proper skincare routine. 
Side note: The Skin O2 Facial Cleansing Wipes are the bomb! They do not just remove your makeup, they cleanse, refresh and hydrate your face, too! 
Makeup, if not removed properly, can damage your skin. These products were made to perfect your look when you go out, but you have to say bye-bye and sweet dreams to your makeup before going to bed! Cleansing, toning, and moisturising your skin ensure that no trace of product is left, allowing your pores to breathe. Remember to always "double cleanse" when wearing makeup! 
Better skin, less makeup product 
We use makeup to mask our flaws and highlight our best features. Skincare, however, improves your skin, diminishing the need to cover up imperfections. 
When you're oily on the t-zone area, for example, you can use mattifying gel-base formulas to help control it. It eliminates the need for excessive powder to hide the shine. The same goes with pimples. They are normal but with a little help of a great skincare routine, you can take care of those pesky spots and bumps – no need for concealing! 
Getting to know your skin better
When you delve into your skincare routine, you'll have a deeper understanding of your skin's needs. When you focus on your skin, you'll notice the littlest things such as the dry patches on your nose or your pores along the cheek area. Especially for beginners, this knowledge is useful when picking the right makeup products.
You need it for the prep
Makeup is great and all, but you should never put it directly on your skin. You need to put a primer or a moisturiser between your skin and your foundation to avoid clogged pores. If you have dry skin, applying a moisturiser or a hydrating primer before your base will help avoid a cakey and splotchy foundation.
Skin O2's amazing range of moisturisers and primers makes sure that girls of every skin type can find their perfect match!
Seamless makeup application
Working with a flawless canvas ensures a smooth makeup application. Let's take your lips as an example. You might have noticed that sometimes, your lips product looks patchy and its lasting power isn't that promising. Exfoliating your lips makes sure you're left with plump and luscious lips, ready for your favorite matte liquid lipstick.
Check out this gorgeous lipstick application with our babe Gracie Piscopo:
The same goes with your skin. Using exfoliators removes dead skin and dry patches, and applying nourishing products such as creams and moisturisers on top, brings the hydration back to your skin so that you can effortlessly glide and blend your foundation.
 your skincare woes can easily be solved because you get the perfect kit for your skincare needs at 25% off with Skin O2's Spring Glo Skincare Pack. Get the Hyaluronic Serum, Multi Vit, and the Peptide Eye Cream for a perfectly-prepped skin!
Skipping your skincare is not an option. Never neglect taking care of your skin, to make sure that you'll have the perfect canvas for your makeup masterpiece. 
Snap a few photos of your Skin O2 skincare kit and don't forget to tag us when you do! And for the latest video beauty tips and trends, subscribe to our YouTube Channel and follow us on Instagram (@skino2)!