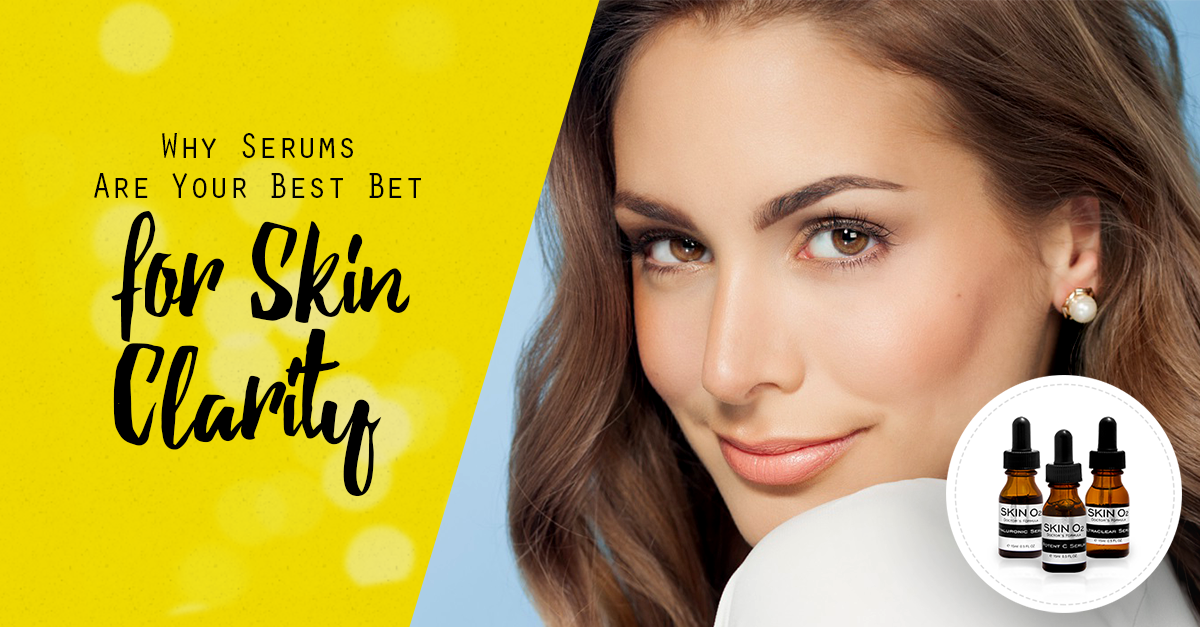 Why Serums Are Your Best Bet for Skin Clarity
Hello there, Skinlovers! Have you actually wondered what serums do to your skin?
The usual correct order of applying skincare is like this:
Cleanser

Toner

Serums

Eye cream

Moisturiser
However, serums are often left out of the basic skincare ritual because they tend to be costly despite them packaged in small bottles – why not buy a big bottle of facial cleanser instead of this tiny bottle that you can use up quickly?
Don't scrimp on serums for as they say – big things come in small packages! Here are some fast facts as to why they make a powerful addition to your beauty and skincare regimen:
Formulation
Compared to lotions and moisturisers, they don't have petrolatum or mineral oil that retain much moisture. However, the water-based formulation allows for fast absorption and penetration into the deeper layers of the skin. Despite this, the other active ingredients found in serums provide the hydration factor.
Ingredients & Potency
You don't need a big bottle of serum because its active ingredients have high dosage and potency – they directly attack skin troubles such as wrinkles, discolouration, acne etc., without your other skin products interfering. Here are some of the ingredients you can usually expect and what they do to your skin:
Vitamin C:

 

Prevents UVA/UVB damage

Retinol:

  Activates faster cell turnover

Salicylic acid and Benzoyl peroxide:

 

Acne prevention

Hyaluronic acid:

 Continual feeding the skin with this for two weeks can dramatically improve skin elasticity
How to apply
After cleansing and toning, apply a pea-sized amount and evenly pat across your face.
Effects
Being oil-free, serums aid in deep-layer action while providing a non-greasy and velvety finish to the upper layers. With ingredients having high concentrations, they provide intensive nutrition and bring fast results.

Types of serums
Since serums target specific skin concerns, check below which problem you have and see our recommended serum for you:
Anti-ageing:

 

Skin O2 Hyaluronic Serum

 with added collagen and Vitamins A, C and E to reduce the appearance of fine lines and open pores, as well as  to revitalise the skin with a healthy glow

Sensitive skin & UVA/UVB damage:

 

Skin O2 Potent C Serum

 guaranteed to treat skin types such as red, sensitive, scarred, sun-damaged and with couperose with its high dosage of Vitamin C

Pigmentation: Skin O2 Ultra Clear Serum containing melanin inhibitor, licorice & vanilla extract to correct pigmentation and blocking further production
Banish breakouts in no time, Skinlover! To welcome the first drafts of autumn breeze, we are offering 10% discount on all Skin O2 serums – and they all come with free masks, guaranteeing you of instant hydration boosts! Grab yours now through our online store!