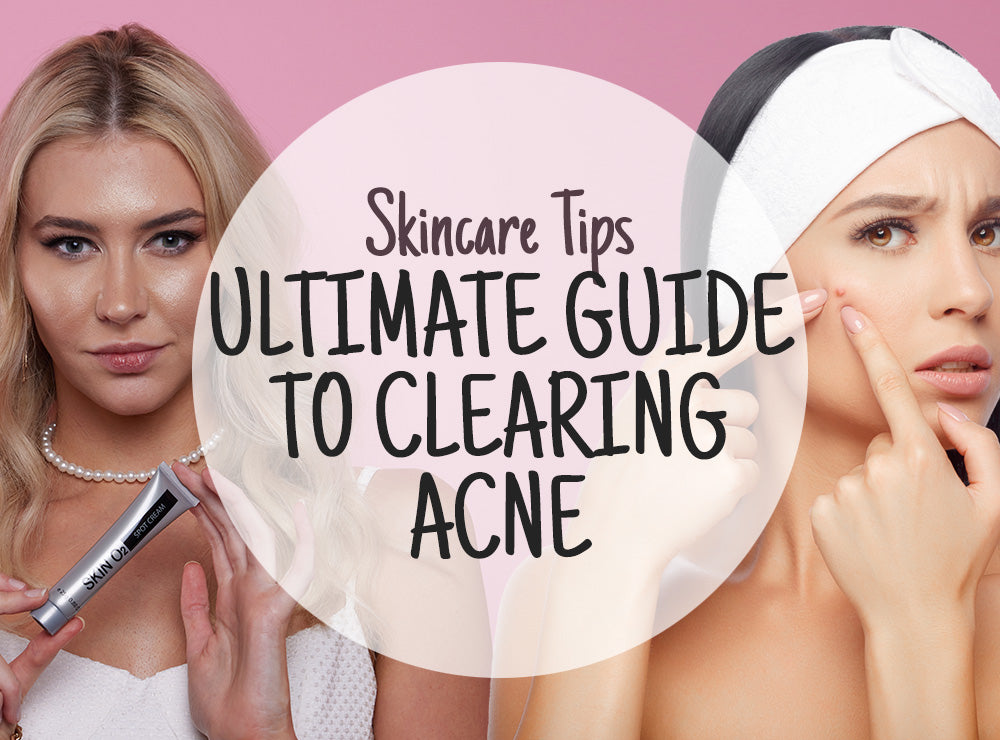 The Ultimate Guide to Clearing Acne
Top Skincare Tips and Products To Clear Acne For Good!
Acne is a common skin concern that can be frustrating and embarrassing. However, with the right skincare tips and products, achieving clear and healthy skin is within reach. In this ultimate guide to clearing acne, we will explore effective strategies and recommend top-notch skincare products to help you combat acne and restore your confidence.
1. Cleansing: The Foundation of a Clear Skin Routine
Cleansing is a crucial step in any skincare routine, particularly for those with acne-prone skin. Choose a high-quality cleanser that is clinically proven, non-comedogenic, and contains pore clarifying ingredients like AHA (alpha-hydroxy acid), glycolic acid and sea salts. A great option is the Gel Cleanser by Skin O2, designed for oily or acne-prone skins.
If you have red or sensitive acne-prone skin, opt for a gentle cleanser like Skin O2's Cream Cleanser. Remember to use a professional cleansing pad too, such as the Eco Reusable Facial Cleansing Pads to ensure thorough removal of dirt and grime that can lead to clogged pores and breakouts.
2. Regular Exfoliation: Removing Dead Skin Cells
Exfoliation plays a vital role in preventing clogged pores and breakouts by removing dead skin cells. Look for a gentle exfoliating product that contains ingredients like alpha-hydroxy acids (AHAs) and beta-hydroxy acids (BHAs) to gently slough off dead skin cells effectively.
Consider trying the Salicylic Acid Serum by Skin O2, which combines AHAs and BHAs for an everyday chemical exfoliator that promotes a smooth, clear, and glowing complexion.
Alternatively, use the Micro Scrub AHA Exfoliator 4% by Skin O2 at least 1-3 days per week.
3. Spot Treatment: Targeting Blemishes
Spot treatments are designed to target specific areas of the skin with a high concentration of active ingredients such as salicylic acid or benzoyl peroxide. These ingredients help clear and prevent breakouts. Skin O2 offers the Anti-Acne Spot Cream + Free Concealer (Zit Kit), a doctor-formulated spot treatment with benzoyl peroxide and salicylic acid. This convenient kit also includes an anti-redness concealer pen.
Anti-Acne Spot Cream + Free Concealer (Zit Kit)
4. Hydration and Moisturisation: Essential for All Skin Types
Maintaining proper hydration and moisturization is crucial for all skin types, including oily or acne-prone skin. Opt for a lightweight, non-comedogenic moisturizer that won't clog your pores and includes ingredients to aid in scar repair. Consider using the Multi Vitamin B, A, C, E Moisturiser by Skin O2, specially formulated to promote skin health.
Multi Vit B, A, C, E Moisturiser
5. Topical Retinoids: Promoting Cell Turnover
Topical retinoids, like tretinoin, are effective in reducing inflammation and promoting cell turnover, making them a valuable treatment option for acne. Consult with a dermatologist to determine if a topical retinoid is suitable for your skin type and how to use it properly. Alternatively, you can try an over-the-counter retinol serum like the 2% Retinol Serum by Skin O2, a clinically proven solution to combat acne.
6. Incorporating a Healthy Diet and Lifestyle
In addition to skincare, maintaining a healthy diet and lifestyle can positively impact acne. Avoid consuming dairy products, sugary foods, and processed foods. Instead, aim for a balanced diet rich in fruits and vegetables. Additionally, practice good hygiene by regularly changing your pillowcases and avoiding touching your face to minimise bacterial spread.
Conclusion
Clearing acne and achieving healthy, glowing skin is possible with the right skincare tips and products. By incorporating the recommendations mentioned in this guide, along with a healthy diet and lifestyle, you can take a significant step towards improving your skin health. Start your skin health journey today by trying the quick and easy anti-acne skincare bundles, such as the Acne Clean Skin Pack or Anti-Acne Complete Skincare Solution, both curated by Skin O2's team of doctors. Invest in your skin and give yourself the gift of clear, radiant skin!
If you need help with skincare tips or have any skin concerns you can shop by concern on our website or take our Free Skin Quiz to find the product best suited to you! See you next time!