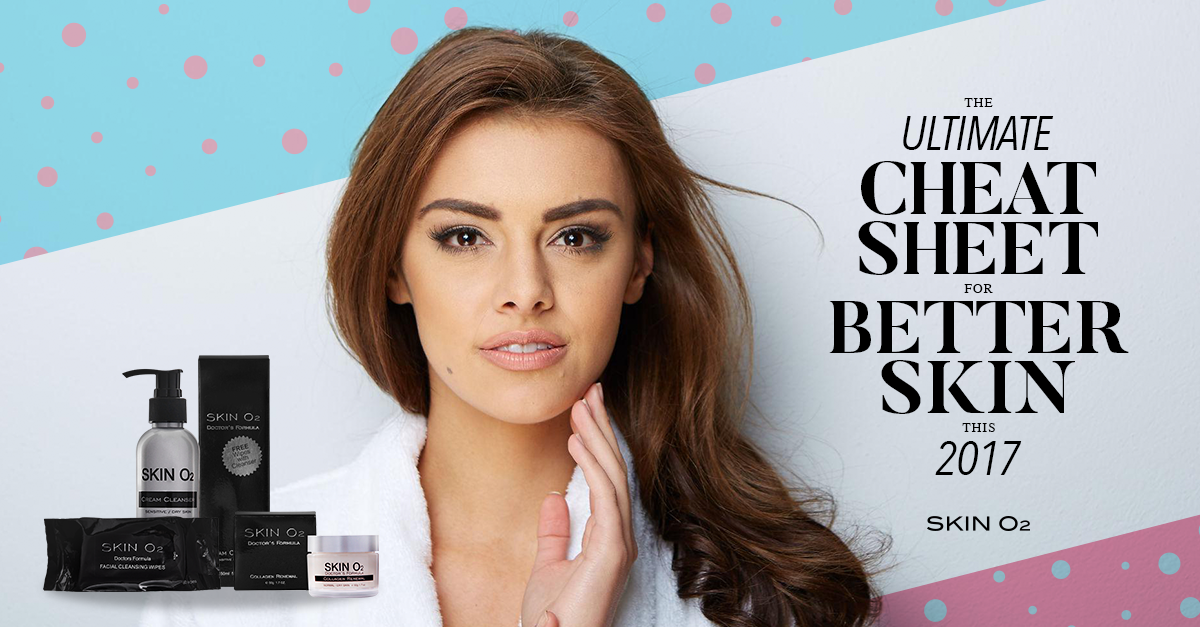 The Ultimate Cheat Sheet for Better Skin This 2017
Creating your own skincare routine can be daunting especially with tons of product fads circulating around the internet. We are all constantly bombarded with excessive TV and social media ads on how to get the best looking skin and which skincare products might suit you best.
Our team of beauty of experts want to make it easy-breezy for you to rock the fresh, bare-faced look. Now, say "bye-bye" to the rollercoaster ride of drastic ups and downs in the past year and let's get started with your skin's game changer with the following tips and tricks:
Pay attention to your skin type
The first step to an effective skin care routine is to know your skin type. Your skin can be: normal, oily, dry or a combination of the three. Make sure you get this right so you can select the best products that best complements your skin.
The Unbeatable Trio
When it comes to skincare, you should always start with the basics – Cleanse. Tone. Moisturise. 
 Carefully choose the right products for your skin and make sure to change them as your skin changes as well.
Cleanse. All throughout the day, you are exposed to germs and dirt that stick to your skin. Add all these to your everyday makeup, and the accumulated gunk can greatly affect your skin. Fret not, just remember these two important things: Gel and water-based products usually work for oily to combination skin, while cream-based products are for drier skin types.
Our skincare range has the best selection of cleansers for these specific skin types: Skin O2 Cleanser Gel works best for normal, oily and combination skins or if your skin is sensitive and more on the dry side, the Skin O2 Cleanser Cream. So after a long day of work or school, cleanse your face and neck thoroughly. Make sure to double cleanse when wearing makeup.
Tone. Our Skin O2 Facial Cleansing Wipes is a great product to tone your skin after cleansing. Each wipe is enriched with Aloe Vera and Vitamin E to hydrate and nourish the skin while freshening and toning at the same time.
Mositurise: Final step is to moisturise your skin after cleansing and toning. Use Collagen Renewal for normal and dry skin types or the skin balancer Smooth Skin if you're more towards the oily or combination skin types.
Bonus Level: Exfoliation
To ensure promotion of maximised skin renewal, make sure you exfoliate correctly and appropriately. A regularly scheduled deep exfoliation will remove dead skin cells and unclog your pores for refreshed, smoother skin. Plus, serums and moisturisers will be absorbed better by your skin this way. Don't overdo it, though! Over-cleansing your face will dry it out and it will make it more sensitive. For best results, choose the best exfoliator for your skin type and do it twice a week for the best results.
Invest in a dermatologist
It is highly recommended to visit your dermatologist or your preferred skin professional as they can assist in helping you better understand your skin's needs. Having regular facials is also good practice to help promote silky smooth skin.
Depending on your age and personal skin concerns , it is also a ideal to check with your dermatologist is if they have special products to combat your personal skin troubles. Skin O2 offers salon use only peels to battle every skin woe you have – from pigmentation peels for your dark spots to anti aging peels for your wrinkles and fine lines to blemish peels for your acne spots. They also offer personalised skin care plans and product recommendations for customers to ensure all benefits are maximised. Just contact Skin O2 or go to your nearest stockist for a skin type assessment and be guided by professionals on your journey to having better and healthier skin.
So what are you waiting for? Join us Skinlovers, start the year right and have the best glowing skin ever.
And don't worry about the Web becoming a little too congested and peppered with gimmicky products – just go back to this special guide whenever you need a refresher on the basics and must-haves of skincare.