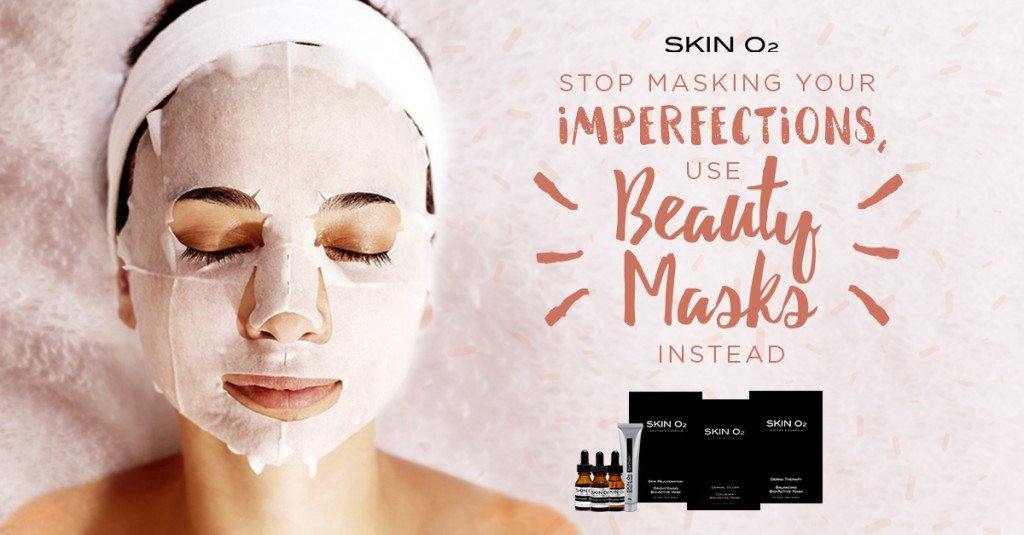 Stop Masking Your Imperfections, Use Beauty Masks Instead!
Sometimes, you just can't avoid the occasional zit. And the pesky bags under our eyes? Yup, inevitable, too. These imperfections, though small and barely noticeable, can freak us out.
So our band-aid solution? Makeup.
We all know the power of a smoothing primer and a high-coverage foundation and concealer. With a little swiping and blending, it's like your pimples and eye bags go poof — gone! But wouldn't it be nice to have perfectly clear skin whenever you just want and enjoy an au naturel look?
Instead of masking your imperfections, include these dermatologically-tested masks in your skincare routine to solve your beauty woes:
 Feeling a little lackluster?
When you are always on-the-go or when you just came home from an amazing holiday on the beach, your skin can get sun-damaged and become a bit little dull and hyper-pigmented. SkinO2 Bio-Active Brightening Mask is the perfect solution to combat this problem. It is designed for use for sensitive skins and balances out your skin tone and brings life back into your skin.
This miracle mask even does wonders for those who have undergone laser or IPL treatment. Just place the sheet mask on your face for a good 20 minutes and you'll immediately see the glowing effect!
This brightening mask comes free as a gift with purchase when you buy either SkinO2's Serum Potent C which protects the skin from free radical damage while promoting collagen growth or Serum Ultra Clear which corrects and prevents pigmentation. These powerful combinations ensure a youthful radiant glow without irritation and side effects!
 Bye-bye, zits!
Suitable for acne-prone skin, the SkinO2 Bio-Active Balancing Mask counteracts the build-up of oil and sweat on your skin 
 , restoring the natural texture of your skin. From drying out your pimples to vanishing acne marks, this mask is the perfect day-ender to soothe your face after being exposed to the harsh elements from the environment.
After prepping your skin, simply put on this mask and instantly feel the soothing effect of the aloe, water lily and lavender extracts seeping deep into your skin, making your skin feel clean and revitalised. With continued use, expect to see great improvements in the texture of your skin and even help prevent future breakouts!
 When you buy SkinO2's Spot Vanishing Cream, this amazing mask comes with it! The balancing mask used alongside the vanishing cream ensures you'll have squeaky clean pores and perfectly exfoliated skin. Just make sure you use the spot vanishing cream sparingly only on breakout spots for optimum results!
Plump it up!
Especially during the colder months, most girls face the dreaded dehydrated skin. Skin can sometimes become a little flaky and plasticky and no one wants that! Use SkinO2's Bio-Active Collagen Mask to rehydrate skin and to help enhance skin's ability to retain moisture.
This mask is perfect for ageing or mature skin. Collagen is known to improve skin's elasticity, thus helping eliminate fine lines and wrinkles.  Instead of opting for cosmetic injections, you can just use this bio-active mask to give you a youthful glow. Experience the benefits of cosmetic surgery with continued use and over time, it's as if you've had dermal fillers (but without the needles!).
These 3 masks have different benefits to suit your every skin need. Make sure to get the perfect one for you so you'll be able to flaunt your makeup-free face in no time.
After reading this article, head on over to our online shop where you can get 10% off on the facial tint sunscreen and all serums with free masks to start treating your skin in the best way possible! Invite your girl friends over for a slumber party and enjoy these amazing masks for a great pamper night experience!
If you want to know more about the nourishing SkinO2 masks, check out this video by one of SkinO2's beauty experts.