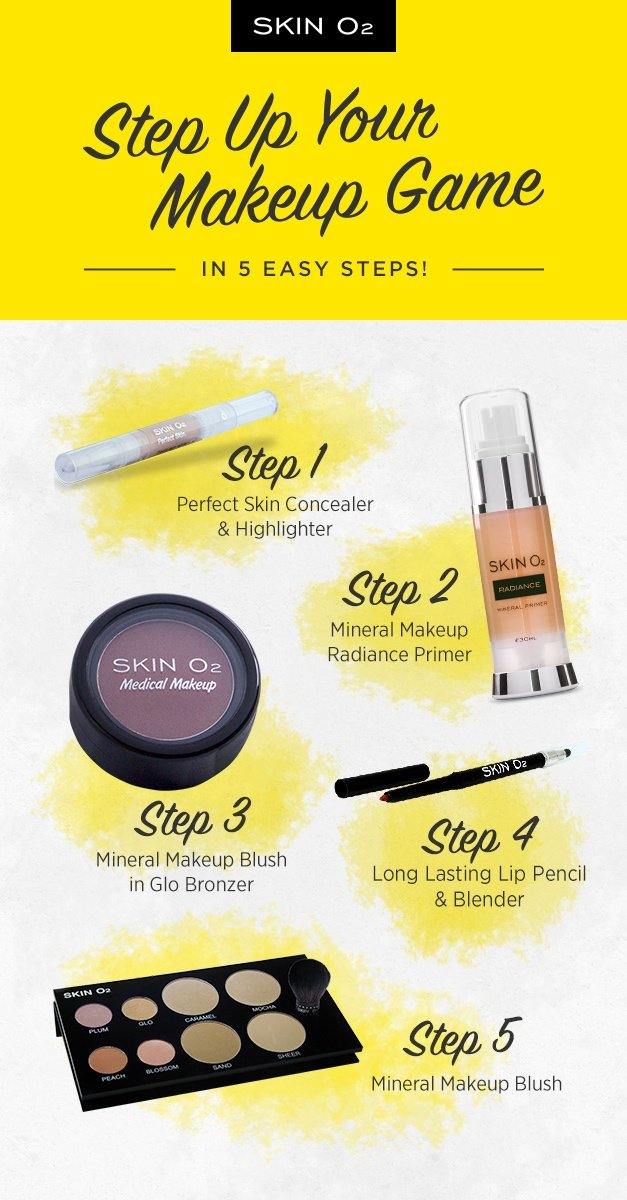 Step Up Your Makeup Game in 5 Easy Steps!
It's time to amp up your makeup game, Skinlovers! Are you tired of decluttering your makeup bags and vanities, as well as chucking away makeup that you hardly even used until they just expired?
Using Skin O2 makeup, here are some tips and beauty hacks on making the most of your makeup and looking fresh and radiant all the time!
Add That "Oomph": Skin O2 Perfect Skin Concealer & Highlighter
This gem is also called Dr. Atia's Perfection Pen — given what it can do, who wouldn't call it as such? It combines two very contrasting makeup functions: concealing and highlighting!
Banish wrinkles, dark circles and blemishes instantly — you can do it flawlessly with the pen's very easy-to-use tip! Using the same pen, you can make your face more radiant and full of life by applying it on to these parts:
Brows:

 Apply highlighter on the brow bone to accentuate and lift the beautiful arch of your brows. Just imagine your eyes sparkling and your brows with a dramatic look over a romantic dinner with soft lighting!

Lips:

 Have sultry, heart-shaped lips! After applying your lipstick, add a bit of the highlighter to your Cupid's bow (the area above your upper lip). Finish off with a plumping gloss.

Cheeks/jawline:

 Seen those awesome contouring YouTube videos? Add this to your contouring arsenal and rock the runway look with high cheekbones and a defined jawline!
Rise & Shine: Skin O2 Mineral Makeup Radiance Primer
Primers have smoothening and moisturising effects on the skin, as they even out colours and imperfections prior to applying makeup. To buff away open pores, use your foundation brush and have that DIY HD makeup look in seconds!
We all know that it's a must-have under your makeup, but it can also be on top, too! If you want to achieve a dewy finish, add a small amount of primer to your foundation and apply highlighter to your cheekbones.
Get Golden: Skin O2 Mineral Makeup Blush in Glo Bronzer
Bronzers are not just for you to channel Greek goddesses – you can also use these as a beauty hack! Aside from highlighters, you can also apply the bronzer on the crease of your brows for an instant lift.
Bronzers are also golden as a contouring component. For a guide to using the Skin O2 Glo Bronzer as both highlighter and contour, check out this image!
Kiss Me Quick: Skin O2 Long-lasting Lip Pencil & Blender
Sometimes it's tedious to apply lip liners since it gets smudged anyway as your day goes by. However, did you know that you can use your lip liner as your base for a matte effect? If you want to add a bit of sparkle, add the Skin O2 Plump-A-Licious Lips on top! Pucker up!
Blush and Be Rosy: Skin O2 Mineral MakeUp Blush
Another fun way to use your blush is to use it as eyeshadow! This trick is best for a day look as matte eyes can be quite a stunner. Coat your lids with Mineral Makeup Blush in Peach, then finish with mascara! For highlighting, apply a pale pink blush between the under-eye circles, extending it up to the centre of your cheekbones and not getting any of the powder into the under-eye fine lines.
The reason behind the versatility of Skin O2 products is the fact that they are mineral-based. This property prevents skin irritations and pore-clogging, while its lighter formulation makes it perfect to apply to any part of the face! What are you waiting for, Skinlover? Try these beauty hacks now (and share the results with us in the comments section)!
Amp up your makeup routine this month at a low, low cost! Save as much as $67 for October as we are throwing in a FREE refill for every Skin O2 Mineral Makeup you buy. Also, buy any Skin O2 Plump-A-Licious Lip Gloss and get a matching Long-lasting lip Pencil and Blender. Avail them by clicking here or visit your nearest stockist today! Offers are good while stocks las