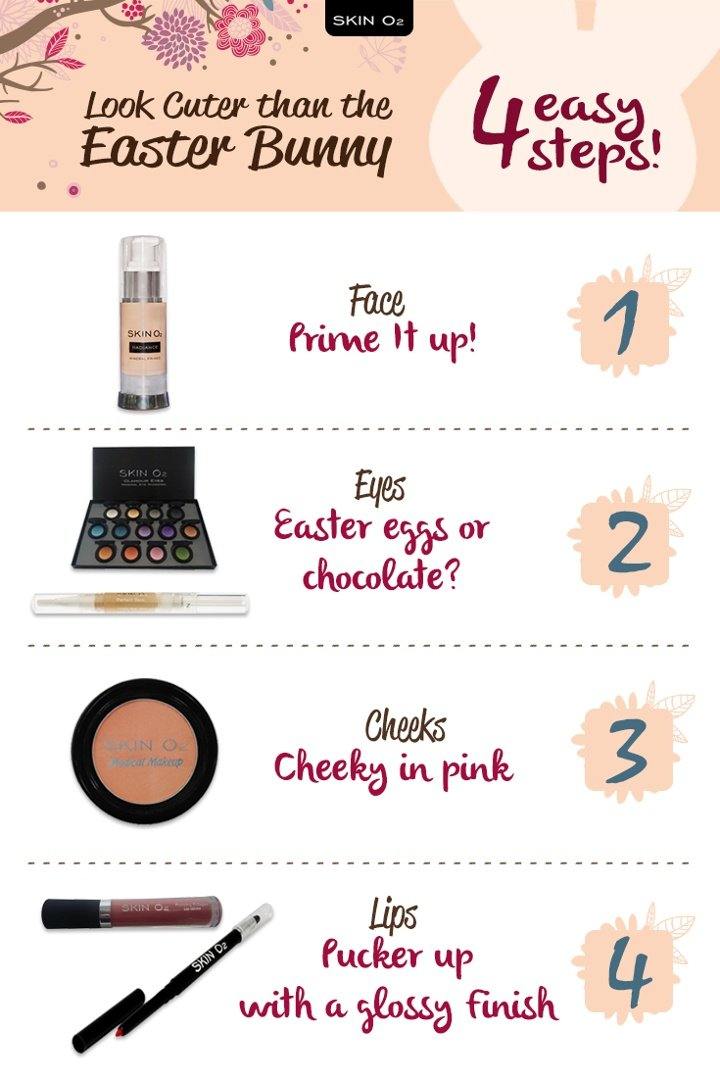 Look Cuter than the Easter Bunny in 4 Easy Steps
With Easter just around the corner, it's time for Skinlovers like us to play with colours and go for a soft and feminine look! Whether you are going out or just spending time with your loved ones, look fun, relaxed and flawlessly fabulous by trying out these 5 makeup tricks and be more adorable than the Easter bunny!
1. Face: Prime It Up!
How It Works:
A primer works like magic on your skin. Not only does it moisturise your face, but it also seals your pores, especially if you are using liquid foundation that could make pores, wrinkles and fine lines more visible. Have this in your makeup bag to get that soft and velvety skin!
Expert Tip:
Apply in outward and sweeping motions to actively prevent wrinkles. Wait for a few minutes before applying foundation, or just set off with finishing powder for a lighter look.
Must-try:
Skin O2 Primer Mineral Makeup with anti-aging peptides, natural minerals and hyaluronic acid.
2) Eyes: Easter Eggs or Chocolate?
How It Works:
To project a fun yet sophisticated look, opt for bright colors in pink/purple/blue hues and join in the Easter egg hunt! If you prefer a sultry look, go for neutral and earthy tones as you enjoy your Lindt chocolate bunnies.
Yummy food + yummy makeup = perfect combo!
Expert Tip:
For more life and brightness, apply highlighter above the brows, under the eyes and on the browbone. For more drama to your sultry look, add a dash of brown or metallic eyeshadow at the creases and outer corner of your eyes.
Must-try:
Skin O2 Glamour Eyes Mineral Eye Shadows Boxed Set  and Perfect Skin Concealer & Highlighter with Vitamins C & E
3) Cheeks: Cheeky in Pink
How It Works:
Go light and flirty with barely-there and flirty pinks/peaches on your cheeks. For a dewy finish, add a small amount of moisturiser to your foundation and apply highlighter to your cheekbones.
Expert Tip:
Looking for the perfect shade? Look for the color that matches either the color of your cheeks when you are flushed or the color that matches your lips.
Must-try:
Skin O2 Mineral Makeup Blush that can also be used as eyeshadow and lip tint
4) Lips: Pucker Up with a Glossy Finish
How It Works:
Aside from the flirty shades of lipstick you can choose from, dare to make your lips sparkle and dazzle! Combined with your favourite lipstick colour and lipliner, a gloss can keep them plump, filled and protected as you stay outdoor with family and friends.
Expert Tip:
For super supple-looking lips, add shimmer or highlighter to your Cupid's bow (the area above your upper lip) before applying a plumping gloss.
Must-try:
Skin O2 Cheeky Kiss Blush & Lips Box Set (contains 1 Long Lasting Lip Pencil with Blender, 1 Mineral Makeup 3-in-1 Blush, Lip Tint & Eyeshadow and 1 Plumping Collagen Lip Gloss)