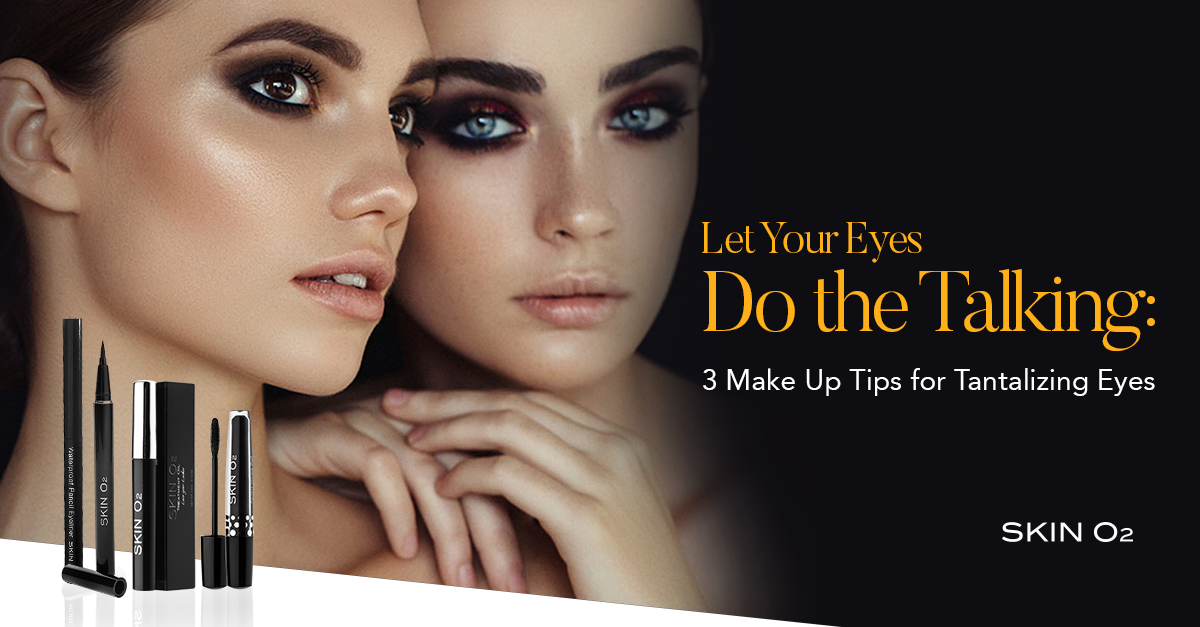 Let Your Eyes Do the Talking: 3 Makeup Tips for Tantalizing Eyes
You know what they say about the eyes – they are the windows to your soul. That's why your eye makeup should always be on Fleek! From a doll-eyed look to a smoldering visage, your eye makeup can transform you in an instant. 
 Here are some tips to make your eyes the center of attention:
Before anything else, know your eye shape
Different eye shapes require different makeup looks. If you want to make your eyes look bigger, create a smokey eye. When you use an eyeshadow at least two shades darker than your skin tone, it creates the illusion of a 'new shadow', thus extending your eyes.
If you have a hooded eyelid, make sure you blend your eyeshadow while looking straight at a mirror with your eyes open. This ensures you'll know where your color goes once your eyelids fold.
As with all things makeup, there is no exact formula for this. You have to experiment and practice to see what works best to suit your look.
Skin O2's Brow Shaping Powder is one of Skin O2's most raved-about products. But did you know you could use it as an eyeshadow as well? Apply it to your crease for a great transition color. You can also use our Bronzer Mineral Makeup for this as well.
Girl, flutter them lashes!
This step is often skipped by many ladies — and that is one of the biggest makeup mistakes ever! You may think your lashes are too small to make a difference, but they definitely matter.
Curl your lashes from the roots and squeeze your eyelash curler for a few times. Then, slowly squeeze it up to the tips of your lashes. This helps you avoid the 'L lashes' (which no one wants!). If you want your curl to last longer, you can use a blow dryer to slightly warm up your eyelash curler (make sure it's not too hot!) then follow the same process.
Now, take it to the next level by using Skin O2's Mineral Mascara. There's no need to apply falsies because this product already gives you length and volume without weighing down your curl. Partner this with the Lash Treatment Oil to help grow amazing lashes!
 Another bonus tip: when you curl your lashes, you will see a small white space peeking through. That's your upper lash line. Use the Waterproof Pencil Eyeliner to hide this and to make your eyes look more put together.
Bring it and Wing it!
Of course, who can forget the phenomenal winged eyeliner? If you really want to let your eyes do the talking, it is a must! Every girl does it differently, but you can't go wrong with starting by swiping a thin line from your inner corner to the outer corners of your eyes, then flicking a straight line upwards. Connect the end of your flicked line to your first line and fill in the spaces. Voila! You have yourself a winged eyeliner.
Don't get frustrated when you don't get it the first time. Just practice and try out different techniques and shapes that would work for you. Skin O2's Wing It Eyeliner is a great tool to practice with! For helpful tips, let our babe Skye Wheatley show you how it's done through this tutorial video.
Its pen-type packaging makes it easier for you to grip so you can easily control your lines. The ergonomically designed felt tip allows you to create thin, highly pigmented lines with utmost precision because it smoothly glides across your lid. Plus, it's waterproof and smudge-proof as well.
Try out these steps and don't forget to tag us if you do! You know how much we love seeing our Skinlovers slay. That's why we're helping you get that tantalizing eyes look!
Get your hands on the best value deal on these products with the Eyes on Point Wonder Bundle: Bring and Wing It and you get all your eye makeup products for just $69! Don't miss out!
(For the latest video beauty tips & trends, Subscribe to our YouTube Channel and follow us on Instagram @skino2)