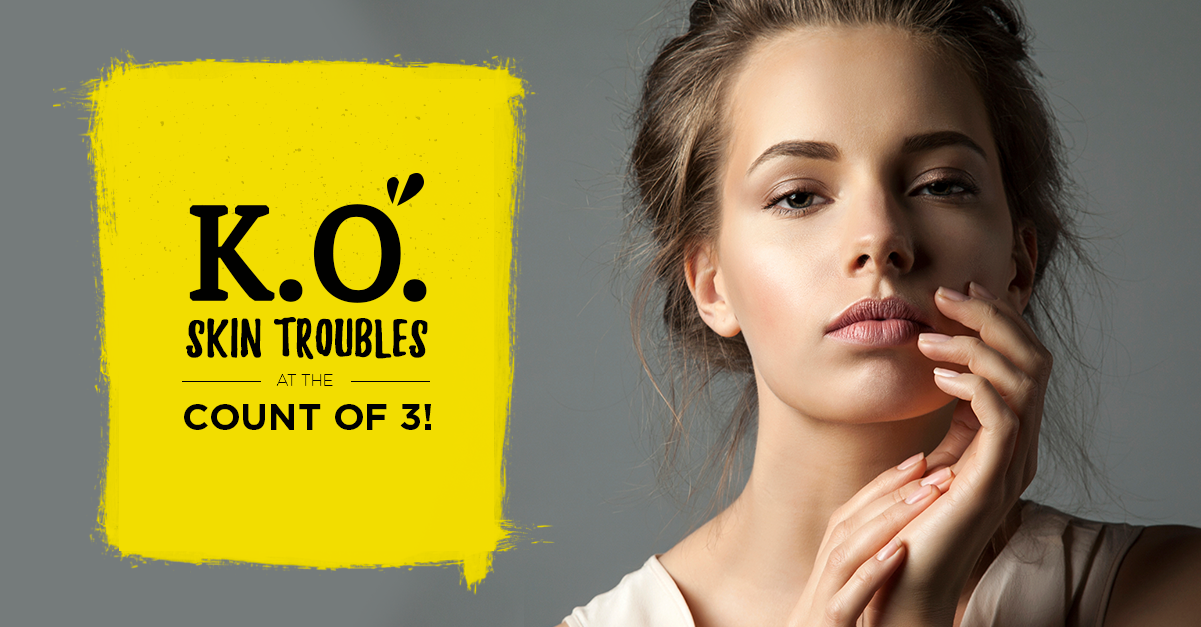 K.O. Skin Troubles at the Count of 3!
There will always be those days when you feel unpretty while looking at the mirror, especially if you find unwanted skin troubles and impurities. It may be a zit or two, some blemishes or redness and even darkness under your eyes that could affect your confidence. Don't you wish you could just go back to bed and sleep those annoying marks away?
Don't dream on it, be more proactive and act on it!  Here are some surefire ways to directly target those trouble spots and knock them all out. Integrate these amazing products into your skincare game and see results.
Tag-team with a reliable cleanser against acne
Experiencing breakouts with cystic pimples and unwanted blemishes is sure to ruin your day. Genetics, poor hygiene, stress, hormone levels and lifestyle choices are some of the factors that contribute to having skin problems. Seek out a professional to handle these worries for you, rather than unsanitary picking, squeezing and popping out that could further aggravate your problems. Keeping a good skincare regimen is the key to maintaining healthy and glowing skin after treatment.
Cleansers, of course, are best used to remove makeup and grime buildup from your face. Knowing your correct skin type is imperative to appropriately choose the product compatible with your skin for effective results. For oily skin, use the Skin O2 Gel Cleanser – it contains glycolic acid that prevents the formation of keratin and sebum plugs. For dry and sensitive skin, the Skin O2 Cream Cleanser is the perfect match for you. It is a soap-free, non-sensitising and pH-balanced creamy milk cleanser that gently cleans, moisturises, nourishes and softens delicate skin. Either cleanser will leave your skin feeling smooth and fresh!
Defend pores with exfoliators
Our pores help regulate our body's temperature and their size and visibility varies from one person to another. Once the pores of the sebaceous glands become clogged with dirt, dead skin cells or overproduction of oil, it will result in pimples. To avoid this scenario, it is best to reinforce cleansing with good exfoliation.
Microbead exfoliation clears away dead skin cells and paves the way for serums and moisturisers to penetrate deeper into the inner skin layers! Exfoliants can lighten age spots and even out your skin tone. The Skin O2 Micro Cream Exfoliator 4% is amazing for normal and combination skin types while the Skin O2 Micro Cream Exfoliator 8% for oily and acne-prone skin. The Skin O2 Micro Cream Exfoliator RP is best suited for sensitive skins as it synergistically combines gentle but effective microbead exfoliation with RP (Vitamin A) to promote increased cellular renewal and collagen production!
Make a comeback against wrinkles with moisturisers
As we grow unwanted facial lines can start to appear. These come in so many names: crow's feet, age lines, lip lines, frown lines and forehead lines – but though ageing is inevitable, remember it is still manageable!
Due to the constant changing weather conditions, the hydration levels our skin needs to be adequately moisturised varies. Thankfully, the Skin O2 Collagen Renewal is brilliantly formulated with clinically proven ingredients to help speed up the production of new skin cells in order to eliminate fine lines and restore the soft glow of youthful skin. Consequently, Skin O2 Smooth Skin, a skin-balancing cream, can smoothen out rough skin and reduce redness all over your face. It also helps in unclogging pores and reducing excess keratin and dead cell buildup and oil secretion.
Don't fear these skin challenges and never leave skin problems to chance, you have the power to win against them! Incorporate these signature moves into your battles against skin troubles and you will emerge as a champion, just like our fearless Skin Warriors!
Like our Skin Warriors who have shown how to fight off skin troubles, you can also beat them with our gentle-to-the-skin but not-so-gentle-with-troubles range of skincare products! Visit the Skin O2 website to fortify your skincare arsenal.