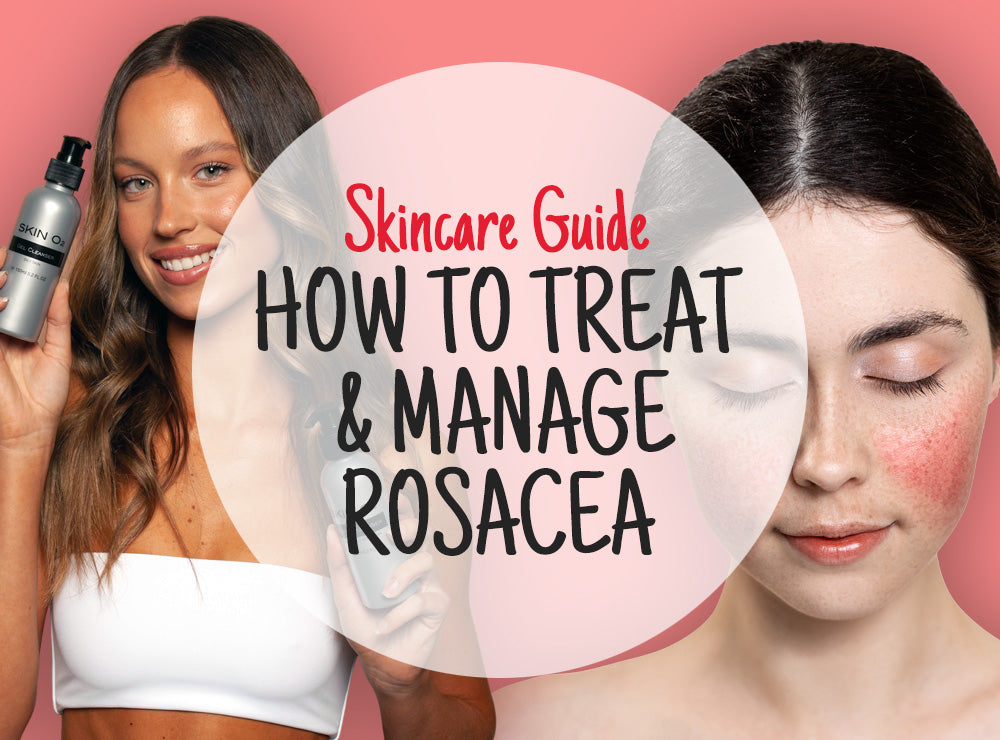 How To Treat & Manage Rosacea
Do you suffer from sensitive skin or rosacea? We are here to help!
April is National Rosacea Awareness Month and it is the perfect time to discuss a common skin condition that affects many people, Rosacea. Rosacea is a chronic skin condition that mainly affects the face and makes the skin red and inflamed. Unfortunately, it is a condition that can also cause irritation, sensitivity, and discomfort - especially for those who have sensitive skin.
Guide to managing your rosacea
At Skin O2, our Doctors understand the challenges that come with having sensitive skin and we are dedicated to providing high-quality skincare that caters to your specific needs. Our range of products is carefully formulated to help soothe and nourish sensitive skin, including those that are prone to rosacea. If you are someone who struggles with rosacea, we're here to help! We have put together a guide to help you navigate the ins and outs of this condition, including how to manage its symptoms and how to choose the best skincare for your skin's needs. Although there is no cure for rosacea, there are ways to help manage its symptoms and keep the flare-ups under control.
1. Identify your triggers
Certain things or activities might trigger your rosacea flare-up, including exposure to sunlight, hot saunas, humid or extreme weather, hot drinks, spicy foods, dairy, alcohol, and stress. Try to keep track of your triggers and avoid or limit them as much as possible.
2. Protect your skin
Sun exposure can make rosacea symptoms worse. Protect your skin by wearing sunscreen with at least SPF 30 with UVA and UVB protection every day, even on cloudy days. Also, protect your face from extreme temperatures by wearing a scarf or a hat when it's cold or windy outside. We recommend Skin O2's Natural Mineral Sunscreen a fragrance free sunscreen with gentle non irritating ingredients specially made for sensitive skin.
3. Use a gentle skincare routine
Avoid using harsh chemicals or abrasive scrubs that may irritate your skin. Choose mild, fragrance-free, and non-comedogenic skincare products. You can just shop by concern on our website to find skincare products that are mild fragrance free and non comedogenic, which means they are suitable for sensitive skin or rosacea prone skin.
These are essential skincare products we highly recommend to help with Rosacea:
For a complete skincare solution to target rosacea which is safe and suitable, you can save by shopping our Anti-Redness Complete Skin Solution Bundle, your ultimate daily redness & sensitivity skincare regimen. This kit contains targetted products to help with redness and rosacea, inlcuding a cleanser, sunscreen, serums and more and is specially bundled to help balance skin and deliver an improvement in redness & skin sensitivity
Anti-Redness Complete Skin Solution Bundle
4. Use non-irritating makeup
Using the wrong type of Makeup with irritating ingredients can further inflame & irritate your skin and effect your rosacea. If you notice this occurs, switch to a mineral makeup with calming snd soothing ingredients such as natural vitamins and minerals that are non comedogeonic and free from irritating ingredients like bismuth oxychloride which makes the skin itch. Avoid synthethic fragrances, dyes or talcs in makeup that can cause breakouts or flare up the skin.
Try Skin O2's Mineral Makeup Starter kit, a skincare hybrid makeup set that has been especially formulated by our Doctors with gentle skin loving ingredients to be more suitable for sensitive post surgical skins or people suffering from acne, rosacea, red or sensitive skin conditions.
Conclusion
We hope you feel more empowered to manage your roscaea by following the above tips for improved diet & lifestyle management along with only using suitable skincare and makeup that has been specially formulated for sensitive skin.
If you feel you need more support you can also book to see your Doctor or Dermatologist who may also prescribe medication that can help calm down the skin inflammation or treat other identified causes like a skin fugus while you learn to adapt your skincare and lifestyle routines to avoid or reduce unwanted flare-ups in the future that can lead to rosacea problems.
If you need help with skincare tips or have any skin concerns you can shop by concern on our website or take our Free Skin Quiz to find the product best suited to you! See you next time!