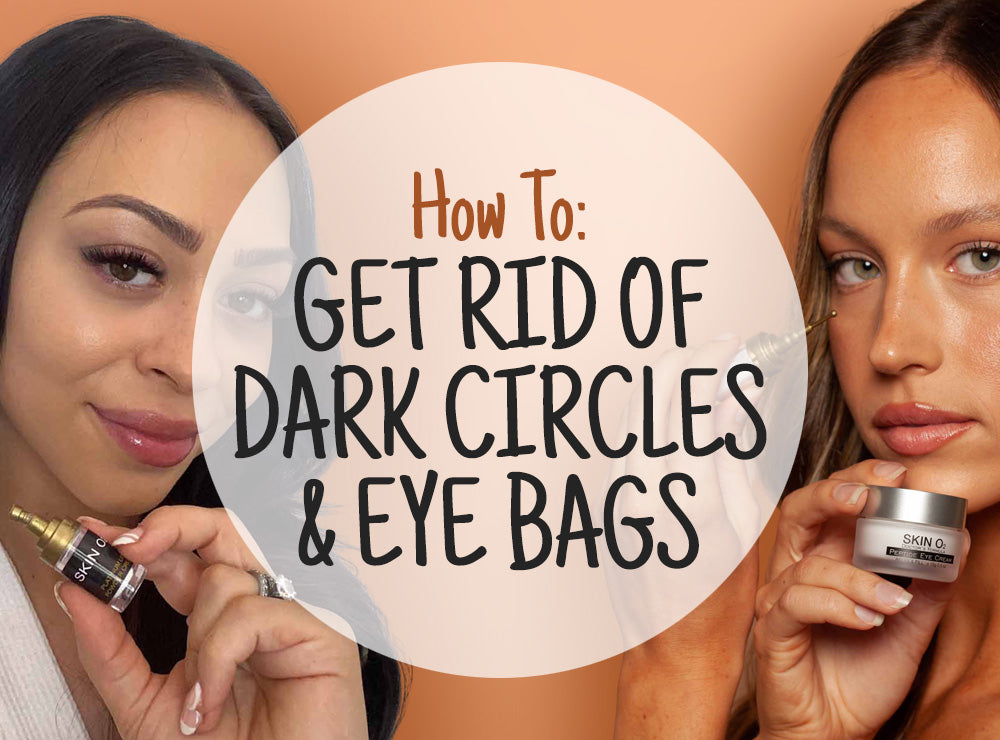 How to Get Rid of Dark Circles & Eye Bags
Dark circles under the eyes are very common for both women and men. Dark circles and eye bags make you look tired and age your whole face, worst of all they can be hard to get rid of.
However, there are ways to fade and reduce the appearance of dark circles and improve the lax and prematurely aging skin in this delicate eye area. Read on to learn why dark circles occur and how you can get rid of them with the new advances in beauty tools and doctor formulated cosmeceutical eye care treatments.
What causes dark circles under the eyes
Dark circles can occur for a multitude of reasons, most commonly either lifestyle related or genetic. The reason for your dark circles will determine the best way to treat them and reduce their appearance. The main causes of dark circles are:Sleep/fatigue, Medications, Diet, Natural ageing, environmental pollution/smoking, sun damage/ pigmentation & Allergies.
How to get rid of dark circles
The first step to getting rid of dark circles is to determine which of the above is causing them, and treat them accordingly. You can read through the following to help determine the cause and find out the best treatment.
1. Get more sleep!
Lack of sleep is one of the most common causes of dark circles. The good news about dark circles as a result of sleep is that they are almost always temporary, and can be fixed with a good night's sleep.
To treat the immediate appearance of sleep related dark circles, try applying cool eye pack to your eyes after waking up or using a ultra sound/magnet therapy massaging device like our Facial Cleansing Brush, a Silicon facial scrubber and face wash device to stimulate blood flow and to help brighten and depuff your face and eyes! Or try a micro current beauty tool like the Skin Gym Facial Toning Device with Electronic Muscle Stimulation to help increase circulation. This Doctor engineered Face & Body Toner helps improve facial definition and contours, reduces wrinkles and helps lift lax & sagging skin by stimulating deep skin tissues and muscles with gentle microcurrents. After just five minutes per day, skin looks more defined, youthful and radiant.
Be sure to use your beauty device with a professional Hyaluronic Serum like Derma Fill Gel to help plump and fill fine lines! An advanced eye cream treatment like Peptide Anti-Ageing Eye Cream + Platinum Dark Circle Eye Cream will also help to instantly revive and illuminate tired eyes.
For the best Skin O2 anti-ageing mineral makeup eye brightening concealer, try Perfect Skin Concealer, our Perfect Skin Concealer Pen illuminates away dark circles. Use your concealer with a damp Flawless Makeup Blender Sponge to instantly reduce fine lines, dark circles & eye bags! For an all day long lasting finish & to keep your dark circles away, always set your concealer, we recommend the Bake Face Matte Translucent Powder for this.
2. Adjust your diet
Did you know that diet can cause dark circles to appear under your eyes. Including less salt in your diet will help to reduce water retention in your face and help to even out the appearance under eyes. Studies show that a diet high in sodium (salt) can contribute to fluid retention in the face, causing puffiness and dark circles. To reduce the appearance of dark circles related to diet, try adjusting your diet.
3. Natural ageing
As you get older, the skin under the eyes becomes thinner and it also loses elasticity. The looser skin can create a shadow under your eyes, create dark circles and eye bags. A high quality eye treatment will help to fight the signs of ageing around the eyes, rejuvenating and firming skin over time. Try our best selling eye cream kit for dark circles and eye bags: Peptide Anti-Ageing Eye Cream + Platinum Dark Circle Eye Cream.
Emilee Hembrow with Skin O2 Peptide Eye Cream & Platinum Dark Circle Eye Cream
The Platinum Eyelift is a powder to cream formula that increases collagen and elastin production to improve skin thickness and firmness. The anti-ageing clinical strength Peptide Eye Cream features plumping and relaxing peptide spheres which are both great alternatives to cosmetic injectable relaxants like botox and also for painful injectable hyaluronic fillers. This lightweight serum lifts and tightens, reduces wrinkle depth, and moisturises the eye area.
The Key ingredients in the Peptide Anti-Ageing Eye Cream + Platinum Dark Circle Eye Cream Kit are:
Hexapeptide 8 - Clinically proven to relaxes wrinkles (botox alternative)
Pentapeptide 4 - Fills and firms fine lines without needles
High strength Collagen with Vitamins A, C & E
Plant Stem-Cells
The best anti aging eye treatment device for dark circles, eye bags and fine lines and wrinkles is LED + RF Wrinkle Eraser Pen & Face Wand — Skin O2 This slimline wrinkle wand imparts a youthful glow while rejuvenating the delicate eye, face & neck areas to help erase away the lines of time. Electronic beauty device delivering dual treatment of intensive pulsed RED LED light combined with radiofrequency dermal collagen induction therapy. For face, neck, décolletage & eye rejuvenation.
4. Skin Laxity, Dull skin or Pigmentation
Dark dull skin under the eyes or pigmentation under the eyes can occur genetically or over time. To target this kind of dull thin, lax skin prone to pigmentation, we recommend introducing a skin firming and brightening serum into your routine. The Skin O2 Ultra Glow Pigmentation Serum Kit is good to help lighten and brighten dull skin and treat pigmentation.
To help improve skin firmness and brightness, try 24K Gold Peptide Serum. This wonder serum is a powerful anti- ageing elixir. This booster serum will be the jewel of your skincare collection with Peptides, 24K gold, plant stem cells, arnica, beta glucans & hyaluronic acid.
24K Gold Peptide Serum can be used on the eye area and all over the face and neck. With 10 active anti-ageing ingredients chosen for the efficacy to help even skin-tone & help improve skin elasticity and firmness. For an extra cooling effect in the eye area Pop in the fridge before use.
5. Allergies
If your eyes feel irritated,red or itchy then your dark circles or eye bags could be related to allergies.If you suspect your dark eye circles or eye bags may be as a result of allergies, get an allergy test. It is worth seeing your doctor to identify exactly what the allergen is so that you can treat it. Allergy medications prescribed by your doctor may also help to reduce the appearance of dark eye circles.
Tips for preventing dark circles under the eyes
If you know you are prone to suffering from dark circles under your eyes, the following tips can help you.
Get a good nights sleep
Sleep is a key ingredient for healthy skin and as it allows your skin to be better able to protect and renew itself. You should try our 24k Gold Collagen Sleep Mask. Just pop it on clean skin before bed after you moisturiser and let it help renew your skin and delicate eye area while you sleep.
In the day, always use sunscreen every day to protect your skin from premature aging, pigmentation and skin damage from the sun. We recommend you try Natural Mineral Sunscreen with Zinc & SPF30 UVA + UVB Protection. This is the best sunscreen because it is non toxic and non irritating. The chemical free, fragrance free and preservative free natural mineral sunscreen safe and suitable for all skin types or persons with sensitive skin or eyes.
Introduce anti-ageing to your routine
It is important to introduce anti-ageing skin care to your routine before the first signs of ageing and to help combat the harsh effects of the Australian sun! Being proactive with your skin care will help slow your skin's ageing. Our Peptide Anti-Ageing Eye Cream + Platinum Dark Circle Eye Cream will directly target dark circles, and can also be used with a Anti-Ageing Skincare Bundle for a full anti-ageing routine.
The best bundle for dark circles and eye bags is the All Eyes On You Bundle. Erase away the wrinkles of time and indulge in the ultimate anti ageing eye care set. This bundle contains the following products:
Did you know you can Shop by Concern on our website? To view the full Skin O2 range to treat eye bags and dark circles concerns check out our Eye Bags & Dark Circles collection today!