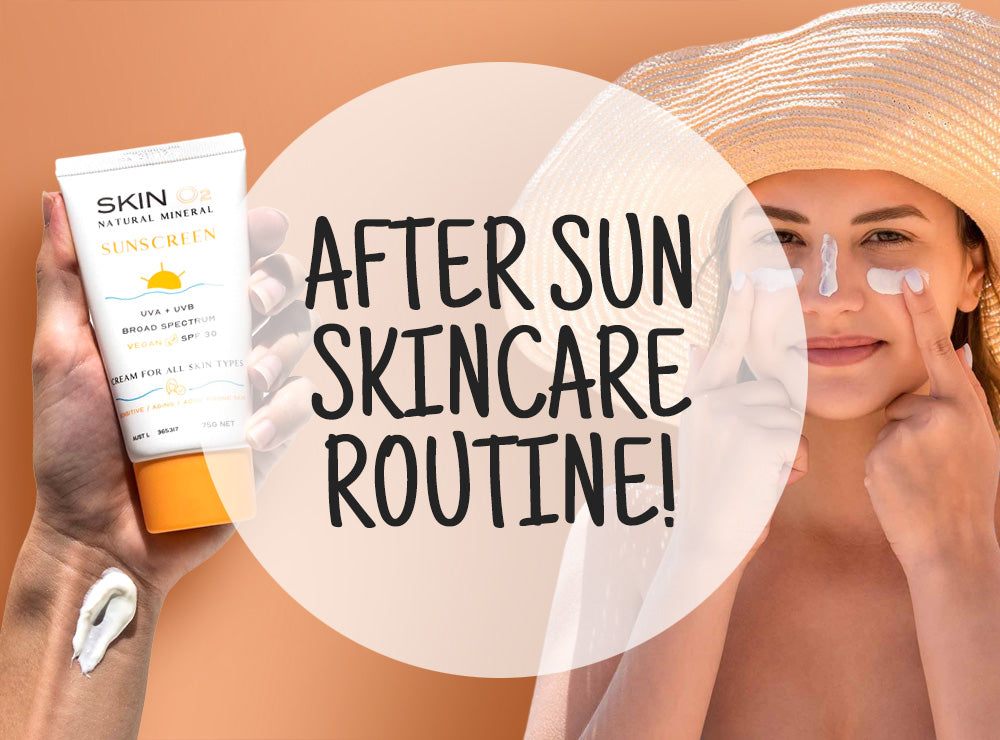 After Sun Skin Care Routine
We've all experienced sunburn! There's nothing worse than hot, red, uncomfortable skin and regretting skipping sunscreen. Here's how to care for sun-damaged skin and, more importantly, how to prevent it from happening again.
How Sun Exposure Affects Skin
It might look good, but a tan isn't a sign of healthy skin. Spending hours in the sun is much more dangerous than getting sun-kissed from a bottle. The damage UV rays do to your skin include:
Fine Lines & wrinkles
Research estimates that up to 80% of premature ageing is caused by UV light.
UV rays penetrate deep into the layers of the skin where they damage the collagen and elastin. The skin is weakened as a result, and wrinkles and fine lines appear prematurely. Fine lines and wrinkles come to us all eventually, but to keep them off as long as possible (yes please!) daily protection with 30+ SPF is essential.
Post Sun Hyperpigmentation
Melanin production is increased in hyperpigmented skin. The natural pigment that gives our eyes, skin, and hair their colours is melanin. Your body starts to create more melanin when you get sun exposure. To combat the longer term effects of post sun pigmentation, try Ultra Glow Pigmentation Serum (Illuminating dark spot corrector) or try Pigmentation Serum Perfect Pairs Bundle.
Increase in skin Dryness, redness & irritation
With increased sun exposure your skin's outer layer barrier is stripped of moisture and essential fats, leaving it to become more parched & dry.
Dry skin is characterized by flakiness, itching, and tight, uncomfortable feeling. The skin can become red, sensitive and easily irritated. To aid repairing the skin's natural barrier & microbiome Try incorporate a Skin balancing serum in to your daily skin routine, try Vitamin B Probiotic Serum
Vitamin B Probiotic Serum
Skin cancer - including melanoma
Too much sun exposure can cause harmful effects and are not limited to your skin; they can affect your entire body and immune system.
DNA in skin cells can be damaged by UV rays. Cancerous cells can be triggered by these changes, potentially leading to dangerous melanoma and other forms of skin cancer.
Protecting Your Skin During Sun Exposure
Prevention really is better than cure. Protect your skin with these tips when enjoying a day outdoors!
Wear sunscreen
Are you diligent with your daily application of Sunscreen or do you only use it for a day at the beach?
Using sunscreen daily and always remembering to reapply is your most important defence against sun damage.
Always choose a broad-spectrum SPF 30 to properly protect your skin from both UVA and UVB sun damage. Choose a non irritating sunscreen free from toxic chemicals and perfumes that can often irritate the skin and eyes.
Skin O2's Natural Mineral Sunscreen with Zinc & SPF30 UVA + UVB Protection is your skin's best antioxidant-infused, daily defence against the damaging effects of UVA and UVB rays. It contains no irritating chemicals or preservatives so it is safe and suitable for all skin types.
Natural Mineral Sunscreen
Cover up with a good hat & shirt
Using a good wide hat and extra protective clothing will help protect your face, ears, back of the neck, arms and decolletage!
Wear sunglasses
Your best choice is sunglasses with UVB and UVA protection. A good pair blocks 99 to 100 percent of both UVA and UVB rays from reaching your delicate skin and eye area which are prone to premature skin ageing in the form of fine lines ,wrinkles sun spots, skin cancers & cataracts Try Cat Eye Sunglasses — Skin O2 with UVB & UVB protection.
Cat Eye Sunglasses
Stay out of the sun during the hottest times of the day
Between 10 a.m. and 4 p.m. is when the sun is at its most intense heat. Try to stay in the shade and undercover during this time.
Drink plenty of water
Keeping your body hydrated is part of smart sun skin care too. If you're headed to the beach, exercising or another outdoor adventure make sure you take plenty of water to sip throughout the day.
After Sun Skin Care Routine
Post-sun skin care is all about replenishing skin and helping it recover from the stress of UV light. After sun skin care products should focus on adding hydration, topping up antioxidants and, overall, being gentle with your skin.
Avoid any harsh or irritating cleansers or strong treatments to avoid stressing skin further.
Step 1: Cleanse
Use a gentle cleanser such as our Hydrating Cream Cleanser, a Gentle Face Cleanser to cleanse skin without stripping it of moisture and protective oils.
Cream Cleanser
Step 2: Apply a hydrating mask
A super saturating and comforting mask treatment will help to replenish moisture lost during the day.
Try our 2 in 1 Hydration Mask! It instantly boosts hydration with skin soaking hyaluronic acid while minerals, vitamins, and nourishing ingredients restore, protect and balance.
2 in 1 Hydration Mask
Step 3: Use a hydrating serum
Continue boosting moisture levels with a hydrating serum. We recommend Hyaluronic Acid Serum & Tri-Peptide Collagen Brightening Mask Bundle in your after sun care routine or try Derma Fill Gel. Derma Fill Gel contains Concentrated Hyaluronic and Plant Stem Cells Epidermal Growth factors (EGF). You can pop these post sun exposure skincare goodies in the fridge before use for an extra skin cooling effect!
The key active ingredients are plant based hyaluronic acid, collagen & plant stem cells and advanced peptides which are critical for maintaining skin hydration and replenishing lost moisture.
Step 4: Moisturise & avoid skin stripping soaps that can dry out your skin
The final step in your after sun skin care routine is to moisturise with your choice of lotion, cream or facial oil. Try Multi Vitamin Moisturiser Retinol Cream for a light weight lotion for the face. For an oil, try Multi-Purpose Rose Oil Serum. For an all over body cream Try Face, Hand & Body Moisturiser Cream. This body cream helps to restore the skin's protective barrier. With advanced ceramides + enriched with Rosehip Oil, Vitamin E, Niacinamide (B3).
Step 5: Avoid skin stripping soaps that can dry out your skin
Opt for soap free, sodium lauryl sulphate free, or natural plant based options like Nourishing Bar Soap (Wild Rose) or Soap Free Hand & Body Wash.
Caring for Sunburned Skin
Sunburned skin needs extra care so here's how to care for sunburn immediately after sun exposure and over the next few days.
Drink water & replenish lost hydration while staying out of the sun
If your skin has the dreaded post sun red glow it is time to get out of the sun immediately. Get in the shade and reapply sunscreen and stick to shade and indoor areas for the next few days. Increase your water intake and keep a drink bottle handy to keep replenishing lost hydration.
Take a cool shower and avoid putting ice on your skin
Do not Rub ice on hot, uncomfortable skin. Putting ice directly on the skin can cause even more damage. So how to reduce the redness of sunburn and calm and soothe your skin ? To draw heat out of your skin, start by having cool showers & applying a cool damp face cloth to reduce the heat & redness in the skin. In the days following, be extra gentle with your skin and let it heal.
Skip skin scrubs and exfoliation treatments, like facial scrubs, chemical exfoliants, peels and avoid waxing, shaving, IPL, laser or microdermabrasion treatments until your skin has recovered. Doing any of these things will only irritate your tender, damaged skin.
A skin calming treatment we do recommend post sun exposure is the 24k Gold Collagen Sleep Mask. It's incredibly soothing and healing for sunburnt skin, instantly cooling the discomfort of red, irritated skin.
24k Gold Collagen Sleep Mask
This overnight rejuvenating gel masks contains soothing and skin healing ingredients to combat the effects of the damaging UV rays Plant based Hyaluronic Acid (HA).
Vitamins A, C & E
Beta-Glucans
Gold Flakes
Ceramide 3
Shea Butter
If you have serious Sunburn it is time to see a medical professional ASAP!
Excessive sun exposure and serious sunburn can cause more than red , hot, irritated skin. Severe sunburn can cause dehydration. If you are badly sunburned it can cause headaches, fainting, vomiting, and a fever. If you do experience any of these symptoms, be sure to see your GP or Doctor & get professional help medical ASAP.
Keep your skin safe this summer with Natural Mineral Sunscreen with Zinc & SPF30 UVA + UVB Protection, an easy-to-apply, non-greasy formula with additional anti-ageing benefits of Natural minerals & vitamins to aid skin repair. The Key ingredients in Skin O2's natural mineral sunscreen are:
Silica
Avocado
Grape Seed
Rose Hip
All these key natural ingredients work to help improve your skin's health and aid in rapid skin repair.
Natural Mineral Sunscreen