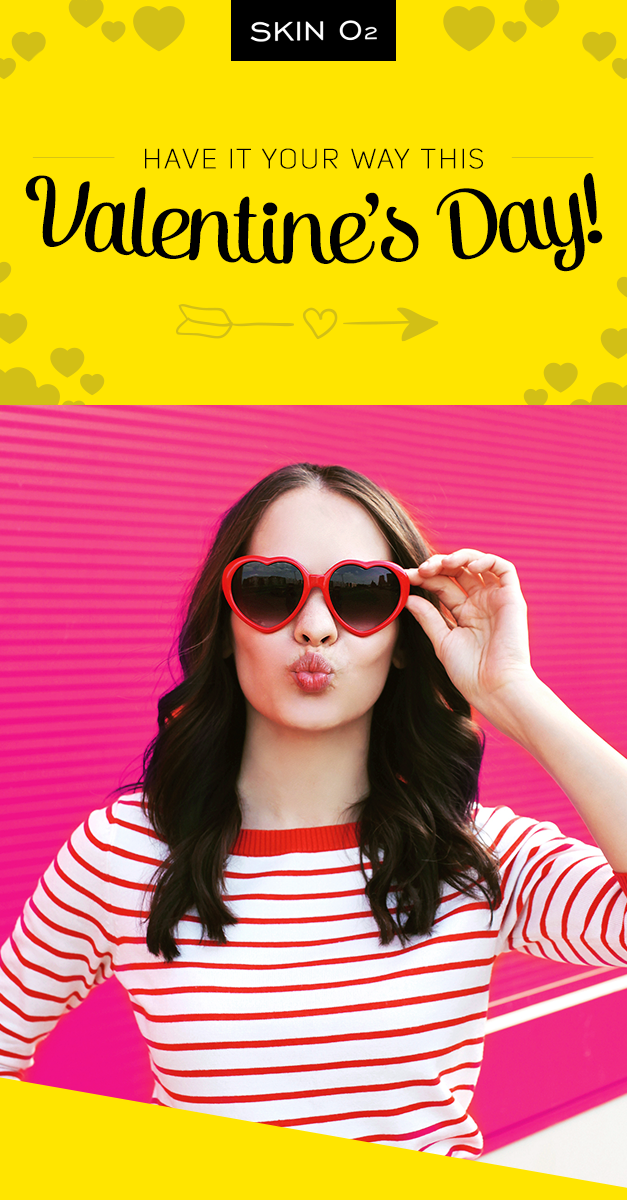 Have It Your Way This Valentine's Day!
Valentine's Day is just around the corner, and it's time to celebrate love, Skinlovers! Since this day falls on a weekend, there is a lot of time for you to spend with your special dates or significant others.
While surprises are nice, it wouldn't hurt to plan (or drop hints about) what your ideal date is for you, to ensure that you'll have that perfect and memorable day. Here are some spectacular activities and events around Australia that you can consider:
MELBOURNE: Capture the perfect moment with a photo session!
Dating, engaged, or married with kids? This event is for everybody! On February 13, capture beautiful moments and be one with nature for a 30-minute outdoor photography mini-session at St. Kilda's Botanical Garden.
With the help of professional photographer Kate Sheffield, immortalise the summer love between you and your loved ones (and yes, kids and fur babies are welcome, too!) and receive 15 edited digital files in a USB. Glow in the summer sun and book your slots here!
Beauty Tip: Be in your freshest and most natural look by using the Skin O2 Facial Tint Sunscreen + Hydrating Spritz as the perfect combo to moisturise, hydrate and glow in your pictures!
SYDNEY: Be on a love high at the Sydney Tower Eye!
Take that romantic skywalk and gaze at the stunning view that only the Sydney Tower Eye can offer. Have your private photographer snap pictures of you and your date as you gaze lovingly at each other — with the Harbour Bridge and Opera House as your backdrop, no less! As the perfect culmination, enjoy a 4D cinema experience and snuggle up to your partner! Available time and dates are as follows: 11:30am, 12:30pm, 1:30pm, 2:30pm, 3:30pm, 4:30pm, 5:30pm, 6:30pm & 7:30pm on February 13 and 14.
Beauty Tip: In your commemorative pictures, look giddy and radiant from being so high up by applying the Skin O2 Mineral Makeup Blush for a rosy glow to complement your starry eyes!
PERTH: Find the rhythm of your heart in an outdoor concert!
On Valentine's Day, bring your blankets and picnic baskets along and head towards Hyde Park for a night of film and music! Be serenaded by Viola Dana, who will mesmerise you with folk, jazz and contemporary classical music applied to classic silent film soundtracks. As an added treat, the 3 winners of the City of Vincent Film Project will showcase their masterpieces for everyone to see for free! Visit the City of Vincent website for more details.
Beauty Tip: Nail the perfect concert look with Skin O2 Mineral Starter Box with all the essentials for a fresh and radiant you!
GOLD COAST: Single? Be adventurous in a masquerade ball!
Shroud yourself in mystery by bringing a fab mask, and capture hearts in the Valentine Masquerade 'Lock & Key' at the Gold Coast Arts Centre. This unique speed dating event allows you to mingle and find your match with the help of locks and keys. Your anonymity can boost your courage and confidence, so just have a good time talking and dancing the night away! Event starts at 8:30 P.M. and reserve your slot here. Bring your squad for more fun!
Beauty Tip: Since you'll be wearing a mask and conversation is key to this event, your lips should be the centre of attention! Shade, fill and enhance lips for a natural look before applying the Skin O2 Lip Tint/Blush and Plumping Gloss. You can find these all in the Skin O2 Cheeky Kiss Box!
Tell us which one is your ideal date event, Skinlovers! As always, we'd love to hear from you!
Skin O2 has the most awesome skincare and makeup essentials for every event! For a limited time only, we are offering you a 2-for-1 special for the following: Multi Vit Cream (30ml), Facial Tint Sunscreen SPF 30+ (75g) and all Micro Cream Exfoliators (RP, 4% and 8%, 50g). Hurry while stocks last! Please refer to our website for more products. Happy shopping!