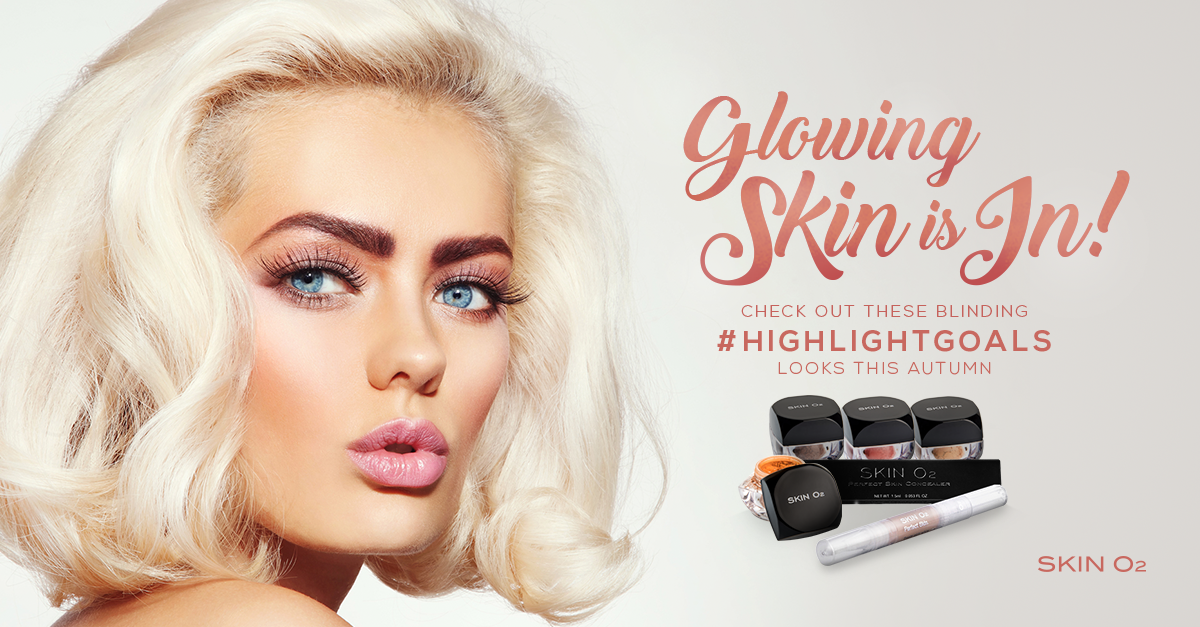 Glowing Skin is In! Check Out These Blinding #HighlightGoals Looks this Autumn
Highlighters have taken over the beauty world. From natural, glow-from-within to loud and glittery looks, there are highlighters for each skin color and undertone! When you're illuminating the whole room, what's not to love?
Here are 4 stunningly beautiful #HighlightGoals looks from Skin O2's beauties that you can cop! Don't forget to tag us when you do!
Casual Stunner
When you walk past Gracie Piscopo, it's impossible not to take a second look. Can you see that stunning glow? This is the natural and undone makeup look executed to perfection! Pair it with nude lips, fluttery lashes and (strategically) messy hair, and you'll have an effortlessly beautiful MOTD.
Get this fabulous look with Skin O2's Gold Spice Highlighter! With just a little highlight on the tip of the nose, on the high points of your cheeks and a little dab on the browbone, you are ready to step out the door!
Highlight worthy of a crown
With Courtney Thorpe's tantalizing eyes and ever glowing skin, who wouldn't be stunned? With a light dusting of Skin O2's Rose Spice Highlight, you can get a naturally pinkish glow from within. Accentuating your cheekbones, Rose Spice is perfect for bringing out your natural beauty!
Partnered with a soft nude pink lip, wispy lashes and voluminous hair, this look will surely make you a queen! This Skin O2 highlight shade is also perfect as a blush topper when you just want that extra oomph for your cheeks.
Simple everyday glow
Get Jasmine Stringer's radiant skin in 5 minutes with Skin O2's White Spice Highlight. This stunning highlight will give you illumination without accentuating your pores. You can go for a subtle radiance or a high-beam glow – truly a versatile mineral product!
Jasmine highlighted her cheekbones, just above her perfectly sculpted bronzer, and connected it to her brow bone. She completed this everyday look with a peachy nude lipstick and voila – a highlight goddess! Just remember to highlight where light naturally hits your face 
 and you'll have a no-makeup makeup look done flawlessly.
With a pout and a glow, you're ready to go!
Feathery brows, muted pink lips, full-on lashes and a bright highlight – Skye Wheatley surely knows how to slay. This selfie-ready look is perfect for a date or a night out with the girls!
Try out this gorgeous makeup look with Skin O2's Silver Spice Highlighter for an ethereal glow! When you do, take a stunning selfie and bless the world with your blinding glow!
You can also check out amazing swatches of the Skin O2 highlights in this video with our beauty expert!
Bonus tip: You can use the highlight as an eyeshadow as well! See the sparkle in their eyes? That's the highlight *wink*. Plus, Skin O2 is giving you sugar, spice, and everything nice this autumn! Get the #HighlightGoals looks by purchasing a box set of 4 highlighters and we'll get you covered with our Concealer Perfect Skin – for free!