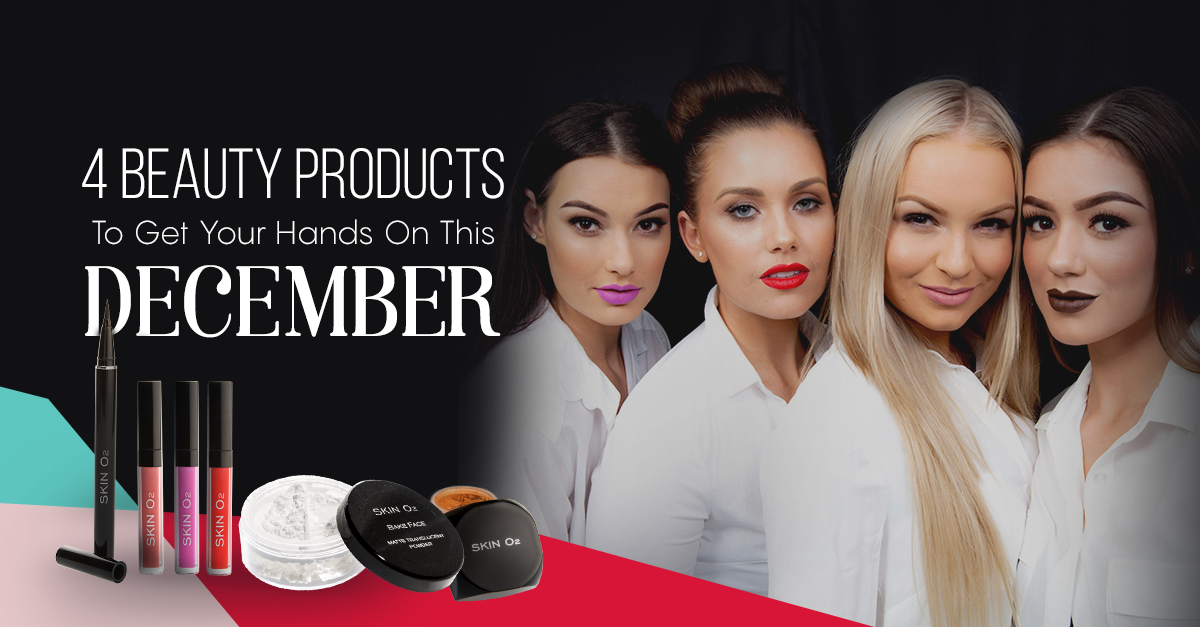 Get Your Hands on These Amazing Makeup Products For December
The launch of the rest of our new, fabulous Skin O2 #ForeverGlam #IlluminateME products is just around the corner, and we can't wait to introduce you to these babies! Our gorgeous Skin O2 ambassadors, like Jasmine Stringer, Courtney Thorpe and Caitlynn Henry, are already avid fans! And we know that our newest offerings will be your instant BFFs too, as soon as they touch your skin.
We gave you a teaser last month — and now, we're ready to reveal the lovely and exciting colours, shades and key ingredients for each product that will make you love Skin O2 mineral makeup more!
Another excellent news for all you Skinlovers, the Bake Face Matte Translucent Powder and Wing It Liquid Eyeliner Pen is now available online to make sure you head over to our website and get yours now!
Bake Face Matte Translucent Powder
This transparent, feather-light powder is your fairy dust! Sprinkle some and maximise coverage while making your lines and dark circles disappear. Setting, contouring or baking will be a breeze — and you'll always be able to get that high-definition look and luminosity!
Key Ingredient: Zea mays starch
Skin O2  believes in natural beauty so much that we also believe that your skin deserves the best ingredients! Zea mays starch is one key component in our fantastic translucent powder – it performs better than talc in absorbing moisture and oil.
Wing It Liquid Eyeliner Pen
Just wing it for an on-point, eye-mazing finish! Combine precision and easy application in one tube with the Skin O2 Wing It Black Eyeliner! Formulated with anti-smudge and feathering effects, this magic wand enables you to create sleek and glam lines with no trouble.
Key Ingredient: Copernicia cerifera and jojoba
This adds shine and gloss, and is also known as an  effective anti-caking agent, perf for dramatic wings and cat eyes that last all day! Did you know it's hypoallergenic, too? Jojoba makes for a great addition to this fab eyeliner because it has restorative and skin-soothing properties!
Matte Liquid Lipstick
Reveal the elegance of timeless glamour and effortless beauty with Skin O2's astounding collection of Matte Liquid Lipsticks! Inspired by the rich colours of the vast Arabian Desert, let them inspire you to be bold, fierce and absolutely breathtaking! Choose from Sheikha (Royal Purple), Lady Jay (Red), Dhabi (Nude Beige) , True Brown  (Dark Brown), Candy (Nude Pink)  and Kiki (Nude Plum).
Key ingredient: Tocopheryl Acetate
This variation of Vitamin E helps active sunscreen ingredients to maximise its UVA/UVB blocking properties. Not only does it reduce water loss and formation of free radicals from staying too long in the sun, it also strengthens the skin's natural barrier!  
Gold Spice Highlighters
Contour and put your best features forward with Skin O2 Golden Spice highlighters!
Come up with different looks by mixing and matching blushes and bronzers, and add a refreshing pop of colour and sparkle! This will be available soon in illuminating shades of  White, Rose, Silver and Gold.
Key Ingredient: Dimethicone
This has a unique fluidity such that when it is applied to the skin, it creates a subtle gloss that feels smooth and silky to the touch. Like Vitamin E, it also adds a protective barrier on the skin, and can fill in fine lines/wrinkles on the face, giving you a more-than-perfect finish!
What better way is there to say hello to summer than by having not just one, but two things to look forward to this December? Visit our Facebook, Instagram and YouTube sites for more details of our much-awaited launch – and get ready for the BIGGEST SKIN O2 SALE this year, where you buy our amazing mineral makeup and skincare products at 15% OFF starting December 1!