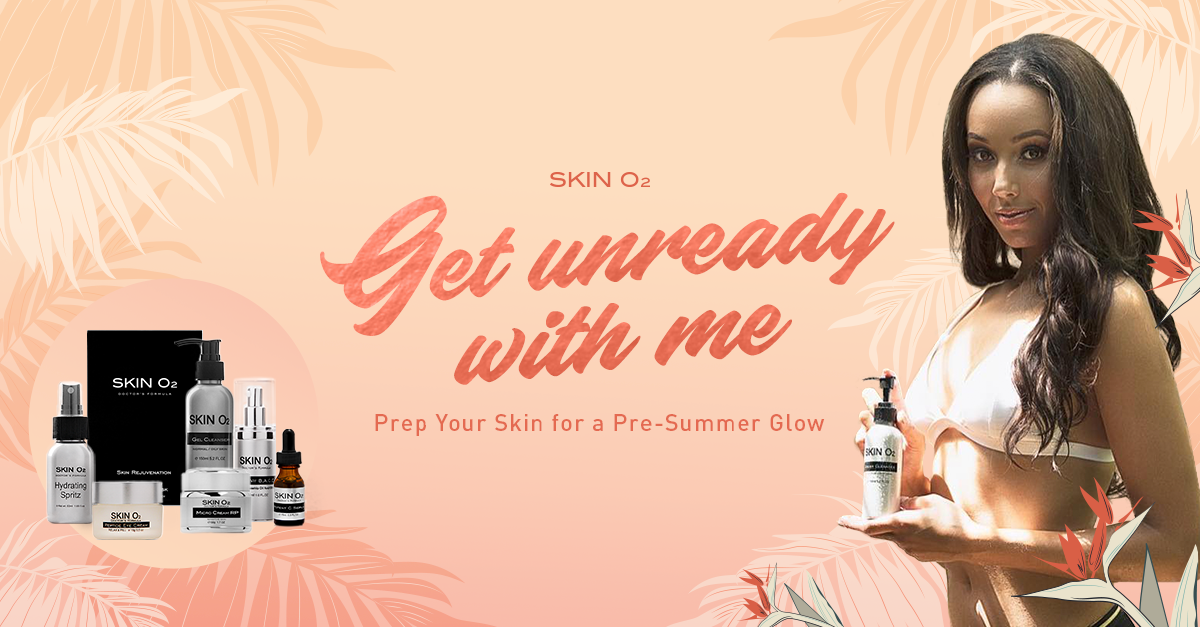 Get Unready With Me: Prep Your Skin for a Pre-Summer Glow
Summer is fast approaching, so be sure to prep and ready your skin for the glowing sun. Follow this simple nighttime skincare routine using Skin O2's doctor-formulated, 100% vegan, and cruelty-free products by the lovely Skye Maree Wheatley to get that stunning pre-summer glow!
Pop quiz! What's the first step of a skincare routine?
via GIPHY
Yup. If you're a certified skinlover and you've read our skincare blogs, you already know: it's cleansing! Wet your face with water, apply the cleanser and gently massage your skin, then rinse. Packed with aloe vera and lavender oil our Skin O2 cleansers will leave you feeling refreshed and rejuvenated with its PH-balanced and soap-free formula!
Every day is spa day!
via GIPHY
Frequent trips to the spa can be quite expensive, so we've got a solution for this dilemma! All you need is our Skin O2's masks – and using them is easy peasy! Just unfold the sheet and carefully place it on your face. Here's a quick hack: pop it in the freezer for 15 minutes and voila… extra cooling and soothing effect from your fave facial mask!
No-brainer, right?
via GIPHY
RIP, dead skin!
via GIPHY
Halloween is over so say bye-bye to your dead skin. With micro bead exfoliating properties, Skin O2's exfoliants remove deep-seated dirt on your skin. Apply 1-2 times a week with the free derma brush to make sure you get all the gunk on your pores.
Beauty genie in a (spray) bottle
via GIPHY
Spritz your way to a plump skin! The Skin O2 Hydrating Spritz is meant to be a setting spray that sets your mineral makeup, leaving you with a long-lasting, dewy finish. 
 But it doubles as a toner to hydrate your skin before your moisturisers and serums – 2-in-1 bonus!
via GIPHY
Plump your skin even more
via GIPHY
Now that you've prepped your skin with the hydrating spritz, be sure to apply Skin O2's serums! Packed with vitamins, it seeps through your skin, helping you retain your skin's elasticity. Put a few drops on your face or your hands and spread it evenly using circular motions.
Take care of the first signs of ageing
via GIPHY
Usually, they show up around the eyes in the form of crow's feet or fine lines. The Skin O2 Eye Cream has regenerative properties that will help reverse the effects of ageing. This area is extra sensitive, so with the most delicate touch, apply the cream under your eyes.
To see Skye's full routine, be sure to watch her video in the Skin O2 YouTube Channel:
It's addicting, right? Here's another one from the stunning Pree:
I mean… she slays.
via GIPHY
This November, follow these nighttime skincare tips to make your skin plump and ready for the summer heat. To help you achieve that iridescent beach goddess look, Skin O2 created two special skincare packs containing all of the products mentioned above. Be sure to check out the Triple Treat Skincare Pack and the Summer Glow Pack on our website!
For more beauty insider tips and discounts, be sure to read our monthly beauty blogs, follow us on Instagram (@skino2au) and subscribe to our YouTube channel (Skin O2)!