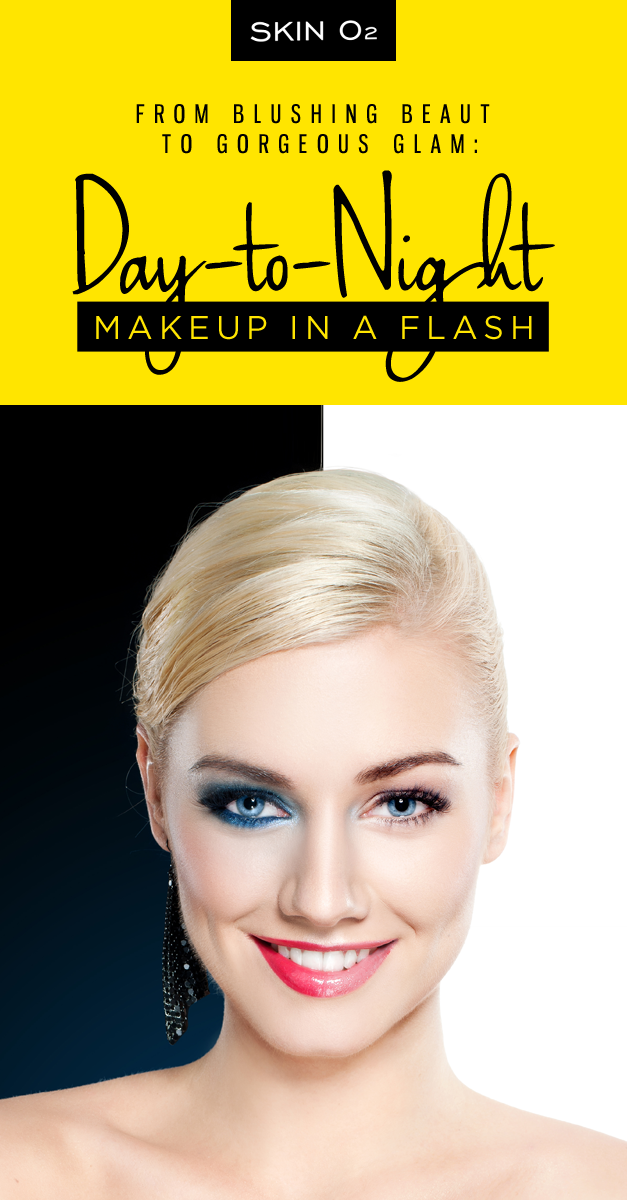 From Blushing Beaut to Gorgeous Glam: Day-to-Night Makeup in a Flash
Career woman. Moms. Students. All of us live very busy lives and our schedules can get so jam-packed – and chances are, our stress could show on our faces. What's more is that even if you schedule a night out with friends or loved ones to unwind, you might not even have much time to prep yourself!
What's the solution? A quick fix is all you need to look fresh and vibrant! You're in for a treat, Skinlover, because we are giving you a quick and easy makeup guide to transition from a day look to a night look, just by mixing and matching your favourite Skin O2 products and our amazing pro tips! Here's how:
Blushing Beaut Look:
Mineral Makeup Primer
Mineral BB
Mineral Makeup Compact
Wow Brow Box Set
Fake Look Lash Mascara
Plumping Collagen Lip Gloss in Cherry Blossom
Mineral Makeup Blush in Peach and Blossom
1. Apply primer in outward and sweeping motions and pat it dry before applying the mineral BB.
Pro Tip: Mix parts of the primer and the BB for more sheen!
2. You can opt for a
 

dewy look, but for a heavier coverage, use the mineral compact.

         Pro Tip: Spray your Skin O2 All-in-One Glam Kabuki Brush with our Hydrating Spritz before dipping in any of your mineral makeup to perfect that full coverage!
3. For a day look, matte eyes are a stunner!
Pro Tip:  Another fun way to use your blush is to use them as eyeshadow. Coat your lids with Mineral Makeup Blush in Peach then finish with mascara.
4. Using the Wow Brow set, define and fill in your brows and set the powder with the wax.
Pro Tip: Apply highlighter on your brow bone to accentuate the arch of your brows.
5. Play with your Skin O2 blushes for flair and depth! Apply Peach to add warmth on your cheeks this chilly winter and a bit of Blossom on the apples of your cheeks for that rosy effect.
        Pro Tip: Always blend upward for a natural look!
6. Did you know that you can use your lipliner as your base? Apply Blossom Me Wild lipliner and top it off with the Cherry Blossom gloss!
Pro Tip: For super supple-looking lips, add shimmer or highlighter to your Cupid's bow (the area above your upper lip) before applying a plumping gloss.
Gorgeous Glam Look
Mineral Makeup Glo Bronzer
Long Lasting Lip Pencil in Passion Me Plum
Plumping Collagen Lip Gloss in Nude Glo
Long Lasting Pencil Eyeliner

Now here's when the magic happens! For a dramatic night look, all you have to do is to use our bronzer for contouring and added sparkle, add eyeliner to make your eyes pop some more and, for the pièce de résistance, change your lip color from sweet to fierce! Use Passion Me Plum lip liner as the base and Pale Plum Lip Gloss and be a head-turner in an instant!