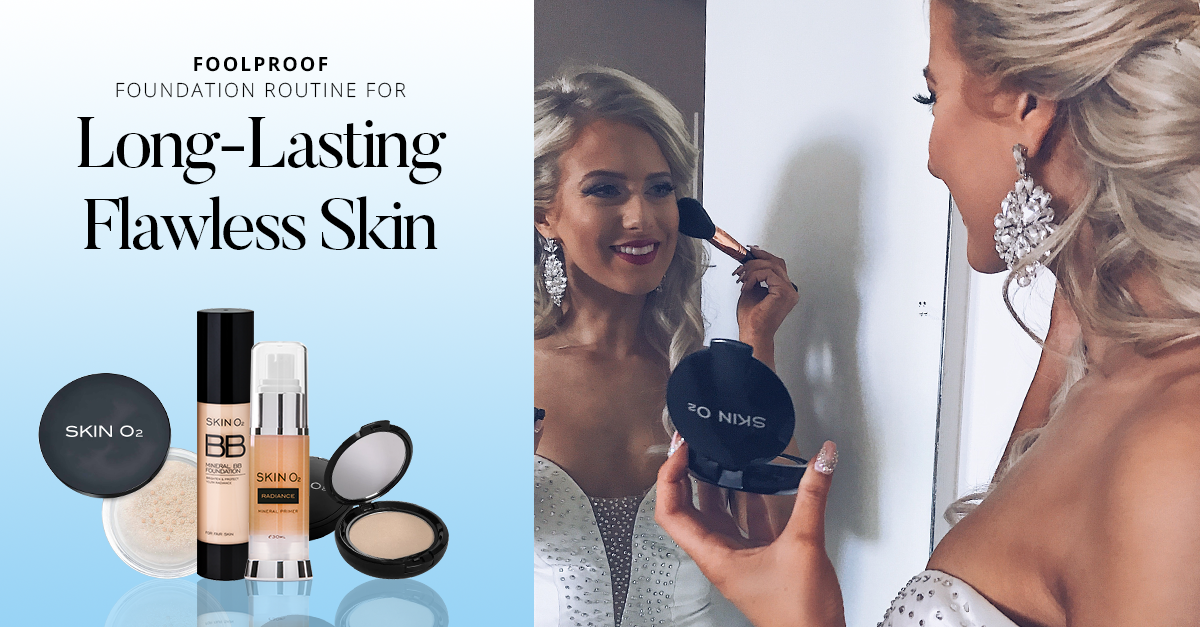 Foolproof Foundation Routine for Long-Lasting Flawless Skin
We all have different makeup routines. Some do their foundations first, before doing their eye makeup, or vice versa. It only comes down to preference. However, when applying the foundation itself, we have a few non-negotiable steps to ensure it stays put, lasts all day and still look stunning as if it's freshly applied!
1. Take care of your skin
Foundations can even out your skin tone and hide imperfections. Never neglect your skincare routine as a having a clean and well-prepped canvass also adds value in your flawless application. You know the rule: when wearing makeup, always double cleanse, mositurise and never sleep with makeup on! Religiously follow your skincare routine every morning and night to make sure deep-seated dirt is washed away. You can also take your skincare to the next level by using serums and masks.
Get an extra special deal with Skin O2 this August on  the Platinum Eyelift and the Serum Potent C + Brightening Mask, both at 50% off by using the code: SPECIAL10!
2. Prep your canvas
Primers are essential to create the perfect long lasting look that lasts all day! So, before heading straight to applying your foundation, always prep your skin properly: cleanse, exfoliate, moisturise and apply primer! Make sure your moisturiser and primer compliments your skin type. This is the key for creating that smooth and flawless base. They create a thin layer of protection for your skin so you can enjoy the benefits of your pigmented foundation without it irritating your skin.
Skin O2's Primer Mineral Makeup has the qualities of both a moisturiser and a primer that is perfect for all skin types. With regular application, it gradually improves skin as Skin O2 Makeup up – treats your skin while wearing it!
3. Blend, blend, blend!
We cannot reiterate this enough – blend your foundation until your arms hurt! Okay, just kidding, but you get the point. The secret to an airbrushed look is a well-blended foundation. Forget applying your base with your fingers; it leaves streaky marks and no one wants that! For a pro look, use either a dense buffing brush or a damp beauty sponge. These tools help even out your application and it removes the excess product to avoid a cakey look. Don't forget to blend down your neck to avoid that awkward foundation line on your jaw! Try, our BB Foundation and compact can help you achieve a flawless makeup base!
4. Seal your masterpiece
Baking became a trend for a reason. This technique is "the step" to make your makeup last all day. For those of you who are unfamiliar with baking, you basically just put a lot (and we mean a lot!) of translucent powder, preferably with a damp sponge, and pack it on your face. Some just put it under their eye after applying concealer, but you can take it to the next level by applying it all over! Wait for a few minutes and brush the excess product from your skin and you are left with a velvety smooth skin that won't budge!
Master the art of baking by watching this quick tutorial by our gorgeous Skin Warrior, Jasmine Stringer:
Score a great deal this August with Skin O2! You can get the coveted Bake Face Matte Translucent Powder for 10% with the code POWDER10 so make sure you head on to the Skin O2 online shop before it runs out!
Follow these simple steps and you'll surely get a snatched look in an instant! Whether you're going to work or to the club, these techniques will make sure your beauty slays all day and all night long! Achieve a long-lasting look with Skin O2's line of the best mineral makeup and skincare products. 
For the latest video beauty tips & trends, Subscribe to our YouTube Channel and follow us on Instagram @skino2.