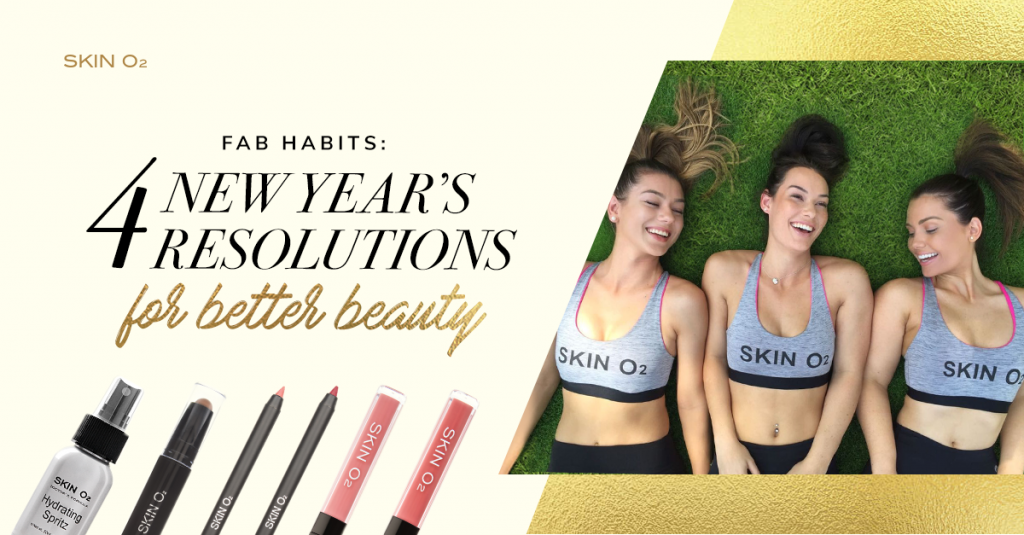 Fab Habits: 4 New Year's Resolutions for Better Beauty
Hey there, Skinlovers! New Year's Day often paves the way for new beginnings. The holiday high is a nice morale boost for the hard work of self-improvement; though you may stumble a few times, worry not—it's all part of the journey!
However, this doesn't mean you should go into it without a plan. A lot of New Year's resolutions are trendy, yet some are outrageously difficult to keep and some are short-term changes which  may be short-lived. So make sure to keep it real. Plan from a long-term perspective with all the things you want to achieve this year!
So, if you're aiming to look, feel and live better in 2018, here are some simple but meaningful steps to better beauty.
Healthy Habits:
Hoping to get more radiant skin or cut a striking silhouette? Instead of aiming for major overhauls, try for small steps that add up to big results.
1) Hydration: Stay hydrated by bringing a reusable water bottle (jug or tumbler). Keep it natural. Skip the sodas and artificially sweetened drinks! Remember that too much caffeine can leave you dehydrated, so don't go through a workday on coffee or tea alone. Drinking at least 8 glasses of water every day can be a challenge but it's a must!
Photo from @aliciajvs
And keep your skin hydrated with Skin O2 Hydrating Spritz, which comes in a handy compact bottle.
2) Fitness and Nutrition: Most people include this in their resolutions, and with good reason. Going from flab to fab is less about the result and more about how you get there. Get a fitness trainer or subscribe to fitness channels online for energising daily workouts. This will inspire and keep you motivated, making it easier for you to stay committed to your fitness goal. Best of all, you'll enjoy doing workouts instead of seeing it as a chore!
 Photo from @jasminestringer
3) Sleep: Your beauty rest is important! Try to get 7-8 hours of sleep at night. If you're having a hard time going to sleep or if you want to sleep better –stop using your phone or laptop at least half an hour before bed. Instead, use this time for your nightly skincare routine to relax yourself and getting those workout clothes ready for the next day.
Photo from @caitlynnhenry
4) Keep Your Things Clean: Anything your skin touches can have an effect on it — especially if they're unclean! Make sure to change your linens regularly. Once every two weeks should be fine, though doing it every week would be preferable.
via GIPHY
Invest in Basics
via GIPHY
It can be tempting to try out all sorts of new online makeup trends, but filter out the ones that you feel good and confident about, then add them to your makeup go-to routines depending on your mood and occasion. Keeping up with trends is easier, though, if you've got a reliable set of makeup basics to fall back on—so when you try that dazzling gold pigment or scene-stealing eyeliner, you've got a solid canvas to work with.
Stay equipped with versatile cosmetics, the kind that can go from day job to date night with just a few extra touches. 
 Try the Matte Lip, Eye & Brow Pencils—great for adding some extra vibrancy wherever your look needs it. You can go with a light shade on your lips to keep it natural, then go a shade darker at night to define your lips more; pair it with our Matte Liquid Lipsticks and you can give your look an added touch of glamour in a range of colours.
Be Regularly Extra (Just a Bit)
via GIPHY
That said, it's always good to add a little something extra to your look. As they say, you can save a good thing for a special occasion, or you can use it to turn the everyday into something special.  The 3D Face Stick, for example, does the trick: it's lightweight and non-comedogenic, making it a great choice for adding extra definition to your best features.
So go glossy, add a pop of glitter to your eyes, or highlight for that dewy glow . If 2017's trends showed us anything, it's that the current makeup scene has room for any aesthetic. Go and make 2018 your year to shine, Skinlovers!
This January, stock up on your blushes & bronzers, eyeliners, brow shaping powder and sunscreen with our 2 for 1 specials available all month long. Head over to our web shop  and get yours now!
For more beauty and insider tips, be sure to read our monthly beauty blogs, follow us on Instagram (@skino2au) and subscribe to our YouTube channel (Skin O2)!