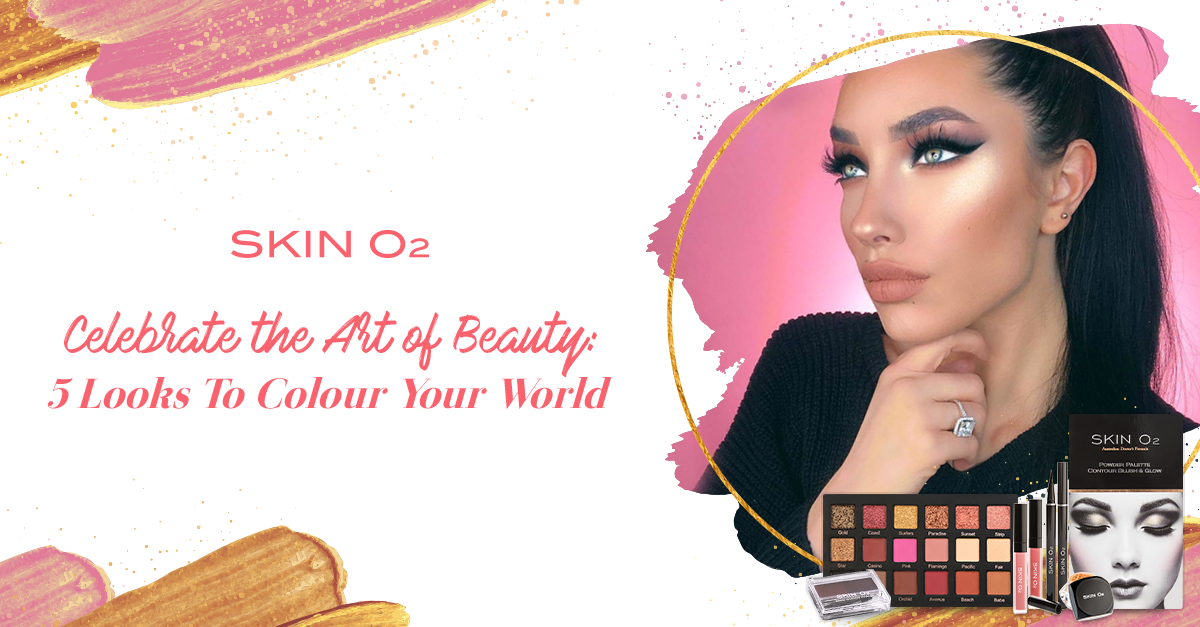 Celebrate the Art of Beauty: 5 Looks To Colour Your World
Colours, rhythms, narratives, and moving pictures are different avenues where people have expressed their emotions and interests. May it be a black and white photo of the sleeping woodland or a soft silken gown, art reflects your soul. And it's the same way with your makeup. Your personal aesthetic is part of who you are.
This month, we're celebrating your extra and creative ideas by making "YOU" the centerpiece of Skin O2. Defy the standards of beauty and come up with your most creative looks with our products. Make your eyes pop, your lips plump, and your cheeks rouge as you celebrate who you are and how far you've come. Here are five looks that you may use for inspo.
                                                            Dawn
Photo from @malii_b8by on Instagram
As the sky begins to blossom with soft colors, we're taking inspiration from this look. After using a dark base of Matte Eyeshadow shades in Orchid and Avenue, take your Spice Highlighter shade in White and pop it on your eyelid until the crease of your eye. Use the shade in Pink and line your lower lid. The effect is absolutely stunning, especially when paired with our Kiki Matte Liquid Lipstick. 
Daylight
Photo from Pinterest
When the sun is high on the horizon, puffy clouds frame the beautiful blue. You may use any of the Metallic shades on the palette as a contrast to your Nude Eyeshadow shade in Pacific. Don't forget to contour using our Mineral Contour Powder Palette to sharpen your features and to draw attention to your lustrous eyes. Grab your favorite nude nail polish to match your lipstick. Play with some of the colours and go as far-out as you can get, provided you've got the shoes to match it with!
Sunset
Photo from @hollietaylaaa on Instagram
There is nothing like a sunset, the setting star melting into the water and burning the sky with brilliant colors. This is the goal for your eye! Think: majestic and grand. You may mix up your metallic bronzes and reds and golds, for a beautiful, fiery look. Of course, you shouldn't leave your brows out of this look. Using our Brow Shaping Powder, keep them slick and styled until the sun rises the following morning.
Midnight
Photo from @katie_michaelis46 on Instagram
When the clock strikes twelve, everything becomes more magical and fantastic. Be more adventurous with this look. Whether it be a black or a deep shade of blue, don't miss out on the golden line on the tip of your crease. You're the goddess that walks with grace in the light of the moon. It would also be great if you added your golden highlighter to contour your cheekbones and jawlines, if you wanted to go for an edgier look. 
Dusk
Photo from Pinterest
Twilight is the time for mystery and glamour. Capture the stars and let them sit on the tips of your lashes by painting a deep blue on your waterline and thickly lining your upper lid with our Wing It Liquid Eyeliner Pen. Try it with a Matte Liquid Lippie in Dhabi that matches any skin tone.
There you go, loves. Remember that your aesthetic is unique and personal. You may experiment looks of your own and celebrate life and the beauty it has given you in your own way. And that, ladies and gentlemen, is art. 
For more tips, trendy and  updated looks, watch out for our monthly blogs, subscribe to our YouTube channel, and follow us on Instagram. And don't forget to join this month's MEGA MAKEOVER contest and get a chance to be the BIG winner of our fabulous Skin O2 Mega Makeover Makeup Kit worth over $1,100. Wishing you the best of  luck darlings!