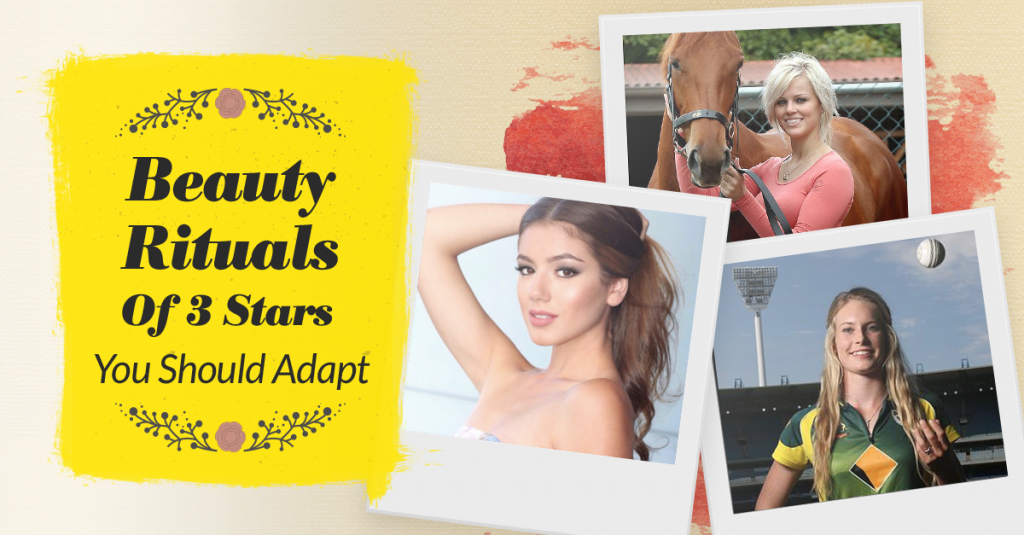 Beauty Rituals of 3 Stars You Should Adapt
Stars shine bright like a million dollars, whether on or off-camera. Ever wonder how they keep their skin clean and clear (and what makeup tricks are up their sleeves to look fab and glam all the time)?
Thankfully, we don't have to look very far, as our lovely Skin Warriors Kiaarn Holland, Holly Ferling and Jasmine Stringer share their beauty secrets with us. Using high-quality mineral makeup and skincare products in Australia, discover how they keep their skin and their makeup so fresh despite their hectic schedules! 
As the 2015 Face of the Winter Racing Carnival, Kiaarn Holland represents the youthful face of Australian horse racing. As a track work rider, she spends countless hours under the hot Australian sun and for her, the Skin O2 Facial Tint Sunscreen is a must-have since her activities are mostly outdoors. She loves how it is light on the face yet still gives full coverage to protect her skin from anti-ageing.
"What I especially like about SkinO2 is that it is no-fuss but high-performance so it can keep up with my beauty needs from the stables to fashions on field. My hours of work can start at 2 A.M. in the morning till late in the evening so I need high-endurance products that can withstand the elements. Working with horses, I give a lot so it is really nice to get pampered back so I am really lucky & excited to have joined Skin O2!"
Holly Ferling, the lovely and gifted cricketer from Kingaroy, Queensland, is our next Skin Warrior. She has been earmarked as a future leader and influencer tasked with inspiring and encouraging young girls to participate in women's cricket. A very active girl, Holly starts her day right with a skin care regimen that serves as her full line of defence against UVA/UVB rays – the culprit for sun spots, lines and premature skin ageing! Here are the skincare products she can't live without:
Skin O2 Cream Cleanser
Skin O2 Facial Tint 30+ Sunscreen
Skin O2 Mineral BB Foundation

Skin O2 Mineral Compact in Mocha                                               

"Regardless of where I go, you can guarantee these products are the first things I pack. Skin O2 helps to protect my skin from the sun and premature aging while I'm out in the field all day. On top of that, these products help clean the dirt, oil, sunscreen and zinc out of my pores at the end of the day, leaving my skin fresh and healthy!" 

 

For beauty queen Jasmine Stringer, her schedule is packed with day and night engagements which make her sleep time shorter and cause puffy eyes and dark circles. To look awake and stellar day and night, she uses the amazing combo of Skin O2 Peptide Eye Cream and Platinum Eyelift, containing regenerative vitamins and anti-ageing peptides to give your peepers an extra lift and boost after a tiring day! Here is Jasmine doing a demo on how to use these wondrous products:                                                                   You don't have to be a celebrity to feel and look stellar! Our Skin Warriors, like you, believe in the power of discipline to keep your skin healthy inside and out. Follow Holly, Kiaarn, Jasmine and Skin O2's social media pages to get more makeup and skincare tips, tricks and tutorials and be on your way to get fresh, healthy and glowing skin that reflects your stellar beauty and personality!

It's time to make your mums look and feel amazing this Mother's Day! Treat her with Skin O2 Boxed Sets, all at 15% off, and give her the love and pampering she deserves! Promo runs for the whole month of May. Visit our website for more details