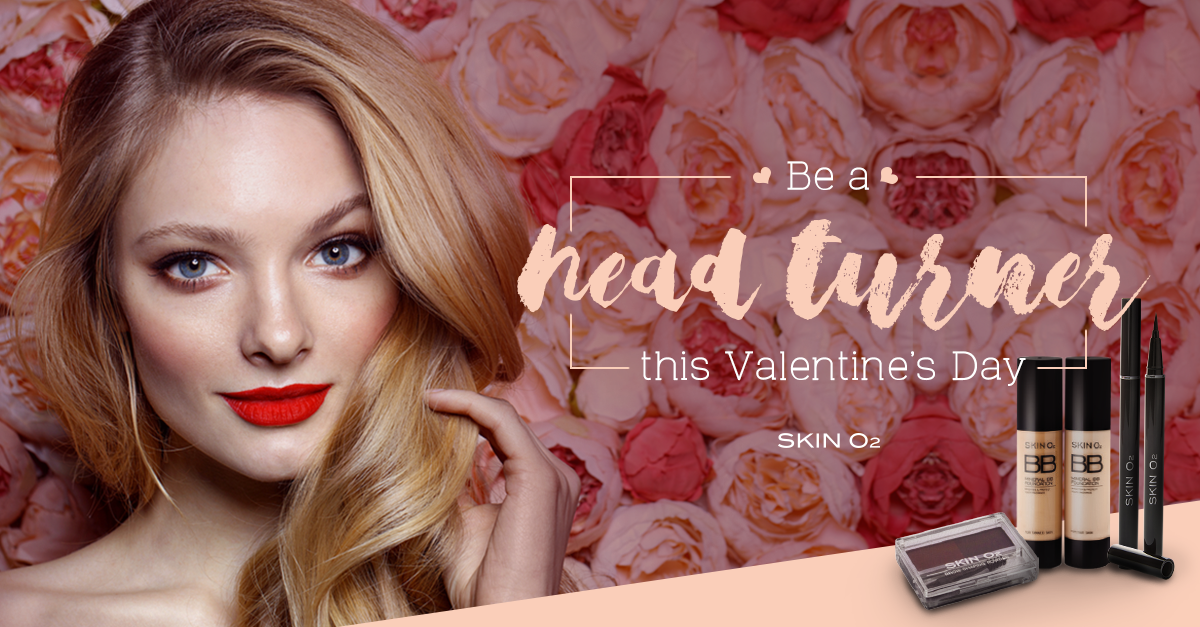 Be a Head Turner this Valentine's Day
Bringing your A-game doesn't always mean using full-coverage foundation and glittery eye shadows. You can make heads turn your way just by showing off a subtle look' by highlighting your best features and bringing out your natural beauty. Check out these easy, effortlessly beautiful look perfect for your heart's day look:
It's all about the base
The perfect makeup look starts with a flawless and radiant canvas. Primers ensure that your skin is prepped for a smooth foundation application. Our top-of-the-line Primer Mineral Makeup hydrates and protects the skin, giving you a healthy glow. As with all of Skin O2's amazing mineral makeup products, this primer also has skincare benefits. Its next-generation natural minerals with vitamins, anti-ageing peptides and hyaluronic acid reduce the appearance of pores, acne scars and wrinkles. Plus, this lightweight primer also adapts to the color of your skin as you blend it in, matching your tone perfectly each time! Cool, right?
This makeup routine is all about highlighting your best features. Applying your foundation is optional to achieve that truly natural look, but if you want to, you can apply a small amount of our Mineral BB Foundation then apply it with a damp beauty sponge for a whipped dewy effect.
Slay them brows
The perfectly snatched and carved brows were a big hit in 2016 but as we all know, these brow trends come and go. This 2017, feathery brows are stealing the show. Using Skin O2's Brow Shaping Powder, use light and short strokes to mimic the look of your real brow hair, leaving a bit of space in between. Just follow the natural shape of your brows and you are good to go. To keep them in place, our Wow Brow Wax will set your masterpiece down without adding more pigment.
#NoMakeupMakeup
For a fresh and youthful look, just apply a light wash of color to your lids. Try using the lightest shade of our Brow Shaping Powder on your crease using a fluffy blending brush. Crafty, right? Use a window wiper motion for even application. For Skinlovers who can't go out without an eyeliner, the Skin O2 Wing It Liquid Eyeliner Pen is perfect for you. Its slim applicator will ensure a fully pigmented and precise line for that thin and natural eyeliner. To finish off your eye look, give your lashes some love by applying a generous coat of our Fake Lash Mascara for that flirty and voluminous lashes!
 Glow for the makeup goddesses
You can get a natural flushed look with the Skin O2 Mineral Blush. Smile to accentuate the cheekbones and apply the blush for that healthy glow. The shades Plum and Blossom is perfect for those of you with fair skin and pink undertones, while the shade Peach is suited for medium to dark skin with yellow undertones. The shade Glo is the perfect lit-from-within highlight, giving your face a natural, luminous effect.
 Plump your pout
For the grand finale, finish the effortlessly stunning makeup look with kissable lips. Gloss is the perfect choice for the 'undone' look, as it will give you just a hint of pigment with a sheen that compliments the glow from your cheeks. The Skin O2 Lip Gloss in the shade Nude Glo or Cherry Blossom will give you the perfect shine without that sticky feeling. It also has a plumping effect for instant pouty lips without the surgical lip enhancement and the tingly effect – the best of both worlds!  
From messy buns to casual clothing to no-makeup makeup, the I-woke-up-like-this look is the new "on fleek" this year. Embracing your natural beauty and letting it shine through is the style to achieve. 
And don't worry about the products you'll need to be a head-turner this coming V-Day, because Skin O2's got your back! When you buy our Primer Mineral Makeup, you'll get a free makeup bag with blush samples and lip gloss. So strut your way to your nearest Skin O2 stockist or visit our online shop to get your hands on the best mineral makeup in Australia!