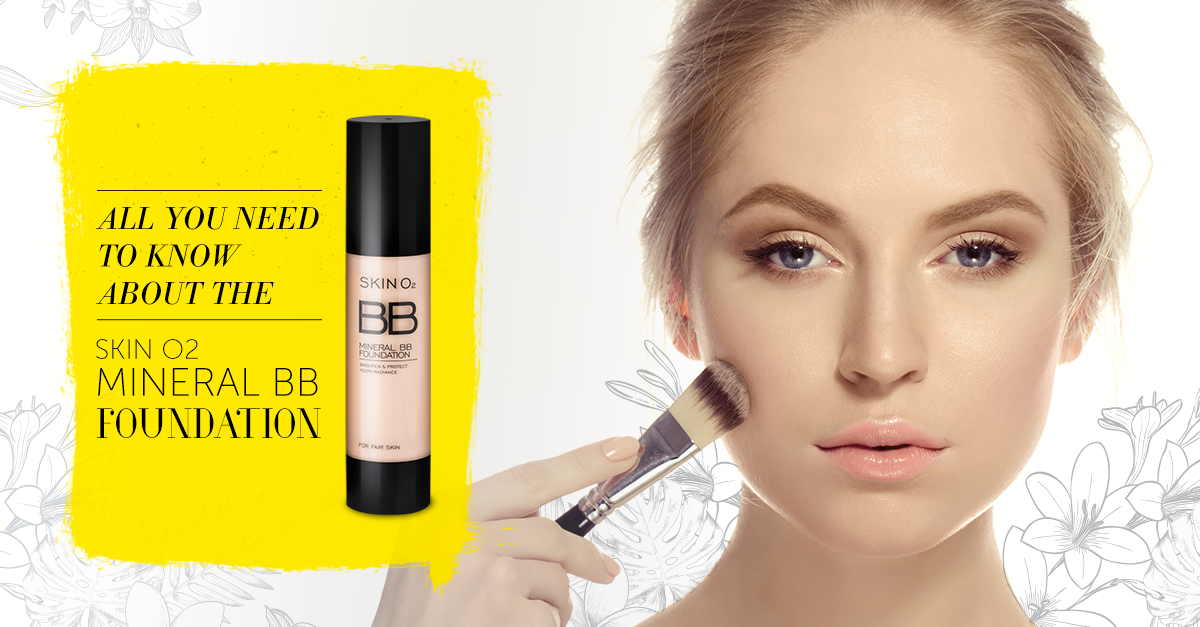 All You Need to Know about the Skin O2 Mineral BB Foundation
Rejoice, Skinlovers! The newest product to add to your beauty arsenal is here – the Skin O2 Mineral BB Foundation.
With 7 years of expert collaboration among the world's best cosmetic doctors and dermal scientists, you'll know you can never go wrong with trying out this miracle in a bottle.
In our previous blog about BB creams, we have enumerated the different a
ttributes and effects of using BB creams of all types. We are all for transparency in a bottle – we want you to know what is inside! So read on and get to know how the Mineral BB Foundation trumps them all:
BB cream with stem cells? You've got to be kidding me!
No, we're not. Skin O2 is bringing stem cell technology to this ground-breaking product. 4 kinds of stem cells are combined to produce these effects:
Aids in faster recovery after skin irritation or skin needling, laser, peels or cosmetic surgery
Lightens, brightens and makes the skin glow
Evens out skin complexion while soothing and moisturising the skin
Improves skin tone and reduces age spots
BB cream that can me look 10 years younger? No way!
Yes way! Through its formula, Skin O2 has perfected the 3D light silicone therapy that helps the skin relax and prevent premature skin ageing. This silicon for scars also imparts a smooth and silky feeling to the skin.
Studies show that drinking red wine can lead to gorgeous skin. That is why we have included wine extract, an ingredient rich in bioflavonoid – the best anti-ageing formulation full of antioxidants and the cellular benefits of drinking 50 bottles of red wine. If you are 30 and above and want to have serious anti-ageing protection and regeneration makeup, this is your best bet towards a more youthful-looking skin.
BB cream that heals? You'd better believe it.
We are serious when we say that we care for your skin. Dr. Atia's delicate formulation is safe and suitable for all skin types: dry, red, sensitive, and with rosacea or acne. It is also the Number 1 post-surgical foundation you can use – simply apply it after cosmetic facials, peels, needling, laser or injectables, or after removing bandages. It also contains yarrow leaf, a medicinal herb used topically to speed up healing wounds and skin conditions such as rashes, abrasions and inflammation.
Complete your best line of defence against skin ageing and the harsh Australian sun. Our Skin Warriors, Face of Winter Racing carnival Kiaarn Holland, cricket sensation Holly Ferling and reigning Miss Teenager Australia Jasmine Stringer, have all attested to the wondrous effects of the Skin O2 Mineral BB Foundation – a true miracle in a bottle