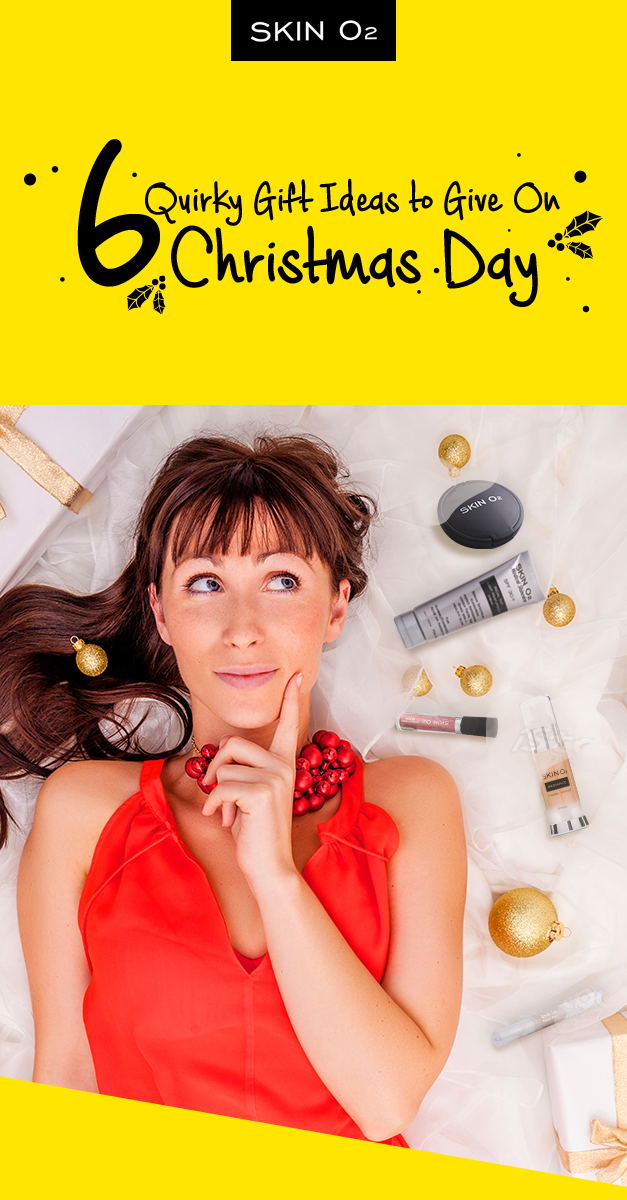 6 Quirky Gift Ideas to Give On Christmas Day
No need to fret over what to buy for your family and friends, Skinlovers! Here are some quirky and thoughtful gifts you can give them to make them feel special and loved:
 For a lovely mum
Mums deserve all the love and appreciation this season for tirelessly taking care of everybody! You can give her the ultimate R&R by taking over Christmas preparations – give her a relaxing breakfast in bed or prepare the Christmas feast for the whole family!
You can also set up an appointment with her favourite salon and have mum all glammed up for a lovely dinner at her favourite restaurant! As a special treat, get her a trusty collagen moisturiser like the Skin O2 Collagen Renewal cream packed with vitamins, peptides and collagen to reduce fine lines and enhance the glow of your beloved mum's skin!
For an awesome dad
Thank dad for his unconditional love and show him how much you appreciate him by spending some quality time recreating outdoor moments when you were a kid: picnics, rollerblading, movies – and so many more! Don't forget to bring along Skin O2 Cleansing Wipes to refresh yourself as you and your dad do your favourite summer outdoor activities!
For fun siblings
This is an easy one – DIY gifts and gift vouchers! Knowing your sibling's quirks and favourite things and activities, you can either gift them with vouchers or enroll them in short-term classes like cooking, gardening, business etc. They will definitely appreciate you for being concerned and loving! If your sibs are interested in makeup like you, you can do a bonding session them and watch tutorials and give them with Skin O2 e-gift cards to purchase mineral makeup and skincare to die for!
For relatives
You may have your favourite ones and you may have distant relatives whom you just see during the holidays. For this tricky situation, you can never go wrong with gift baskets! Think wine, fruit and nuts for dinner feast, or a basket of beer and nibblers to watch sports on TV! For fab aunts and cousins, you can give them the Skin O2 Mineral Makeup Starter Box to have the ultimate essentials of makeup that function well for skincare, too!
For officemates
Choosing the perfect gift for your office Kris Kringle can be so much fun! Be sure to get to know him/her, and if you haven't actually interacted a lot before, you can also score a new friend. Aim for something that can be of practical use, and don't forget to write a thoughtful note to make it extra special!
For example, the Skin O2 Scar Pack can be a very practical gift for both men and women – it has an anti-ageing formula, has Vitamins B, A, C & E and can be used as treatment for skin imperfections and nicks from shaving!
For yourself
It's also to time to splurge a bit for yourself, too! If you have been saving up for something that caught your eye this year, it's time to buy it – signature pieces can give you that much-needed oomph. You should give yourself a pat on the back for a job well done for one whole year!
Also, you can pamper yourself! Get a massage, spa treatment like facials and a lot of sleep. After a relaxing day, you can all glammed up by getting the Skin O2 OMG Makeup Gift Boxes – a complete set for your basic makeup needs!
Gifts need not be expensive; remember to put a lot of thought and say a heartfelt message and you'll win at the Christmas gift-giving game!
 Skin O2 is getting into the spirit of the holiday cheer! We are offering Christmas gift sets for less than $100! Go to your nearest stockist or go to our website now, and pick the perfect gift for your loved ones. Happy shopping!