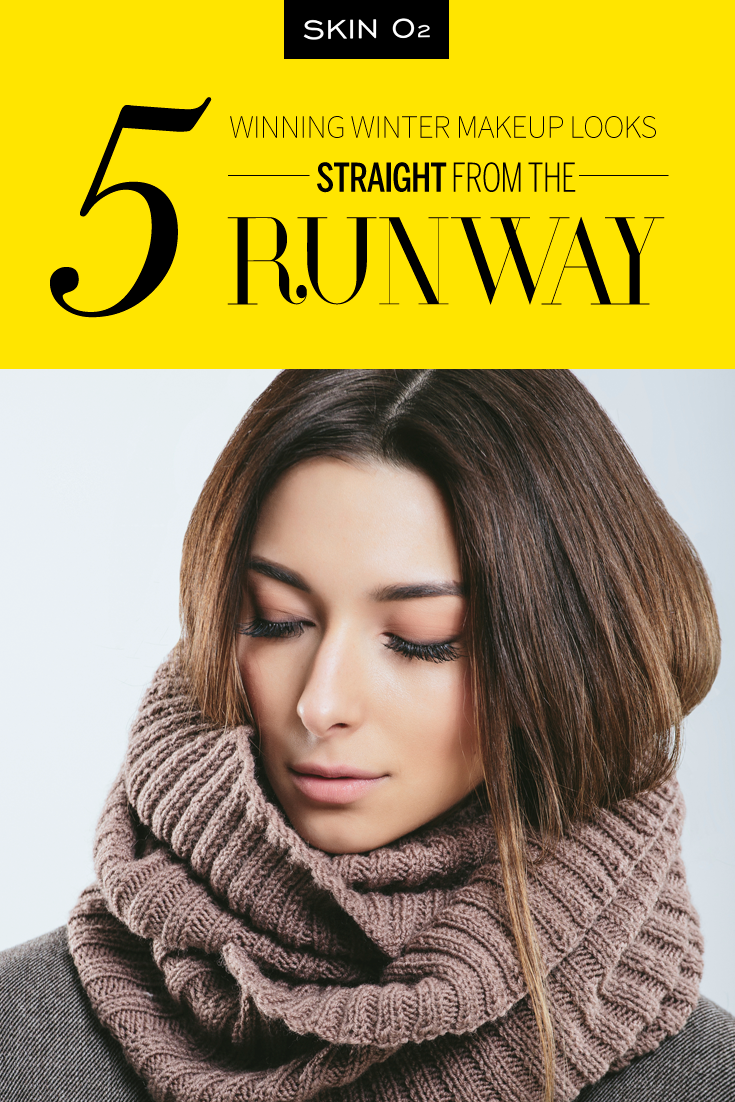 5 Winning Winter Makeup Looks Straight from the Runway
Winter is not the season to look drab and ghostly – it's time for you to glisten like snow and be fabulous! Straight from the runway, we are bringing you these five 2015-2016 Fall/Winter looks for you to mix, match and play around with!
Look #1: Go with Strong Brows
Leave your tweezers alone for this season – strong brows are in! Go bold with face-defining brows: define, fill and shape them with natural-lasting mineral powder and enhance with wax, gels and brushes.
See our Wow Brows tutorial video here to get perfectly shaped brows like the ones models have!
 Look #2: 50 Shades of Orange/Gold
It's not yet time to say goodbye to autumn! Experiment with different shades of orange/gold: coral, tangerine, apricot, bronze, honey – name it, they are all the rage on the catwalk! Muted or all glammed up, give your poppers a boost and a whimsical look.
Must-try: Skin O2 Mineral Eyeshadow in Soft Gold
Look #3: Glow
The runway shimmers as models saunter with glow on their faces, literally! Work with gloss on your eyes, eyebrows and eyelids and have a luminous face that brightens up your day. Highlight away, Skinlover!
Must-try: Skin O2 Perfect Skin Concealer & Highlighter and Mineral Eyeshadow in Angel White and Nude Pearl
Look #4: Black to Basics
Black eyeliners and intense eyes are making a comeback on the runway. Aside from the usual application, extend it until the lower and inner lids for either go grunge or classic, depending on your preferred look.
Must-try: Skin O2 Long-lasting Pencil Eyeliner for a smooth, easy and no-fuss application
Look #5: Ultra-bright Foundation
As seen in Fashion Week, let your face radiate beauty and shine brighter through lighter foundation – this works with both classic and grunge looks as a translucent face highlights both the intensity of the eyes and the glow from your highlighter or contouring bronzer!
Must-try: Give your skin natural radiance by applying the all-new and anti-ageing Skin O2 Mineral BB Foundation Fair!
Dare to be adventurous, Skinlover! Mix and match these looks for a meeting, a date or if you just want to feel fab – any day, any time! These looks are not just for the fashion catwalk; we can make our own runways anywhere! So glam up, strike a pose, and strut your stuff!
Have the perfect winter makeup look through Skin O2! Buy a Mineral Makeup Compact and get an Anti-ageing Concealer & Highlighter Pen for free!
As a bonus, we are offering a 15% discount on all of our skincare products. Make your online purchase by visiting our website or find your nearest stockist here.