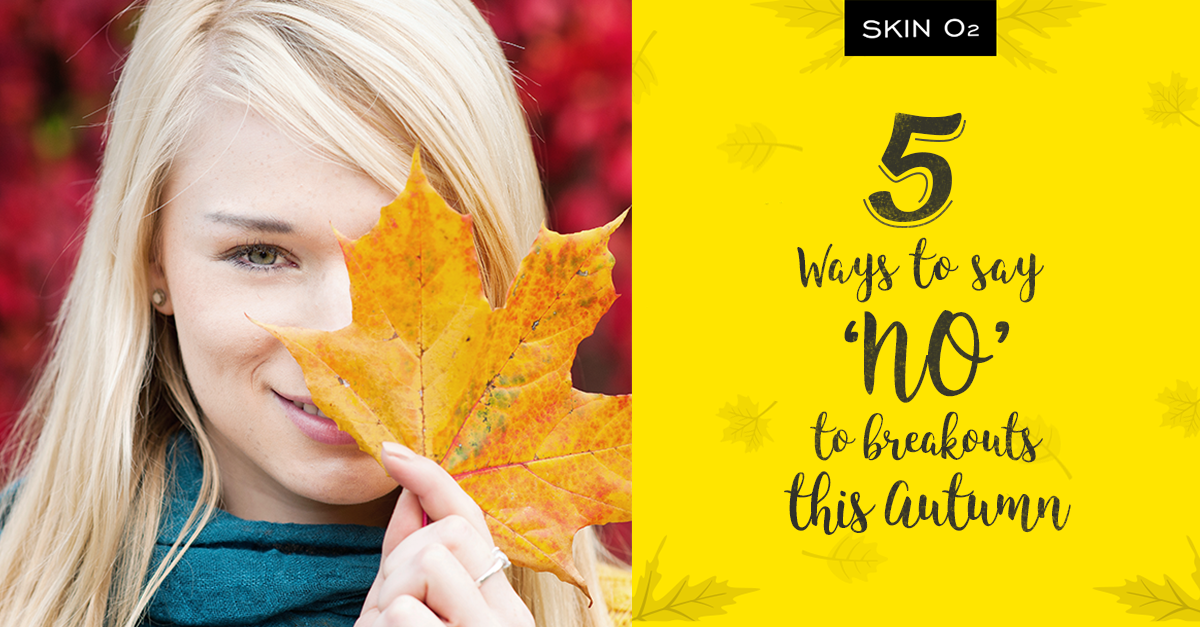 5 Ways to Say 'No' to Skin Breakouts This Autumn
Summer is out and autumn is in! Time to change your wardrobe, makeup, and skincare rituals, too!
Seasonal transition causes a lot of trouble to the skin: did you know that autumn is the season when you are most prone to skin breakouts? As the oil flow in the skin is still dictated by the last days of summer, the cooler air that autumn brings causes an extra build-up of dead skin cells as our skin's way of protecting itself.
The result? Trapped oil and bacteria underneath the skin — and lo and behold, breakouts appear! Protect yourself from breaking out with these skincare rituals that are definitely worth your effort and time. Practice them religiously and say 'no' to skin troubles this season:
STEP 1: Which type of cleanser should I use?
Gel and foaming cleansers are your go-to cleansers for both morning and night for summer, but for autumn, it is best to use cream cleansers for deep pore cleansing at night to remove deep-seated oil, dirt and grime!
Morning: Skin O2 Gel Cleanser with witch hazel, sea salts and glycolic acid, preventing the formation of keratin/sebum plugs that lodge deep inside the pores.
Night: Skin O2 Cream Cleanser with aloe vera, lavender oil and shea butter, removing makeup extensively while nourishes the skin.
STEP 2: Don't skip the toner!
Often overlooked in the skincare game, toners are all the more important to adjust the hydration of your skin to cooler temperatures. For optimal absorption, you may use cotton pads or just pat your face with your fingers. Just make sure that they're clean!
Always on the go? Skin O2 Cleansing Wipes can be your quick cleanser and toner to keep your skin fresh, toned and hydrated with aloe vera and Vitamin E!
STEP 3: Exfoliate, exfoliate!
Remove all traces of summer on your skin to reveal an autumn-ready face with exfoliants like the Skin O2 Micro Cream Exfoliator that contains glycolic acid, a very effective ingredient in clearing away dead skin cells to allow serums and moisturisers to penetrate the deeper layers of the skin.
There are different types of skin such as oily, normal and sensitive – which one is yours? Take this Find Your Skin Type Quiz to get the most effective exfoliator for you!
STEP 4: Need we say more about sunscreen?
Whatever the season may be, sunscreens should always be part of your skincare and makeup rituals. Try using a lightweight 2-in-1 SPF and tint like the Skin O2 Facial Tint Sunscreen for your everyday infusion of vitamins and antioxidants for maximum protection.
STEP 5: Retouch your hydration
Summer may be over, but nourishment inside and out is vital against long-term skin ageing. Drink lots of water and keep your face fresh with the Skin O2 Hydrating Spritz, perfect for instant hydration anytime, anywhere and setting your makeup with a long-lasting dewy finish.