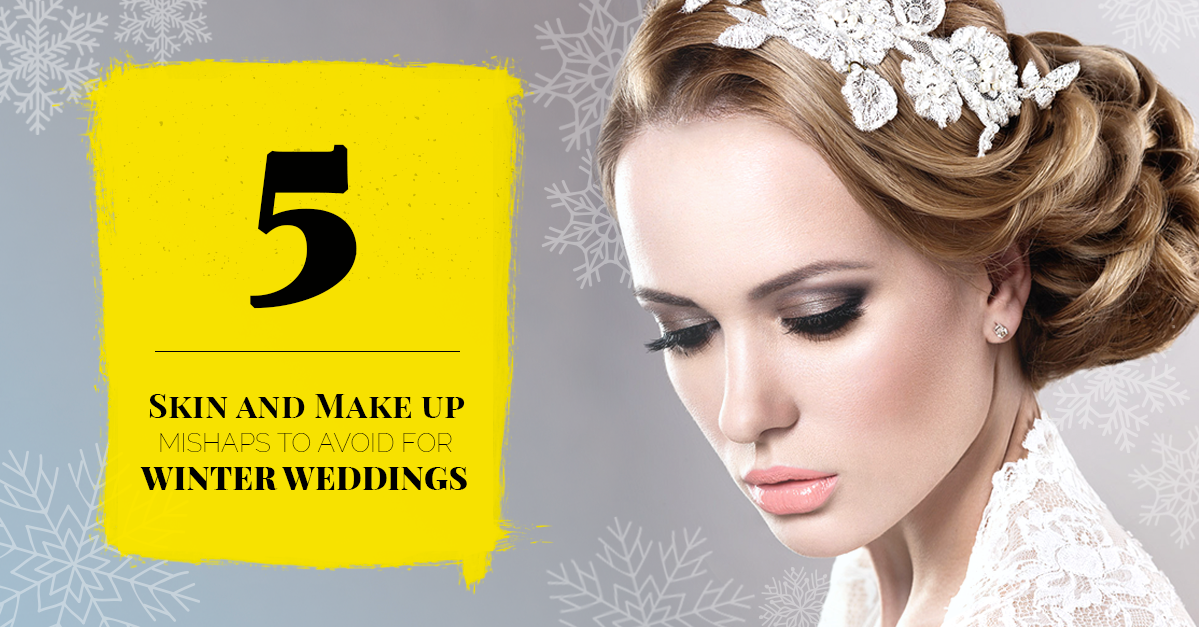 5 Skin and Makeup Mishaps To Avoid for Winter Weddings
With delicate snow around, winter weddings will always have that dreamy and ethereal feel, for both celebrants and attendees alike. Winter is also one of the best opportunities for photographs – especially with the gorgeous backdrop and the weather not ruining your makeup!
Attending a wedding or actually being the bride this season? You can have those picture-perfect moments with friends and loved ones by avoiding and correcting these 5 skincare and makeup mishaps:
 1. Pale and flaky skin
Due to the change in weather, your skin complexion and texture may change, therefore leaving you with pasty skin this winter. For the perfect foundation shade, have it matched with your chest colour. For a brighter (not paler) look, finish off with a setting powder.
Skin O2 Pro Tip: Depending on your complexion, choose between Skin O2 Mineral BB Foundation Tan or Fair. Leave it for a few minutes to set, then spray your kabuki brush with a hydrating spritz to apply your mineral makeup for a 3-D finish.
2. Dry and chapped lips
If you have dry and chapped lips – and with you being the bride – would you still want to hear the words, "You may now kiss the bride?" Don't let this ruin your princess moment! To remove dry and excess skin on your lips, glide your toothbrush gently on your lips.
Skin O2 Pro Tip: Treat your lips while you wear the Skin O2 Plumping Collagen Lip Gloss, which instantly protects, treats, plumps and fills your lips. Pucker up and have that magical moment!
 3. Dry skin around the eyes
No bride or female should be caught dead looking like a panda with those dark bags under the eyes. Not only these dark circles ruin your look, but they also cause your concealer to crease. Stress and dehydration are common causes of eye bags so have enough sleep before the big day and drink lots of fluids.
Skin O2 Pro Tip: It's a big no-no to use any other skincare products other than those for the eyes. Before applying a creamy concealer, apply the Skin O2 Platinum Eye & Face Lift and Peptide Eye Cream combo for that instant boost and lift to let your eyes express your happiness for this special occasion!
 4. Smudged eye makeup
Though we may not sweat much this season, tears of happiness will always be present during weddings, leaving you with smudged, or worse, running mascara down your cheeks. Who would want to have these documented in pics and on social media? While some say that wearing waterproof mascara can eventually lead to eyelash damage, religious application of an oil-based eye makeup remover can prevent this from happening.
Skin O2 Pro Tip: Aside from being a mascara remover, the Skin O2 Love Your Lashes Treatment Oil also dramatically improves your lash quality and length. Use it before and after applying the Fake Look Lash Mascara.
5. Dull and dehydrated skin
Apart from your skin being pale and flaky, you skin may also appear dull and dehydrated due to the winter breeze. Avoid mattifying primers this season and opt for a hydrating primer instead.
Skin O2 Pro Tip: Before the big day, book an appointment with your beauty therapist and get the Skin O2 Oxygen Brightening Infusion Facial for your skin to have that positively radiant glow!
Have flawless and priceless moments with your friends, family, and the one who you will be spending eternity with on this special day! Look good, be radiant and let these picture-perfect moments be captured, Skinlover!