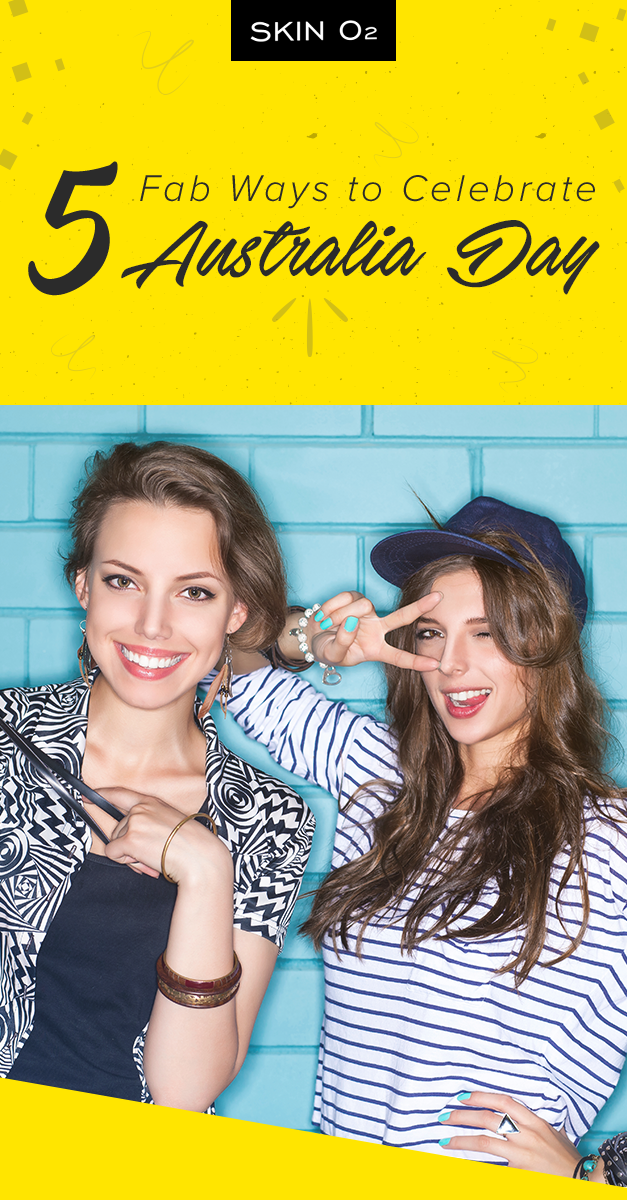 5 Fab Ways to Celebrate Australia Day
Australia Day is fast approaching, Skinlovers! Do you have any plans already? If not here are some events that you can participate in all across Australia – may be it parties on the beach or concerts at the park, enjoy with family and friends as we celebrate our past and modern day heroes and commemorate our diverse society and beautiful landscapes!
CANBERRA: Rocking out at the Australian of the Year Awards & Concert 2016

On January 25, honour and cheer for this year's exemplary Aussie achievers and celebrate Australia Day with some of our very own best performers on the lawns of the Parliament House! Headlining the event is the Aussie rock idol Jimmy Barnes, who will be joined by chart-topping artists such as Samantha Jade, Nathaniel and Cyrus Villanueva.
Gates open at 5 PM. Feel free to bring your picnic baskets and low chairs, and join the festivities!
FILINDERS ISLAND: Celebrating culture and musical heritage at the Furneaux Islands Festival
This 3-day long event captures the spirit of Australia Day with its unique music, food and arts-based cultural festival. Get to see the amazing views these islands offer and hear the spectacular sounds provided by the talented Tasmanian singer-songwriter Dewayne Everettsmith, along with urban folk singers Darren Hanlon, Jess Ribeiro, Mark Monnone and the 2014-2015 NAIDOC Tasmanian Aborigine of the Year Ronnie Sanders bringing his Australian musical folklore to the stage
For the culminating event, be prepared for a gastronomical feast with Kup-Murri, a traditional Aboriginal earth-oven barbeque feast showcasing the islands' best produce such as salt grass lamb, seafood, wallaby, native pepper berry, bush tomato and lemon myrtle. Yum!
VICTORIA:

 

 Belgrave Survival Day


This festival for families is in honour of the legacy of indigenous peoples' history, culture and survival across time – thus, "No Room for Racism" is the theme for 2016. Gather your family and listen to stories of history, tradition and culture, or engage your kids in amazing art sessions with local artists! Special guest performers include Uncle Kutch Edwards, M.C. Uncle Peter Rotumah, The Deans, Mullum Mullum Choir and Hip Hop Crew and The Djirri Djirri dancers.



SYDNEY:

 

Live art at the

 

26th

 

CASS Art of Sydney Awards Exhibition

The Combined Art Societies of Sydney is proud to bring this mega exhibition of 300 original artworks that are all for sale to raise funds for Care Flight, an aeromedical charity that provides helicopters, aeroplanes and medi-jets to transport the critically ill and injured. Immerse yourself in the arts and champion a cause at the same time!
PERTH: Light up at the Perth Skyworks and Laser Show
Head on to Swan River at 8 P.M. as the acclaimed Howard and Sons Pyrotechnics and leading pyrotechnics choreographer Stuart Bensley bring their A-game to make the skies of Perth come alive with lights and colour! This year, brace yourself for the new innovative circular firing layout, which will provide the perfect panoramic shot of fireworks from every angle and will spell out "Perth" high above the skies. Get your cameras ready!
It's all fun in the sun and partying in the moonlight with all of us celebrating! Happy Australia Day, Skinlovers!
Skin O2 celebrates Australia Day through our 2-for-1 Promo!  Buy one and get the same item for free: Multi Vit Cream(30ml), Facial Tint Sunscreen SPF 30+ (75g) and all Micro Cream Exfoliators (RP, 4% and 8%, 50g)! Grab yours through our website now!