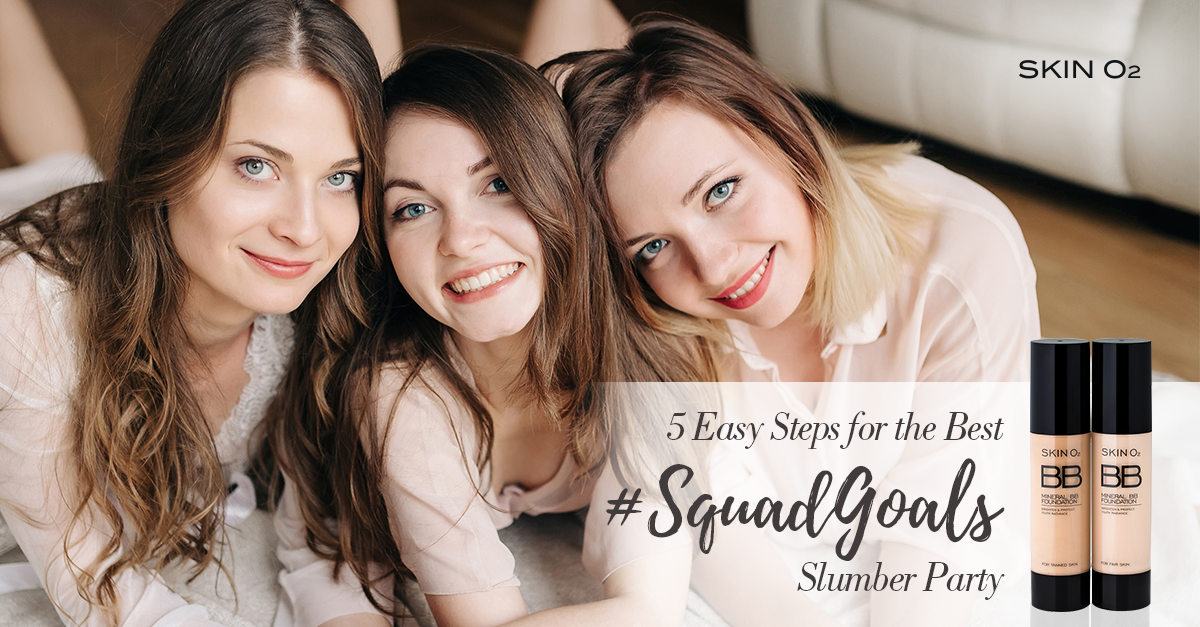 5 Easy Steps for the Best #SquadGoals Slumber Party
There's no better way to bond with your best friends than throwing an epic slumber party to remember. It's a hassle-free, low-maintenance way to celebrate awesome friendships!
Throwing a slumber party means you're free to choose activities you'd want to do with your best friends. Unlike going to an actual party where you'd have to socialise with strangers, a slumber party is something you're guaranteed to enjoy. Slumber parties entail no pressure, so you get to freely enjoy the company of your best friends with sleepless nights filled only with laughter. Because c'mon, sleepovers don't mean you're actually going to SLEEP, right?
Here's a rundown of how you and your best friends can cook up the best #SquadGoals Slumber Party ever!
Go snack shopping
First things first! No party is complete without snacks and munchies. Prep your grocery list with your buddies to make sure everyone's food preference and cravings are satisfied. Plus, going out to shop for snacks actually adds to your bonding time with your friends.
Plan a movie marathon
There's no better time to binge-watch on your favorite flicks with your best friends than at a slumber party. Maybe go for your all-time fave chick flicks you never get tired of. Or if feeling braver than usual, choose a movie genre you don't normally go for. This will surely spark interesting conversations with your besties! Not a fan of thriller movies? Action-packed films not up your alley? Maybe this is the perfect time for you to broaden your taste!
Play dress up
If there's one thing a lot of us could surely relate to while growing up, it's the fact that playing dress up was one of our favourite hobbies. Whether it was your Barbie doll, your sister, or yourself you're experimenting with, it was always a thrill to sneak into your mom's dresser, add a ton of blush on some chubby cheeks, and try different shades of lippies! Believe it or not, dress up can still be a lot of fun, even when you're older – especially when you're dressing up with your besties! You'll certainly feel at ease playing dress up, since you'll be with people you're already comfortable with! You can choose to be whichever character you want — maybe even shoot a music video or snap some shots to make your alter egos last forever!
Do each other's nails and makeup
Playing dress up wouldn't be complete if you're not going to go full-on in your activity. This is a great opportunity for you and your friends to glam up and do each other's nails and makeup! This is where you can explore new trends, trade beauty secrets and cheat sheets for makeup. You can share tips on how to find and apply the right foundation for your skin tone, how to create the perfect lip look, or how to make sure that your eyebrows are on fleek!
Why not try Skin O2's Primer Mineral Makeup for that perfect makeup base! Splash your lips with amazing colours from the Skin O2's liquid matte lipstick box set, and choose from a variety of Arabian-desert inspired colors to match your mood! These lippies are vegan and cruelty-free, which makes it such a great choice for your make-up experimentation! And then finish your look with eyebrows on fleek with Skin O2's Brow Box Set Wow Brow.
Do your skincare routine together
After your makeup sesh, make sure to properly cleanse and moisturise your skin before you hit the sheets. Make sure to double cleanse your face with the right facial cleanser for your skin type to get rid of any makeup residue on your face. Moisturise with your trusted moisturiser to cap off your slumber party. Add an extra, delightful step to your routine and have fun using Skin O2 masks to complete your #SquadGoals Slumber party! 
Create lifelong memories in the company of your best gal pals and celebrate strong friendships through inspiring and encouraging each other to become your true, beautiful and youthful selves, all the while wearing your matching jammies.
Here's an awesome treat for you guys to get you started on planning your #SquadGoals slumber party: Buy BB cream and get a free Wow Brow Powder!