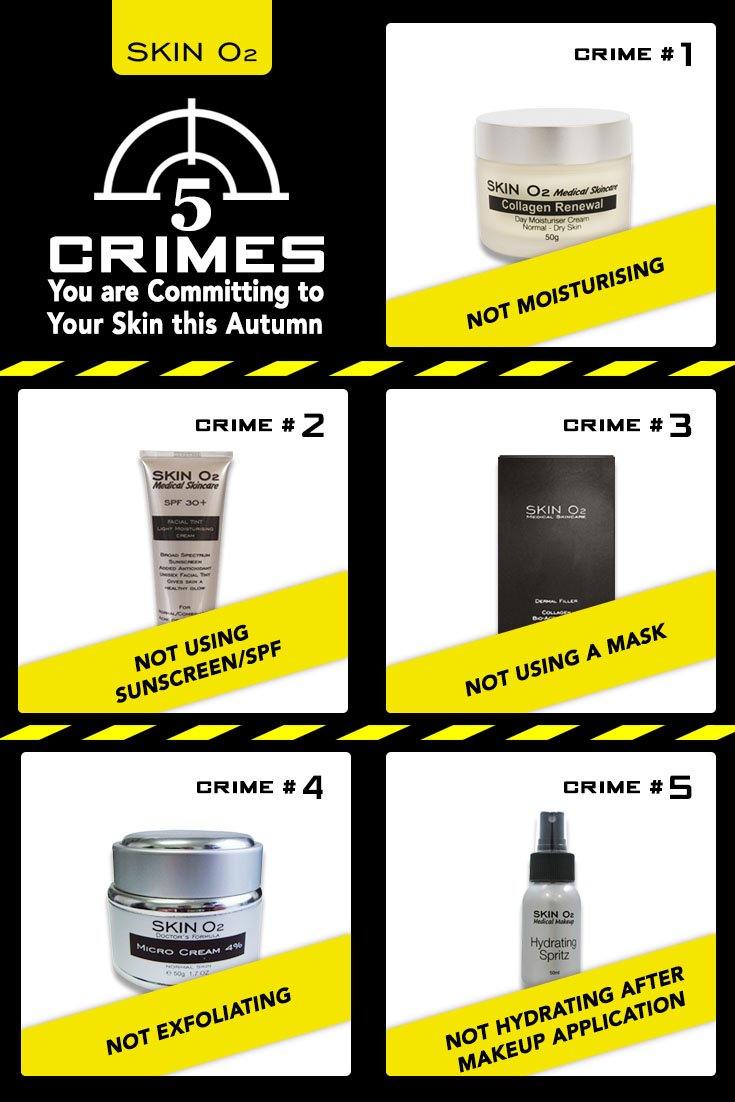 5 Crimes You are Committing to Your Skin this Autumn
How attentive are you to your skin and skincare this season?
For most of us, we are just relieved to escape the summer heat. Once autumn arrives, we tend to overlook our skincare regimen and forego some skin products that we think we don't need as the days get cooler.
When you have this kind of mindset, you are committing terrible crimes to your skin! Read on to know the reasons why they are considered major offenses, the restitutions that you can do to be absolved of your crime and how you will get rewarded with the after effect of using these products.
Crime #1: Not Moisturising
Summer can make your skin dry and so can autumn, too! By applying a heavier moisturiser this season, you skin will have that extra oily barrier that promotes moisture retention for your face.
Restitution:
SkinO2 Collagen Renewal Day Moisturiser Cream: daily anti-ageing moisturising cream with Vitamins A & E, peptides and collagen
SkinO2 Smooth Skin Day Moisturiser Cream: Resurfacing & balancing  cream with Glycolic Acid & Vitamin B
Reward:
Smoother face with reduced fine lines and an enhanced glow of youthful skin.
Crime #2: Not Using Sunscreen/SPF
We may notice this, but the autumn sun can also be damaging with its UV rays – yes, UV rays exist all year round! Protect yourself from this harm that roughens our skin through daily SPF application.
Restitution:
SkinO2 SPF 30+ Facial Tint Light Moisturising Cream: a lightweight, non-greasy and non-comedogenic moisturiser with vitamins and antioxidants
Reward:
A well-hydrated and sun-protected skin that has a healthy glow.
Crime #3: Not Using a Mask
Skin dries up fast this season so using a mask at least once a week is not a bad idea at all! For instant hydration, put one on during your relaxation time.
Restitution:
SkinO2 Bio-active Collagen Mask: for dehydrated, dry or mature skin with fine lines or wrinkles
Skin O2 Bio-active Brightening Mask: for sun damaged, pigmented, red or dull complexions
Skin O2 Bio-active Balancing Mask: for acne, oily or combination skin types
Reward:
An instantly-refreshed and rejuvenated skin that is also healed in the process.
Crime #4: Not Exfoliating
Since summer ended, you might be experiencing thickened and sun-damaged skin because of spending too much time outdoors. Here's a pro tip: using these after your cleanser can make your moisturisers and serums very effective.
Restitution:
SkinO2 Micro Cream 4% Exfoliant: for normal skin
SkinO2 Micro Cream 8% Exfoliant: for oily skin
SkinO2 Micro Cream RP Exfoliant: for sensitive skin
Reward:
A very clean skin with unclogged pores and without dead skin cells.
Crime #5: Not Hydrating After Makeup Application
Why not opt for a fresh and dewy face this season? Use a hydrating spritz that acts as both protection and a fab finish to your makeup!
Restitution:
SkinO2 Hydrating Spritz: with hyaluronic acid that sets your make up and reduces the appearance of fine lines and pores
Reward:
A long-lasting fresh look due to your dewy finish.