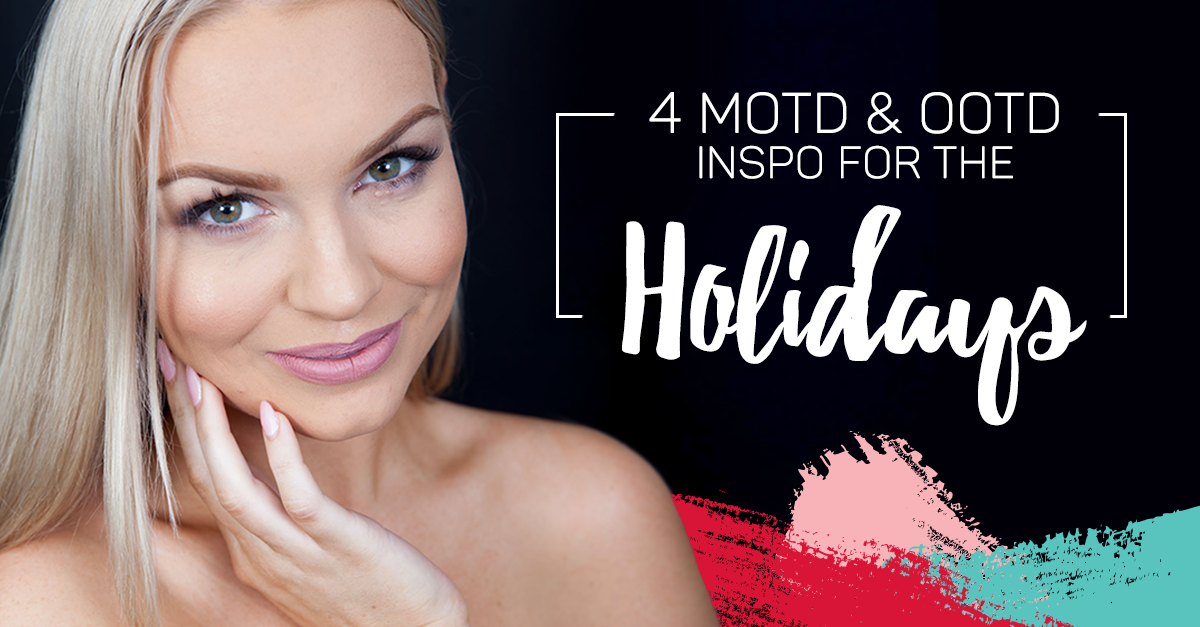 4 MOTD & OOTD Inspo for the Holidays
The holiday season is not only a season for family, food and fun – it's also a season to look fabulous, both in gatherings and in pictures that make for great moments and memories!
Make your OOTD and MOTD combo the star of the season with these 5 Christmas looks from our Skin O2 beauties with our amazing new products that have just hit stores!
FLOWER POWER!
Be it in small or big prints, florals bring out your romantic and whimsical side!  The trick to make you look more blooming than ever is to complement your dress with matching hues on the eyes or to give off a little bit of edge with a smoky eye.
Either way, a sheer and shiny finish perfects your youthful vibe. Just see how Miss Universe Australia finalist Jasmine Stringer glows!
Summer Fave for the Face: Skin O2 Bake Face Matte Translucent Powder, $52
WHITE KWEEN
A white outfit can give way for you to be more creative and bold with your makeup choices! A smashing makeup choice to match your dazzling white outfit is to have minimalist makeup, both on the eyes and cheeks – and put the "oomph" on the brows and the lips.
Miss Global Australia 2016 Caitlynn Henry is simply radiant here in a sexy white top and with puckers in luxurious royal purple – both perf for the summer!
Summer Fave for the Lips: Skin O2 Liquid Matte Lipstick in Sheikha, $39.95
SILVER BELLE
Be the belle of your office Christmas party with a silver frock that accentuates you gleaming personality – however, don't be an overkill with shiny pigments and opt instead for muted hues.
 A fantastic alternative is to just go for a subtle smoky eye and add a dash of shimmery highlighter to make your features pop without competing with your outfit, yet still be dazzling. Just take a look at the gorgeous Miss World Australia Courtney Thorpe looking sultry in silver!
Summer Fave for the Cheeks: Skin O2 Gold Spice Highlighters Box Set, $59
RED VIXEN
Red may be one of the most fashion-forward and bold hues for both clothes and makeup, and a lot of us are apprehensive of wearing a bright red dress or a bold, red lip.
It's time to ditch that fear and just strike a pose and pout! Empower yourself in dresses with interesting silhouettes or embellishments – and this hue also allows you to go over the top with an equally red lip and dramatic smoky eye!
World Supermodel Australia 2016 Taylor Curry surely knows how to werk this colour and just look sexy, stunning and fierce!
Summer Fave for the Eyes: Skin O2 Wing It Liquid Eyeliner, $29
Skin O2 is bringing in the holiday cheer by having the Skin O2 WOW Mega Sale all days of December – we are offering 15% off on all skincare and mineral makeup products, so grab them at your nearest stockist or go to our website now – and check out more promos and our gorge new products to die for! Shop now and spice up your holiday MOTDs and OOTDs!