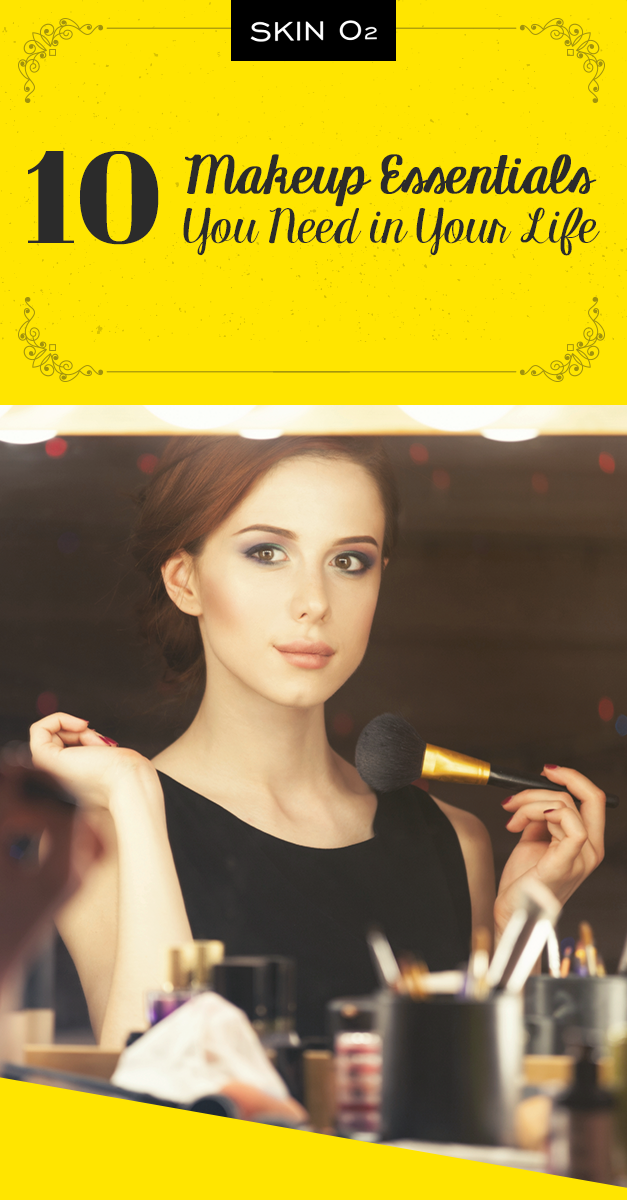 10 Makeup Essentials You Need in Your Life
or someone like you who knows the value of loving and healing the skin that you're in, we'd like you to know exactly what you should have in your beauty arsenal, what Skin O2 products contain and what they can do for your skin, aside from making you fab and fiercely beautiful! Here are the 10 must-haves for you to bloom any time, any season!
Primer
Primer is the key to good coverage and a flawless makeup finish: smooth, naturally radiant, and long-lasting. This is the essential base to help in making your foundation stick longer while retaining moisture. With Luffa cylindrica seed oil, your 
Mineral Radiance Primer
 contains an anti-inflammatory property that also act as an emollient, making your skin soft and smooth.
Foundation
A foundation that can provide very good coverage is your best bet to a flawless look. Merge the power of foundation and BB cream with the Mineral BB Foundation – a true miracle-in-a-bottle that brings stem cell technology into the makeup game. Where can you see a base that covers, and at the same time, treats imperfections?
Brow Shaping Powder
The Cara Delevigne brows may not always be the trend, but thin and scraggly-looking brows will always be out of fashion! Define and fill using the Wow Brow Set with powder, wax and highlighter pen to get that instant brow lift without surgery! 
Eyeliner
This brings the fun in makeup! From catty to glam, this cements the look you want to show off! Have a smudge-proof and water-resistant eyeliner like the Long-Lasting Pencil with squalene, a known moisturiser and antioxidant.  
Blush
The rosiness in your cheeks contributes to the healthy look of your skin! A go-to- shade is the Mineral Makeup Blush in Blossom, which not only provides a fresh and youthful flush but also has honeysuckle – a natural antiseptic that treats rashes, blemishes and allergies.  
Bronzer
Aside from the healthy flush, a natural glow serves as the insta-fresh factor on your skin – and it is perfect especially during seasonal transitions to downplay skin irritations showing on your face. Added with Vitamin C to improve pigmentation, the Mineral Bronzer can also your perfect contouring agent for cheek and jaw lift! 
Concealer
If your tired eyes still show through, it offsets the effect of blushes and bronzers for a fresh look – remove the pallor from your eyes and face by having a trusty concealer like the Perfect Skin Concealer & Highlighter, which also treats fine lines and can serve as eye primer!  
Touch-up Powder
You don't need to re-do your makeup completely after lunch or before going out to dinner – all you need is a bit of retouching powder to absorb the oil build-up as your day progresses. Want a brightening effect, too? The formulation of the Mineral Makeup Compact helps to even out your skin tone, reduces scars and provides anti-ageing protection! 
Lip Liner
Have your lips looking full in no time with a lip liner! If you are not into matte lipsticks and prefer a fun and flirty look, you can also opt to apply this before your lip gloss for long-lasting wear! Did you know that the Long-lasting Lip Pencil contains cera alba, or also known as beeswax? It's perfect for moisture retention for your lips! 
Lip Colour
Luscious lips can save the day if you are extra stressed – apply a bit of sparkle and colour on your lips and shine and feel like a million bucks! With Vitamin E, collagen and natural & high-grade minerals, the Plump-A-Licious Lip Gloss plumps and fills your lips without the sting! 
Complete your beauty arsenal with our Skin O2 products, the leading provider of cosmedical skincare and makeup in Australia! We are offering monthly specials, starter kits and gift packs to start a Skin Revolution! Visit our website now to get these amazing deals!