Doctor-backed skincare for every skin type
ACNE? FINE LINES? HYPERPIGMENTATION?
Your battle with bad skin ends now
SHOP NOW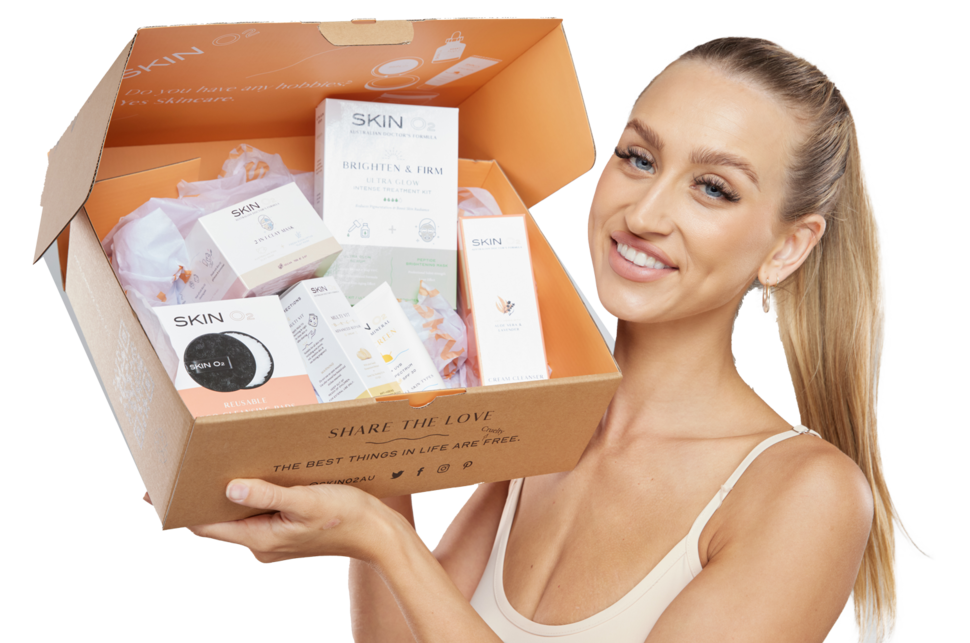 Doctor-backed skincare for every skin type
What if you could dramatically improve texture, pores & glow in weeks? With Skin O2's Skincare Pro Bundle–you can achieve everlasting youth!
SHOP NOW
The future of radiant skin is here.
Power up your skin with our must-have essentials for clear skin
Welcome to your 20s and beyond. You've got a great job, a cozy apartment, and a ton of new things to do & people to see.
Still in your 20s? Lucky you — your skin is at its prime at this age, which makes it even more important to address any concerns now.
For the rest of us, don't fret. Laying the foundation for healthy-looking skin now can mean all the difference to how it looks later.
That is why we're here, to help you bid farewell to wrinkles and hello to youthful, healthy skin.
The future of radiant skin is here.
Formulated by Australia's best dermatology experts, achieve skin confidence every time you look in the mirror.
Your Everlasting Youth Kit
A skin repairing routine for a youthful radiant skin.
Your Guide To Youthful Skin
Our Doctor's recipe for glowing skin!
Your Guide To Youthful Skin
Our Doctor's recipe for glowing skin!
Australian Doctor's Formula
Pro-Tips For Healthy Skin!
Remove impurities, replenish nutrients
Wash your face with a gentle cleanser to remove surface impurities. If you wear makeup, use a cream cleanser to remove it first.
Maintain your skin's radiance
Vitamins and minerals soak into the skin to help restore vital nutrients that promote health and encourage new skin cell growth.
Minimise large, visible pores
Use a product containing clarifying ingredients once daily to gently remove dead skin cells and prep your face for the next step.
Use a serum to balance your skin and rehydrate. For even coverage all over, apply using light pats or infuse with a beauty device.
Sun damage can cause pigmentation, spots, and dullness. Use a natural mineral sunscreen with at least SPF30 and make sure to reapply every two hours.
Prevent fine lines and wrinkles
Invest in a good eye cream. Late nights and long hours staring at screens cause strain around the eyes which can lead to fine lines.
Rejuvenate your skin overnight
Insufficient rest can result in rough and dull looking skin. Use a sleeping mask or a moisturizing collagen night cream before going to bed to boost the recovery process, improve your skin's texture and glow.
Tackle Hyperpigmentation and fade dark marks
Cosmeceutical ingredients rich in vitamin A and C help correct the appearance of dark spots and marks for a glowing complexion.
Clean. Vegan. Cruelty Free.
No Toxic or Irritating Chemicals
Australian Doctor Formulated
Real People, Real Results
No fragrance, no frills, no fluff – just visible results.
Favourites, we've all got them. So we bundled the most popular Skin O2 skincare products together to pass some savings onto you.
We're so sure you'll love your Skincare Bundles that we'll give you your money straight back if you don't. *
BUY NOW
Treat yourself up to an extra
when you bundle up and save!
Take skin regeneration to a whole new level with premium Australian Doctor formulated skincare, clinically proven to achieve the best results for your skin health.
It's time to say hello to youthful, healthy skin again.